Delta plane diverted to Tulsa over 'unruly passenger'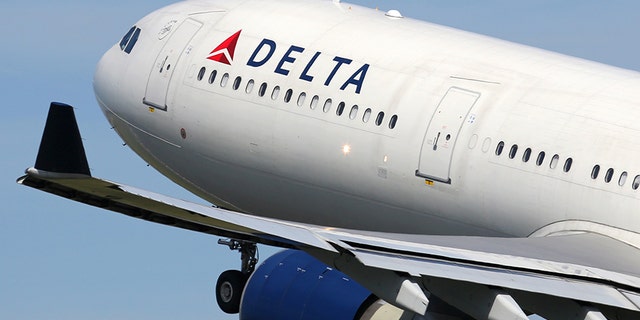 A Delta flight bound for Atlanta was diverted to Tulsa, Okla., on Wednesday just before noon, following an incident with an "unruly passenger."
"Delta flight 1156 from Portland to Atlanta diverted to Tulsa due to an unruly passenger," said Delta in a statement obtained by KJRH. "The flight landed without incident in Tulsa and the customer was met by law enforcement."
"Delta apologizes to our customers delayed by this diversion," the statement added.
WOMAN CLAIMS SOUTHWEST PASSENGER MASTURBATED THROUGHOUT ENTIRE FLIGHT
The plane was carrying 172 passengers at the time of the incident. The airline did not elaborate on the behavior that forced the aircraft to land.
A passenger aboard the flight, however, claimed that Delta did a "great job" handling the situation in a tweet shared shortly after landing.
"The flight I'm on just had to emergency land in Tulsa so the police could escort a man off the plane. (It's a crazy story)," said Twitter user Lisa Zimmerman. "As a witness to the whole situation, I have to say that @Delta did a great job handling it. Good job, @Delta ! Also, love the amount of leg room!"
FOLLOW US ON FACEBOOK FOR MORE FOX LIFESTYLE NEWS
Tulsa International Airport spokeswoman Alexis Higgins said the passenger was scheduled to be questioned by the FBI, the Associated Press reported.
The aircraft took off from Tulsa shortly after 1:35 p.m. and resumed service to Atlanta.
The Associated Press contributed to this report.