Churchill Downs creating new level: 'The Mansion'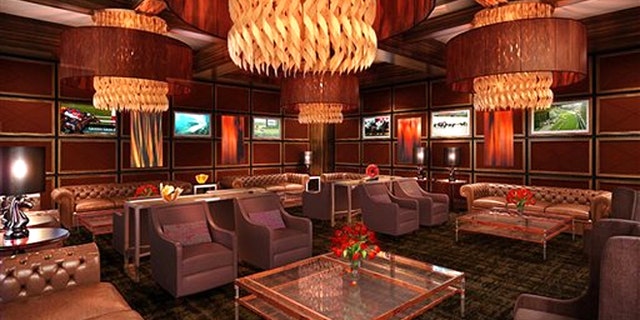 Move over, Millionaire's Row: Churchill Downs is preparing fancier digs to cater to the rich and famous at the Kentucky Derby.
Track officials announced $9 million in renovations on Tuesday, highlighted by a new ultra-exclusive section called The Mansion. Perched on the sixth floor of the clubhouse, it will overlook the finish line and offer panoramic views, along with red carpet arrival, a private elevator, butler and concierge services, access to a private wine cellar and meals made to order.
"It is absolutely an unparalleled experience," track President Kevin Flanery said. "It is an experience a notch above anything else that's ever been offered at Churchill."
The renovation could bring a fresh infusion of more blue-bloods and well-to-do spectators to an event already known as much for its high fashion and celebrities as the horse race.
The 138th rendition of the Derby drew a record crowd of 165,307 people this year. The crowd features an eclectic mix of T-shirt-wearing race fans who swarm the sweaty infield, to more gentrified fans in suits, sun dresses and elaborate hats.
The Mansion will open in time for next year's Kentucky Derby and Kentucky Oaks, track officials said.
Admission will be by invitation only, likely for celebrities and business executives, Flanery said. The price will run in the thousands of dollars, but will depend on the customized services for each guest. The track planned to start contacting those interested as soon as Tuesday.
"We have demand," he said. "People want something unique. They want to feel special. They want that experience."
The high-end space will hold about 320 race fans. It will feature a dining room, living room, library, parlor and veranda, along with more intimate gathering spaces in a foyer and bar. It's meant to evoke the feel of a stately home.
To make way for a new stomping ground for the well-heeled, the media will get the boot. The space has mostly served as the track's media center since 2005. A new media center will be built near the track's paddock in a building that had housed general offices.
The renovations also will include the razing of the Paddock Pavilion to create an open space for thousands of race fans gathering in the area where the horses are saddled.
The $9 million project is the latest in a series of renovations at the track, with a total price tax exceeding $150 million in the past decade. The track spent $122.4 million to renovate the clubhouse and grandstand, which was completed in 2005.
The track spent $4 million to purchase and install permanent lighting for the main dirt track and turf course, completed in 2010.