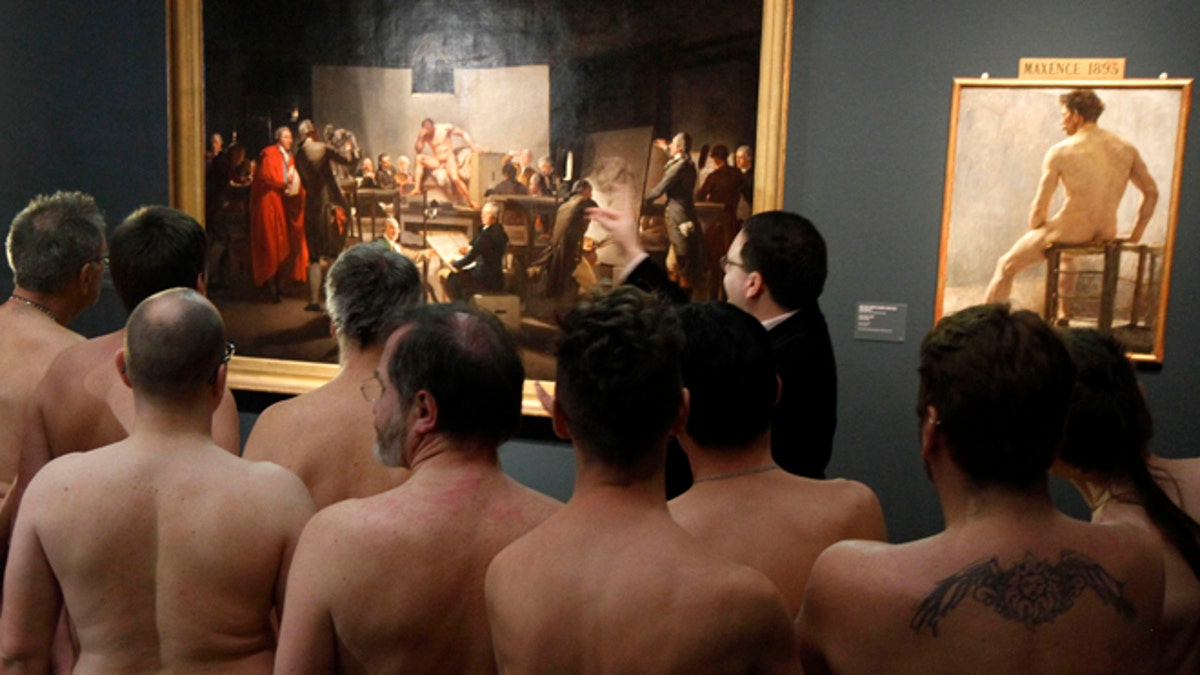 VIENNA – These museum goers didn't just leave their coats at the coat check. They handed over their shirts, trousers and underwear.
Everything, in fact, except their shoes and socks. After all, the stone floor can get chilly when you're touring an art exhibit in the nude, which was what more than 60 art lovers did in a special after-hours showing at Vienna's prestigious Leopold museum.
For many, the tour of "Nude Men from 1800 to Today" — an exhibit of 300 paintings, photographs, drawings and sculptures focused on the bare male — was a goose-bump-raising instance of life imitating art.
"I can't say I'm sweating," said office worker Herbert Korvas as he stood waiting in the atrium with other young men, wearing only socks, sneakers and a smile. Despite the cold, he said he was drawn to the idea of naked museum viewing "because it was something different."
But after a while it really wasn't. With no other viewers around, nude quickly became the new normal as the visitors quickly gathered around a — dressed — exhibition guide and moved slowly from one art work to the next, listening intently to their history.
And they weren't the first visitors to get naked either, despite the hoopla around the event that drew dozens of reporters and camera teams from Austria and elsewhere.
A man had already stripped at the exhibition of pictures and sculptures in November, calmly sauntering through the exhibition and dressing again only after a security guard asked him to do so. That act made news — and sparked demand for Monday's all-nude showing, said museum spokesman Klaus Pokorny.
"We got requests from all over the world from people who were inspired by the exhibition ... who asked us, 'Can we visit the exhibition naked?'" he said.
On Monday, interest was definitely skewed along gender lines. Irina Wolf smiled as she looked around at the mostly male crowd lining up for tickets.
"I'm at a big advantage here," she said. "Only men around."
While Wolf said she is not someone who regularly strips in public places, the 40-something computer engineer and occasional theater critic, said "I want to see how I relate to such a group."
For others, Monday's event fulfilled a long-cherished wish — even though they had a hard time explaining why.
Florian Kahlenberg from Munich said he found it "interesting to stroll through a museum naked," adding. "I've always wanted to do that."
Few visitors, naked or dressed, have complained about the show, despite some explicit material showing sexual acts. Described as among the most successful ever staged by the Leopold, it has drawn well over 100,000 people.
That fits with Vienna's relaxed attitude. Its turn-of-the-century decadence allowed Egon Schiele and Gustav Klimt to flourish, and the Leopold itself has a world-class collection of those and other artists known for their explicit depiction of the flesh.
But the Austrian capital's acceptance of nudity goes beyond museum exhibits. Thousands of men, women and children skinny dip daily in the Danube along stretches reserved for them during the summer, while racy lingerie ads dot huge billboards across the city all year round and a mass-circulation daily regularly prints photos of half-naked women.
Still, there are limits to Viennese tolerance. The Leopold was forced into cover-up mode last year after complaints over promotional posters plastered city-wide that showed three young and athletic men of different races wearing nothing but blue, white and red socks and soccer boots.
Swaths of red tape were subsequently placed over their sensitive parts.