Buddymoons bring new meaning to all-inclusive vacation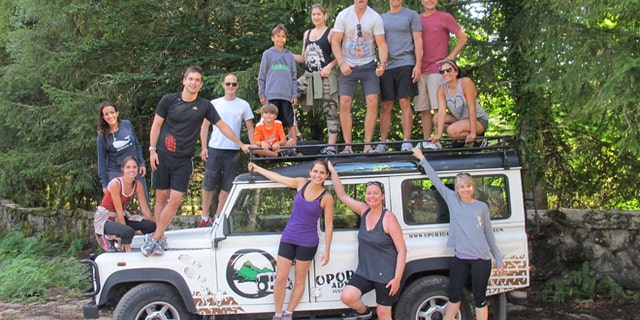 When Nadine Zylstra, a children's television executive in New York, got married in South Africa in 2001, she and her husband didn't have a traditional honeymoon. Instead, they invited about 10 close friends who'd come to the wedding to stay with them for a week at another friend's house in Plettenberg Bay, a beautiful stretch of coastline in the country's Western Cape Province.
"It felt so crazy that they were coming from all over the world and we were going to leave," Zylstra told FoxNews.com. "So many of the friends who had come to see us, we hadn't seen in a long time. It was great to get in some time together. It was like a really fun vacation, but even more so because people treat you like a million bucks because you just got married."
Non-traditional honeymoons such as Zylstra's have become increasingly popular among newlyweds who want to prolong the party aspect of their nuptials by spending extra time with loved ones who are gathered conveniently in the same place.
[pullquote]
While plenty of couples still prefer a just-the-two-of us trip, more are inviting family and friends along for a post-wedding getaway that some wedding experts have dubbed the "buddymoon" – giving a whole new meaning to the phrase all-inclusive vacation.
Another factor that industry insiders say has contributed to the uptick: online honeymoon registries, in which guests contribute money to the couple's trip or pay for certain activities along the way, such as a hot-air balloon ride or wine tasting.
"With honeymoon registries, guests are seeing more of what couples are doing on their honeymoon," said Siera Duiser, a Michigan-based travel agent with Destinations to Explore, who says she's seen a notable jump in the number of clients who are planning a wedding with extended time afterward to spend with family and friends. "They say, 'hey, we bought you a swim with the dolphins package – why don't we come along and watch you do it?'"
Last year, Janet DeVito, a New Jersey-based travel agent with cruise specialty agency CruiseOne, helped her son and his fiancée plan such a trip for about 50 of their family and friends, who joined them during their weeklong wedding cruise through the Caribbean. The ceremony was held on St. Thomas at the halfway point, with a handful of guests flying to the island just for the ceremony. Most of the group, however, was onboard for the whole week.
"We got off the ship in St. Thomas and had a cocktail reception and lunch, with steel drum music, and then we went back on the ship and had a big dance party," she said. "The celebration went on for three days, and it was wonderful."
According to DeVito, a cruise offers an ideal scenario for a buddymoon, since entertainment, logistics, meals and other details are largely taken care of for the group.
But brides who are considering organizing a post-wedding group trip of any kind should keep in mind that "it could absolutely be overwhelming," according to Diane Macedo, an on-air reporter for Fox Business Network.
Macedo, who was recently married in London, where her husband Thomas Morgan is from, planned a weeklong trip following the wedding for about a dozen of the couple's family and friends to Portugal, where her parents are both from. The buddymoon included group dinners hosted by Macedo's relatives, hiking and swimming in a national park, and exploring the capital city of Lisbon.
"It's not for everybody, but it was for us," Macedo told Foxnews.com. "I was happy to do to the extra work to make it a little more worth [our guests'] while. We can travel alone whenever we want, so we figured we'd take advantage of our friends being there."
As fun and fulfilling as such a trip can be, however, there are some caveats in pulling it all together. Macedo, who describes herself as "a planner by nature," recommends that newlyweds "find middle ground" between scheduling activities and allowing free time for guests, while carving out some alone time for themselves as well.
For example, she and her husband opted to stay at a hotel within walking distance of the apartments that the rest of the group had rented, which made for easier logistics in group gatherings while allowing them some downtime.
In addition, especially for international trips, Macedo recommends that guests have a way to get in touch with each other, such as cell phones (globally enabled if necessary) or Internet, and to make reservations for restaurants and car rentals enough time in advance to accommodate a group.
Macedo also handled the tricky task of whom to invite by extending the invitation to all guests via a message on the couple's wedding website.
"I think it sort of figured itself out," she said. "Our friends who are closest to us read every word on the website, but they're in touch with us on a regular basis anyway. Those that saw the invitation and wanted to come, came, but most of the guests didn't, which is exactly what we expected."
At the same time, newlyweds also shouldn't overestimate guests' participation – or ask for their input on such critical components as dates or destinations.
Alan Rosenbaum, a Georgia-based CruiseOne travel agent, told FoxNews.com that for any type of group trip, dropouts "happen all the time. … You are going to have people dropping out, even very close friends, and if you try to get a consensus, you'll never get one."
"People don't realize sometimes that not everybody else is as excited as they are."
But recruiting an enthusiastic guest or two to attend help with the planning can be a key factor in creating a harmonious, memorable trip for everyone. Zylstra, for example, noted that the owner of the house where they stayed was the "consummate host" who handled most of the planning for activities and recommendations for the group.
"He knew where we should go and he was behind the scenes organizing everything," she said. "That was one of the reasons it was particularly fabulous."
That, and the night in a luxury hotel that the group bought for Zylstra and her husband – a taste of the traditional honeymoon amidst their ahead-of-its-time buddymoon.