Broadway takes a big hit from Superstorm Sandy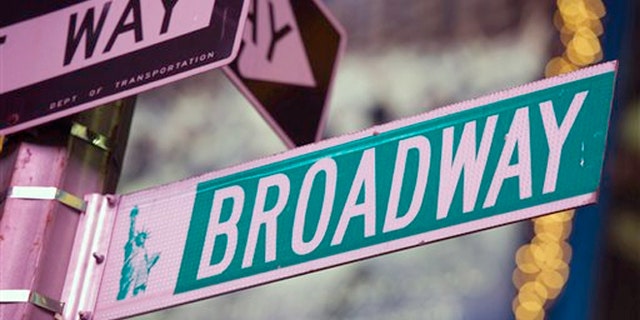 Superstorm Sandy, which darkened Broadway for four days, predictably ravaged the box offices around Times Square, with shows losing more than $8.5 million.
The Broadway League, the national trade association for the Broadway industry, released data Tuesday that showed, as expected, all shows took a hit. One of the hardest hurt was the Matthew Broderick musical "Nice Work If You Can Get It," which lost $538,853.
Since the storm actually affected two weeks of data, the league estimates that grosses managed just $33.66 million for past two-week period, a drastic fall from the same time frame last year when the box offices earned $42.2 million. Attendance also plunged 19 percent from the 10-year average.
The storm, which struck last Monday, forced all 40 Broadway theaters to shutter the night before. All shows were up and running by Thursday night, but the damage had been done, though few expect the pain to last.
"It will come back to its former life, there's no question about it. Broadway is New York and everyone celebrates the theater in this city," said Barry Weissler, who has been producing work on Broadway since 1982. "It's catch-up time."
Most shows on Broadway have eight performances a week, but Sandy forced many, including "The Phantom of the Opera," ''The Heiress," ''Who's Afraid of Virginia Woolf?" and "Chicago" to put on just six shows. "Glengarry Glen Ross" and "Evita" only managed five shows. Altogether, 48 individual performances were canceled.
Other shows that took a beating include "Wicked," which lost $490,996, though it still managed to pull in $1,166,275. The least hurt was "Rock of Ages," which lost just $59,209.
Sandy joins other recent shocks to have rocked Broadway finances, including the Sept. 11 attacks, which shuttered theaters for two days, and Hurricane Irene in 2011 that wiped away a weekend's revenue.
"Storms will not stop us, the terrible tragedy of 9/11 will not stop us. Theater will continue. It's one of the oldest art forms known to man and it will continue," said Weissler, who together with his wife, Fran, has produced such shows as "Grease," ''Chicago" and "Annie Get Your Gun."
The league said that the losses from Hurricane Irene were actually larger than for Sandy. Not only were 66 individual performances scrapped for Irene, but the storm struck during the busy summer, not the slower fall.
But Sandy may have hurt off-Broadway theaters more. The SoHo Rep and The Bank Street Theater lost power and had some flooding, while many other downtown theaters lost power, including the MCC Theatre and SoHo Playhouse. The Canal Park Playhouse canceled all November and December performances.
The infectious drumming show "Blue Man Group" was quieted, the immersive, genre-bending show "Sleep No More" was stilled, and The Public Theater was shut down for almost a week. The lobby at its home at Astor Place is now a collection site for post-Sandy supplies.
Charlotte St. Martin, head of the league, wasn't sure if Sandy would produce the same outpouring of help and concern that 9/11 triggered in the city.
"There was an enormous response and rally by people across this country, and frankly, from around the world, who felt this need to support New York," she said. "I don't know if that's going to happen because of the hurricane, but it sure would be great if it did."