Breastfeeding mom kicked off Spirit flight for 'non-compliance'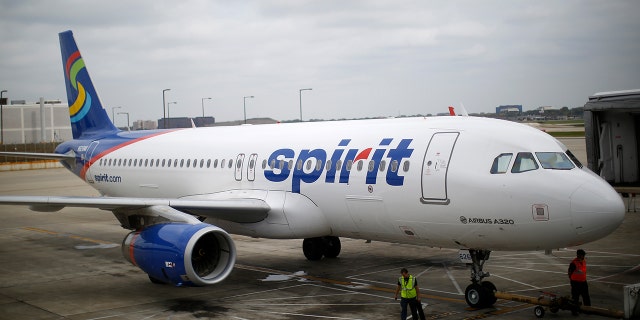 A Houston woman, her elderly parents and her 2-year-old son were kicked off a Spirit flight at the George Bush Intercontinental Airport Friday morning for non-compliance with crew instructions after being told to stop breastfeeding her son and buckle him in the seat.
Mei Rui, a concert pianist and cancer researcher, was on her way to New York City to take part in a recording session for a clinical cancer study, The Washington Post reports. Trouble began when the 6:30 a.m. flight was repeatedly delayed due to an "insufficient de-icing solution," Rui wrote in a now-deleted post on Facebook. She began breastfeeding her young son in an attempt to quiet him down and get him to sleep on the three-hour flight.
MAN APOLOGIZES TO 'RACIST' WOMAN WHO SHAMED HIM IN AIRPORT
"Every parent with a young child can [imagine], you don't want to be that parent on the plane," she told the Post. "It would be very embarrassing. I was just trying to avoid that."
Rui claims a crew member asked her to stop breastfeeding and buckle her son into his seat before takeoff. She wrote that the airplane door was still open and asked the attendant for a few more minutes to finish nursing her son before the doors closed. However, a representative for the airline said reports confirm that the door was already closed at this time.
"I explained to them both that giving me a couple more minutes to finish nursing him would prevent him from crying and disturbing the other passengers. Seeing that I did not stop breastfeeding him promptly, they went back and at that point must have called the captain. I didn't want to cause any trouble, so I immediately pulled my son off and forced-buckled him into the seat, which set off uncontrollable crying for the next 25 minutes to the great dismay and earache of everyone on the plane," Rui wrote on Facebook.
SOUTHWEST PASSENGER THREATENS TO 'KILL EVERYBODY' ON PLANE AFTER BEING CAUGHT SMOKING
She and her family were then allegedly asked to leave the plane, where they were met by airline staff and airport security who told her they would not be allowed back on board. "It's not like I was resistant, I put him in the seat," she told The Post. "If they had shown a little compassion, it wouldn't have happened, they didn't have to let it escalate."
Rui recorded the encounter on her cell phone, where she can be heard over her crying son, asking what she had done wrong. "I just want to know why we were kicked off the plane." Rui said.
"Because you were not compliant," a Spirit employee said.
"Could you tell me which part of the instruction we were not compliant with? I think we deserve to know that."
The employee refused to provide any details.
"If this happened to your family..." Rui said.
"It wouldn't happen to my family, I can assure you," he said.
Spirit's Director of Communications, Stephen Schuler, told Fox News that Rui was not removed for breastfeeding but instead for failure "to comply with crew instructions by not being safely buckled and secured for takeoff after being asked repeatedly to do so."
"We were forced to remove a passenger from flight 712 after they refused to comply with crew instructions several times while the doors were closed during taxi and safety briefing. To ensure the safety of our guests and crew, FAA regulations and airline policies require all passengers stay seated and buckled during takeoff and landing. We reviewed multiple accounts from the crew and other guests sitting nearby and we apologize for any inconvenience caused by this issue.
"As a courtesy, we've issued a full refund to the customer in question," Schuler wrote in an email to Fox News.
FOLLOW US ON FACEBOOK FOR MORE FOX LIFESTYLE NEWS
"We're not lawbreakers or trouble seekers," Rui told KHOU. "We're the elderly, a baby and his mother, why did they have to treat us this way?
After waiting an hour for their luggage, which was never returned, according to the Post, Rui and her family were on the way home from the airport when her father, who suffers from a heart condition, collapsed and had to be rushed to the hospital.
It's been an especially tough year for the mom, whose family lost their home to Hurricane Harvey and are still living in temporary housing, the Post reports.