Boeing Dreamliner Makes Debut Flight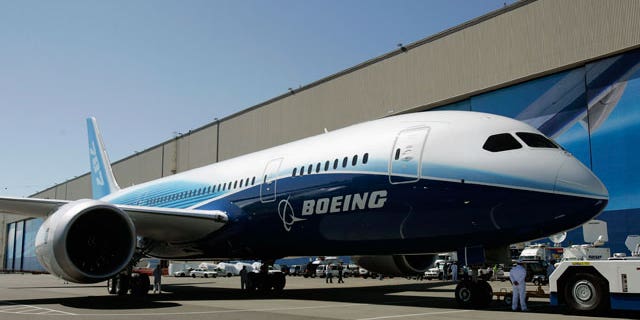 Carrying its first paying passengers on Wednesday, the Boeing Co (NYSE:BA) Dreamliner, the world's first carbon-composite airliner, flew to Hong Kong Wednesday from Tokyo.
Its takeoff into clear blue skies after a salute and shower by an airport fire truck marked what its maker hopes will set a new benchmark in air travel.
The Dreamliner won't fly any faster than the first 707 jetliner the U.S. company built a half century ago, but it's not supposed to. Instead, it is designed to make the hours aloft more pleasant for passengers and cheaper to fly for its owners.
The Dreamliner that flew Wednesday is owned by All Nippon Airways Co and a jubilant Shinichiro Ito, the airline's president and CEO, described his brand new plane as a "game changer." He acknowledged, however, that production hiccups that delayed delivery for three years had put his carrier "through hard times."
Its cabin builders promise a flight with ambient lighting, with settings such as sleep long, cruise bright and beverage medium, engineered to lull passengers to sleep. The cabin also boast higher air pressure that will make the interior feel like 6,000 feet rather than the 8,000 feet on other jetliners.
Passengers on ANA's jet were treated to shifting hues of color, including a rainbow display as the aircraft lifted off from the tarmac in Tokyo, its engines a gentle whistle. The quiet engines and greater cabin air pressure might create a new problem in air travel: making conversations of fellow passengers easy to hear.
Its other bells and whistles include windows that are 30 percent bigger and which can be dimmed electronically. Seat-to-seat e-mail, bidet-equipped lavatories with their own windows and bigger touchscreen entertainment panels.
Gino Bertuccio, an Italian cosmetic importer living in Miami, said he liked the windows, although he wondered how well they will work after wear and tear and curious children.
Bertuccio, who describes himself as an aviation enthusiast spent $30,000 in an auction to buy his ticket on the flight.
"I don't have a wife that might say no," he explained as the cabin dimmed to a mellow rainbow.
Boeing's focus on making the 787 more comfortable and lighter also points to the reality that faster, gas-guzzling air travel is not the industry's future.
A continuing squeeze on profits and the rise of budget carriers has made the luxury of time-saving too rich for ANA and other airlines and forced Boeing and European rival Airbus to adapt their products.
"For carriers with high operating margins, the 787 is critical for gaining a cost competitiveness," said Masaharu Hirokane, an analyst at Nomura Holding in Tokyo. "For ANA to be a launch customer is a plus," he added.
The Dreamliner was originally conceived in 2001 as the "Sonic Cruiser," designed for a bygone era of aviation that quickly morphed into one filled with bankruptcies and soaring fuel costs. It was a design that promised the first serious speed increase since the advent of the now defunct Concorde.
Most jetliners cruise at around eight-tenths the speed of sound. The Sonic Cruiser promised mach 0.98, lopping hours off long-haul flights between Tokyo and New York. The apparent end of cheap oil, with prices close to $100 a barrel, forced Boeing and other airlines to change course.
Thus was born the Dreamliner, its only link to the shelved Sonic Cruiser proposal being the use of carbon composites.
JAPAN DOMINANCE
The Dreanlimer's success or failure will depend much on Japan, the only major aviation market where Boeing clearly dominates its European rival.
More than a third of the Dreamliner is built by Japanese companies, including Mitsubishi Heavy Industries, Kawasaki Heavy Industries and Fuji Heavy Industries.
Of Boeing's Dreamliner backlog of 821 orders built up over the three years of delays, nearly a tenth of them are from Japan.
ANA's Ito said on Wednesday his airline expects to have seven 787 by the end of the year, nine by the end of the business year in March 31 and 20 a year after that.
Boeing's vice president in charge of the Dreamliner program, Scott Fancher, joined Ito on the first commercial flight and said his company was sticking to a target of building 10 of the aircraft a month by 2013.
"We are comfortable we have an executable plan," he said, declining to say how many will be built by the end of the year.
He also demurred on the question of what Boeing would do with production slots for 24 Dreamliners canceled by China Eastern Airlines on October 17 because it was unable to wait for output to pick up.
Air New Zealand too voiced concerns over possible further delays last week. The carrier said it is seeking compensation from Boeing.
The plane builder on September 26 said it expects to break-even on the plane this decade. Boeing releases its latest earnings results in the United States on Wednesday.
Enthusiasm among other Japanese and other airlines for the Dreamliner has been undimmed by the delayed Dreamliner.
The 100 seats available to paying passengers on the flight Wednesday sold out as soon as they went on sale, with 25,505 people scrambling online for the scarce tickets priced at 78,700 yen. A pair of tickets that ANA offered on the Yahoo auction site for charity sold for 890,000 yen ($11,693.601).
Tsuneko Hayashi, from Tokyo, was one of the few that got a ticket.
"It's light so it might flip over in the wind," she quipped as she waited to board the plane as ANA's Ito and Boeing's Fancher prepared to crack open a sake cask with wooden hammers to toast the flight. "I am really interested in it," she added.
The aircraft made it safely to Hong Kong where it was greeted by another fire engine shower, drums and dancing lions on the 53rd anniversary of the 707's first commercial flight by Pan Am on Oct 26, 1958.
($1 = 76.110 Japanese yen)
(Reporting by Tim Kelly; Editing by Matt Driskill and Miyoung Kim)