Arrested spring breakers flash big smiles on bus headed to jail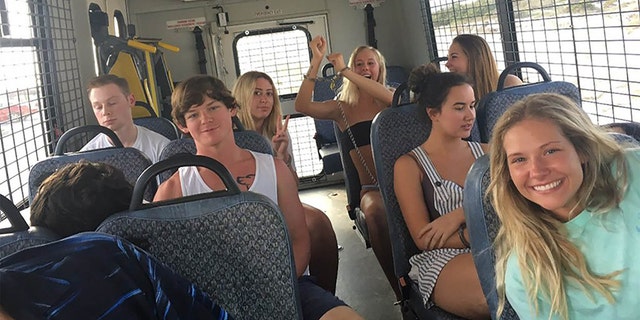 A group of underage partiers were arrested in Florida on Saturday afternoon for partaking in the spring break debauchery.
The Okaloosa County Sheriff's Office posted a picture on Twitter of the 14 spring breakers that were arrested for underage drinking – all before 2:40 pm on St. Patrick's Day.
"Full bus of 14 #SpringBreak arrests by 2:40 PM today. We remind you we have #ZeroTolerance for underage drinking! 21 is the law -and it's strictly enforced for your safety and the safety of those around you," the Sheriff's Office tweeted.
SPRING BREAKERS GONE WILD: COLLEGE STUDENTS' ANNUAL RITE OF DEBAUCHERY CONTINUES
But the handcuffs haven't seemed to dampen the group's spirits. Several of the bus riding law breakers posed for the camera. One girl in the back row even showed off her handcuffs by lifting up her arms, and flashed a big smile.
Though the crew seemed to be unfazed by the arrests, several on Twitter have a different point of view.
In response to the photo, one person tweeted, "And far too many think it is FUNNY. Nothing funny about breaking the law, Parents should not tolerate this and these kids should be ashamed."
Another wrote on the Okaloosa County Twitter, "Agree! Zero tolerance."
Spring break has been a growing problem for Florida beach towns with an estimated 4 million college students descending on the Sunshine State each year.
FOLLOW US ON FACEBOOK FOR MORE FOX LIFESTYLE NEWS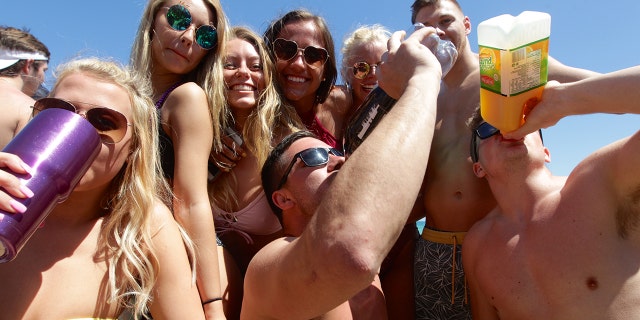 This year several popular spring break destinations – Miami Beach, Fort Lauderdale, Panama City Beach, Orlando and Daytona – have started cracking down on the rowdy and dangerous behaviors college kids engage in during the boozy week.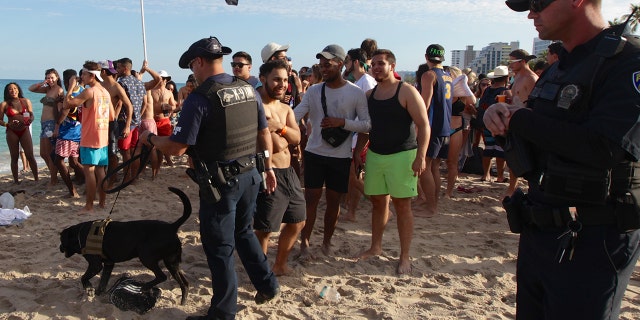 "We changed the hours of drinking back two hours earlier, bars must close at two, no drinking on the beach in March, no parking overnight on the rightaways, those are just some of them," Panama City Beach Mayor Mike Thomas told Fox News. "I know that the arrests are down, and that we are having a very nice spring break."
"If you chose to act up, and chose not to follow our rules, you're going to jail," Thomas added.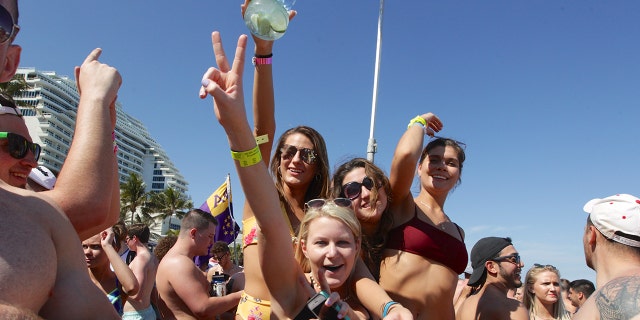 The crackdown seems to be working for the city. Over 220 spring breakers had been arrested as of March 13, Metro reports.
Fort Lauderdale also issued stricter rules for partiers.
"It just won't be tolerated. If that's what kids want, they definitely shouldn't be coming here," Greater Fort Lauderdale Chamber of Commerce President Dan Lindblade similarly told the Sun Sentinel. "The spring break days of the past aren't that way anymore."
Fox News' Janine Puhak contributed to this report.