Anthem of the Seas dazzles cruisers in the digital age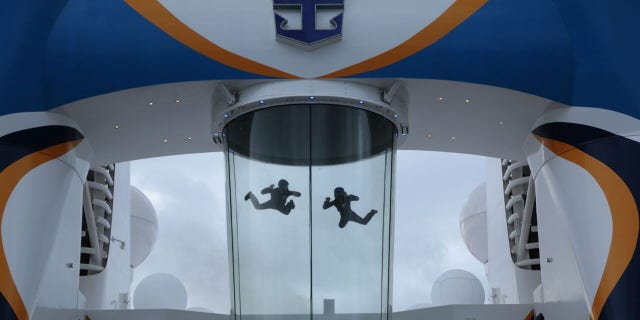 NEWYou can now listen to Fox News articles!
Royal Caribbean's Anthem of the Seas, one of the most highly anticipated cruise ships of the year, has just started offering year-round sailings from New York Harbor, allowing passengers to experience bumper cars, roller skating, surfing, skydiving, gondola rides, robot bartenders and the fastest Internet connectivity on a cruise ship.
"I'd be amazed if anyone could come back from a cruise on Anthem and say it was boring, because it's not. It's phenomenal," said Royal Caribbean CEO Michael Bayley.
The ship is a virtual replica of Quantum of the Seas, which launched last year to great fanfare and briefly sailed out of Cape Liberty before relocating to China.
With 16 decks and room for 4,900 passengers, Anthem of the Seas is one of the five largest ships at sea and the largest to sail year-round from the Northeast.
The ship offers a range of five- to 12-night cruises to the Caribbean, Bahamas, Bermuda, New England and Canada. It is particularly well suited for all-season cruising, with several covered pools and a variety of indoor play zones and entertainment venues.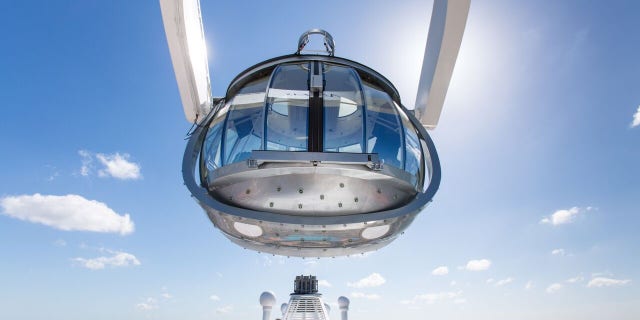 Eager to grab the attention of millennials and hip Manhattanites, Royal Caribbean this week is live-streaming passengers' photos and videos as part of a "Come Seek Live" marketing event on outdoor installations at Grand Central Terminal and Penn Station and on over 200 digital billboards throughout New York.
"We're leveraging the technology onboard the ship with the help of social media influencers who are sharing live broadcasts from the ship and Caribbean islands," said Royal Caribbean CMO Jim Berra. "This lets people see what passengers are experiencing in real time."
And here's what they're seeing:
First-at-sea family fun. The Quantum-class ships have made a splash with multiple first-at-sea fun experiences, many of which take place in SeaPlex, a bi-level play zone on Deck 15 that offers basketball, bumper cars, roller skating and even a circus school with a flying trapeze. Upstairs you'll find game tables for pool, air hockey, pingpong and foosball, as well as an Xbox lounge that was a favorite hangout for dads on our cruise.
On the top deck, passengers can check out the Flowrider surf simulator, the rock-climbing wall and RipCord by iFly, a skydiving experience for ages 3 to 93 that takes place in a 23-foot-tall vertical wind tunnel.
For the best views, climb aboard North Star, a glass-sided observation capsule that gently ascends to 300 feet above sea level and lets 14 passengers at a time take in panoramic bird's-eye views of the ocean and the ship.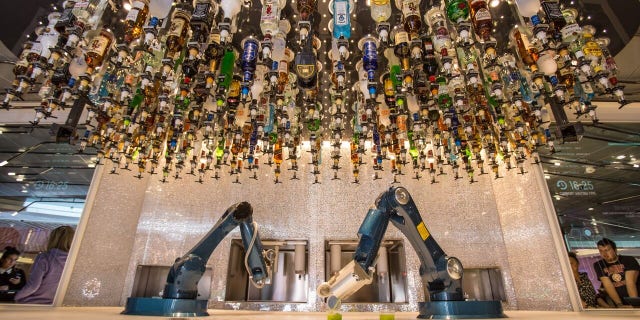 Faster embarkation. Royal Caribbean promises that passengers can go from the pier sidewalk to their stateroom in just 10 minutes (we did it in 7 minutes, 43 seconds). You use online check-in at home to process the bulk of your paperwork, from uploading photo IDs to confirming passport documentation. At Royal Caribbean's Cape Liberty cruise terminal in Bayonne, N.J., roaming, tablet-carrying agents have replaced the check-in counter to help guests with questions. If you've checked in online and your paperwork and ID are in order, you pass through security and walk right onboard with no lines or forms to fill out. You can also track your checked luggage with the RoyalIQ app.
Superfast (and blessedly cheap) Wi-Fi. While most cruise lines use high-orbiting satellites to deliver Wi-Fi access, Royal Caribbean is the first to use a constellation of mid-orbiting satellites that provides connectivity fast enough to stream video or play in an Xbox Live tournament. "This is the fastest Internet at sea," said Bayley. "The bandwidth on this one ship is bigger than the rest of the cruise industry combined."
Better yet is the pricing model. Cruisers accustomed to paying through the nose for Wi-Fi by the megabyte will love Anthem of the Seas' $15-a-day flat fee for unlimited access.
Paperless voyaging. On Anthem, there's no key card or paper schedule. Royal Caribbean's "smart concierge" uses an RFID "WOWband" wristband that guests tap to enter their cabin and make onboard purchases. The RoyalIQ app, meanwhile, lets you peruse the activities schedule, view deck plans, make and change dining reservations and more.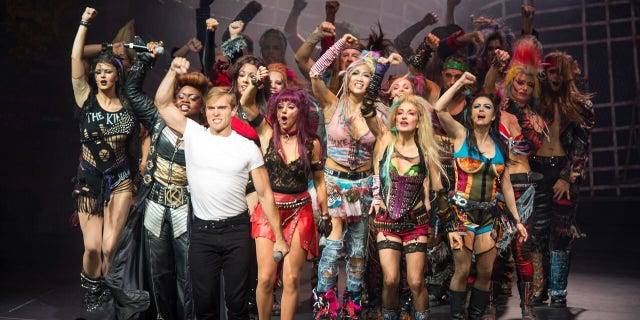 Smash-hit entertainment. Known for bringing "Hairspray," "Chicago" and other Broadway musicals to the high seas, Royal Caribbean reached across the pond this time to find its blockbuster show. On Anthem of the Seas, passengers can take in the Queen tribute "We Will Rock You," an Olivier Award-winning phenomenon that ran for 12 years at London's Dominion Theatre.
Flexible dining. On Quantum-class ships, passengers can dine in the main dining rooms or upgrade to a premium "Dynamic Dining" package that lets you try out premium eateries by celebrity chefs like Jamie Oliver, Michael Schwartz and Devin Alexander.
"Dynamic Dining is all about choice," said Bayley. "You can basically eat anywhere you want. About 70 to 80 percent of our guests choose this option for its flexibility."
Robots and drones. One of the ship's most futuristic spaces is the Bionic Bar, where you can order a cocktail on a touchscreen tablet and watch a robotic bartender mix your drink and serve it to you on a conveyer belt. Just don't expect any small talk.
Finally, why bore your friends with another selfie when you can share a dronie instead? An onboard drone operator will send a camera zooming overhead to create a 15-second personalized video of you on the ship. You'll receive the clip via email along with a gentle reminder to share with the #AnthemoftheSeas hashtag.