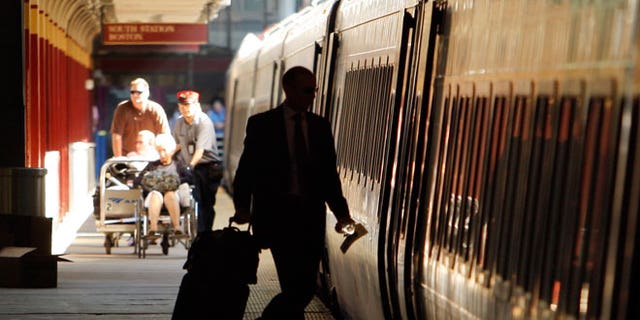 Amtrak has revamped some of its tech offerings in an effort to better attract customers that would otherwise be flying.
The advances by Amtrak, which include adding free Wi-Fi to the Northeast corridor and introducing e-tickets on its Boston to Portland line, mark its latest effort to chip away at the airline industry.
Adding free Wi-Fi to its most popular line -- Boston to Washington D.C. -- is key to the company's efforts of attracting more business travelers and younger tech-savvy passengers.
"Strong passenger interest" helped spark the introduction of AmtrakConnect, the free Wi-Fi service, the rail operator said. Twelve of its East Coast trains now feature free Wi-Fi, meaning trains carrying nearly 60% of all Amtrak passengers provide free access to the web.
"The expansion of Wi-Fi further enhances the travel experience for passengers, giving them more options for entertainment or to do work while en route," says vice president of marketing and product development Emmett Fremaux. "We are committed to continuing to improve and expand this service as resources and technology allow."
Amtrak, which announced last month a 5% year-over-year increase in ridership for the fiscal period ended Sept. 30, has been trying to take a bite out of airlines' powerful hold on the travel industry.
With the exception of 2009, the commuter rail service has reported record ridership and revenue every year since 2002, which is about the time airlines started to struggle.
The economic headwinds have started to create problems for major U.S. airlines, including AMR's American Airlines (NYSE:AMR), which fought off bankruptcy rumors last month, as well as other airline majors such as Delta (NYSE:DAL) and United Continental (NYSE:UAL) that have considered or already cut capacity. Total industry profits are expected to fall to $4.9 billion in 2012 from $6.9 billion this year, according to the International Air Transport Association.
Amtrak has also added Wi-Fi to other lines including its Keystone service, which is from New York to Philadelphia to Harrisburg, Pa.; its Ethan Allen Express, from New York to Rutland, Vt.; the Carolinian, from New York to Charlotte; Empire Service, from New York to Albany and Buffalo; the Downeaster, from Boston to Portland; the New Haven; Springfield; and the Vermonter, which is from Washington to St. Albans, Vt.
There will be Wi-Fi installed on four other lines, including its Adirondack, Maple Leaf, Palmetto and Pennsylvanian routes, however it will only be available in select cars.
Amtrak had already been offering Wi-Fi on its Acela Express in the Northeast Corridor and on the Amtrak Cascades service in the Pacific Northwest. The company said Wi-Fi has always been a priority, but its expansion on other lines has been delayed primarily due to the limited bandwidth on many routes, which is currently provided through third-party cellular data networks located along the tracks.
The rail company says it is exploring ways to expand that coverage through talks with third-party mobile providers.
"We're taking maximum advantage of the existing infrastructure to offer Wi-Fi service to our passengers," said Lenetta McCampbell, senior director of on board systems at Amtrak. "And we're poised to improve upon those offerings rapidly as the networks we tap into advance."
The company next plans to expand Wi-Fi on the state-supported Amtrak services in California, including on its Capitol Corridor, Pacific Surfliner and San Joaquin trains. With those additions at the end of 2011, some 75% of all Amtrak passengers will have access to on-board Wi-Fi, the company said.
Separately, Amtrak started a pilot test of its e-ticketing system on the Amtrak Downeaster service Thursday that allows passengers to board a train without a traditional paper ticket. Instead, a traveler just has to flash the ticket on their smartphone.
The railroad operator says it will roll out e-ticketing to all its trains nationwide next year.
The e-ticketing feature also lets passengers make changes to their reservations online before the departure time. Amtrak says it will try to provide greater flexibility to its online customers with respect to modifying reservations once a trip is underway.
In recognition of these tech-savvy efforts, Amtrak was awarded a spot on the list of top 500 technology innovators across America by 2011 Information Week – an award Amtrak says reflects its efforts to enhance the customer travel experience.