America's Best Fourth of July Fireworks Displays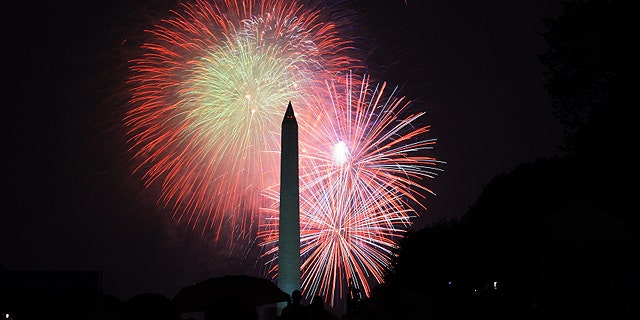 Perhaps the only thing more American than fireworks on the Fourth of July is democratically soliciting nominations for who has the best fireworks on the Fourth of July, which is what I tried to do.
Using the social media service HARO (Help A Reporter Out), a handy resource if you want to ask a cross-section of America a question, I received 68 nominations across 27 U.S. states, with Pennsylvania leading the pack with the most nominations as well as some of the more interesting celebrations.
While I had no discernable judging criteria at the outset, details provided by many respondents gave shape to four benchmarks: Is there something exceptional about the look or sound of the display itself? Is the backdrop or vantage point for the fireworks meaningful? Is some wacky stuff going on that makes the fireworks more fun?
Since this is ultimately a democratic exercise run by a dictator, another consideration was whether your description made me want to be at the fireworks. Sadly, my favorite nominated experience -- supplied by writer Kathryn Marion, who once watched the Mount Rushmore fireworks from atop her mobile home - has been cancelled this year because of fire dangers in the forest surrounding the monument. Along those lines, verify that the show's going on before you travel to any of these patriotic displays.
Here now, in no particular order, are America's best fireworks – please keep your comments civil in honor of the day.
Lead, South Dakota. Even though you can't see the Mount Rushmore fireworks this year, you can still see the presidents and catch a good fireworks show on the same day at the nearby Homestake Gold Mine, "once the largest, longest-operating and highest producing gold mine in the country," now home to an underground physics lab, says Joe Rainboth of Spearfish, SD. The fireworks, he says, "are shot up and out from the interior of the open-cut surface mine. The fireworks display itself is impressive, but the thundering repercussions of the blasts are the real show."
Philadelphia, Pennsylvania. In Ed Ryder's estimation, the Penn's Landing fireworks have in past years been "so-so" and the show at Phillies home Citizens Bank Park "consistently lavish and surprisingly intense." But his favorites are the fireworks that explode above the Philadelphia Museum of Art. "Year after year they are extremely big-time fireworks," says Ryder, who after listening to the free concert out front – which this year includes The Goo Goo Dolls and The Roots – will head behind the museum to watch the fireworks. "You can't see the low level fireworks back there, but you certainly can enjoy everything that gets launched, because that's where they set them off," adding that the "concussions of all those blasts ripple through your body and then echo off tall city buildings in the background." Consider bringing an umbrella, Ryder says, as "an area is blocked off for safety, but if the wind is blowing a little bit, the debris fallout zone shifts so that pieces of fireworks shells rain down on spectators."
Honorable mentions: At Penn State's University Park Campus this year you'll encounter the Annual Central PA 4th Fest Celebration, where the highly-regarded fireworks display will be complemented by "a star spangled sky dive by Team Fastrax, with divers displaying a 3500 x 7000 sq. ft. American flag," says Christie Black, marketing director for the Central PA Convention & Visitors Bureau. "Nearly 16,000 shells will be fired during the 45 minute show," she says, drawing a crowd of about 60,000 to 80,000." You might also want to check out New Castle, Pa., the self-described fireworks capital of America.
Fort Bragg, North Carolina. If you happen to find yourself at the largest military base in America this Independence Day you might run into Janeen Driscoll, who has seen the fireworks there twice before "and I'm a civilian," she notes, adding that "one soldier based out of Ft. Bragg is chosen to represent his or her state, and all 50 plus territories are represented in a presentation of colors." The fireworks, set to music and visible from surrounding counties, last an hour, she says.
Fort Bragg, California. Believe it or not, this lesser-known Bragg's been around 65 years
longer than its Southern namesake. These Mendocino Coast fireworks that go off on July 3rd "are exciting, gorgeous and free," says Cammie Conlon "They are launched from the former Georgia Pacific mill site, a vacant stretch of land on bluffs high over the Pacific. At 8:45 p.m., the fireworks start exploding high over the ocean, illuminating the surf and dark blue sky." She adds that the pyrotechnics are preceded earlier in the day by the "World's Largest Salmon Barbecue in nearby Noyo Harbor."
Okoboji, Iowa. While she saw plenty of small-town fireworks displays while growing up in Iowa, Sara Sherman says it wasn't "until I met my husband had I ever been to Okoboji to see the fireworks from a boat on the lake. Set off from barges in the center of the lake, the fireworks are timed to music that is played on a particular radio station. You get your mugs of coffee, your snacks, bundle up in sweats and take your blankets into the boat." She adds that "the show never ceases to bring tears to my father-in-laws eyes, and since my husband's family emigrated from Canada almost 20 years ago, American holidays have special meaning for them."
Epcot, Walt Disney World, Orlando, Florida. Amie Gorrell says she's attended this show "many many times, and it's a pretty mind-blowing experience." While Epcot has fireworks pretty much every night for 12 minutes, the July 4th display includes a special finale that stretches the show to about 25 minutes, she says, "and includes a solid five minutes of 360-degree panoramic fireworks bursting all around the park's perimeter. Plus, there are lasers, smoke, fire, [and] holographic projections on water and it's all choreographed perfectly to music." The show is free with park admission.
LaPointe, Wisconsin. On the fourth, this town on Madeline Island in Lake Superior "swells with freedom lovers, artists, Native Americans, soldiers, sailors, hippies, writers, musicians, families and a smorgasbord of free spirits in a glorious celebration of America's Birthday like no other," says Gary Knowles, noting that a day including a parade, picnic, and other events is capped by fireworks exceptional in part because "an eclectic variety of amplified patriotic rock, country and ballads are interspersed with readings from the Declaration of Independence, quotes from great Americans," and eventually "the lightshow explodes for about 45 minutes high overhead and is reflected in the harbor."
Hudson River, New York, New York. A publicist suggested to me that no fireworks list "worth its salt" would exclude the Macy's 4th of July fireworks, which is a good way not to get included on a list, though I happen to agree, having appreciated this show for most of my life. The optimal vantage point for this display is often someone's apartment, but failing that kind of access, you might consider either the Circle Line's Fourth of July Cruise - $79, not including food or drink – or the rooftop bar at the Hotel Gansevoort in Manhattan's Meatpacking District.
Since we're in the realm of usual but worthy suspects, let's not forget the Boston Pops Fireworks Spectacular that'll feature country music singer Toby Keith or Washington D.C.'s Capitol Fourth fireworks, whose performers this year include Reba McEntire and David Archuleta.