American Airlines under fire for potentially endangering peanut allergy sufferers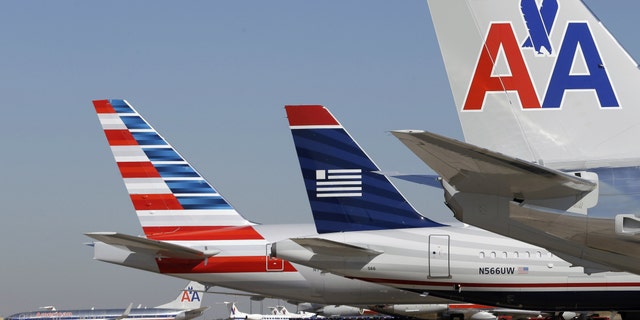 NEWYou can now listen to Fox News articles!
An advocacy group has filed a Department of Transportation (DOT) complaint against American Airlines, arguing the largest U.S. carrier is breaking the law by not allowing passengers with peanut allergies to pre-board.
Food Allergy Research and Education (FARE), which represents people with food allergies, argues in its complaint that, unlike United and Delta, American is not willing to make accommodations for people with nut allergies that anti-discrimination legislation deems necessary.
AMERICAN AIRLINES FLIGHT ATTENDANTS HOSPITALIZED AFTER STRANGE ODOR DURING FLIGHT
Dr. James Baker, an allergist and CEO of FARE, said the Air Carrier Access Act prevents companies from discriminating against people with mental and physical disabilities, and requires airlines to make accommodations for people with food allergies.
"The law states that people with disabilities have to have accommodations for them to be able to live with their disabilities, and people with allergic reactions have a disability with both their cardiovascular and lung systems," Baker, whose organization is based in McLean, Va., told FoxNews.com.
Depending on the severity, peanut allergies can cause anaphylactic shock, a condition that may lead to various complications, including death, according to the Centers for Disease Control and Prevention (CDC).
"Through our filing of this complaint, we are calling on the DOT to take enforcement action and calling for a full retraction of this discriminatory policy," Baker wrote in a blog post on FARE's website. "We also request mandatory training for airline staff to help ensure they do not continue to discriminate against members of the food allergy community."
PANERA SUED FOR SERVING PEANUT BUTTER TO CHILD WITH SEVERE ALLERGY
American Airlines spokesman Matt Miller told FoxNews.com in an email that while American has not seen FARE's complaint, the airline does allow some disabled passengers to pre-board, such as those who rely on wheelchairs. It does not, however, permit pre-boarding for those suffering from peanut allergies.
Currently, American does not serve peanuts on its planes, but it does serve other nut products that may contain trace elements of nut ingredients, such as peanut oils.
"Requests that we not serve any particular foods, including tree nuts, on our flights cannot be granted," Miller told FoxNews.com. "We are not able to provide nut 'buffer zones,' nor are we able to allow passengers to pre-board to wipe down seats and tray tables."
Miller added in his email that while American's planes are cleaned regularly, neither those processes nor the planes' air filtration systems are designed to remove nut allergens. The airline also does not bar other passengers from bringing nuts on board.
"Therefore, we are unable to guarantee that customers will not be exposed to peanuts or other tree nuts during flight," Miller said, even in the case of a peanut allergy sufferer notifying American in advance.
"We strongly encourage customers to take all necessary medical precautions to prepare for the possibility of exposure," he said.
On their websites, Delta Air Lines and United Airlines state that passengers with nut allergies may communicate their concerns with flight attendants, who might be able to make special accommodations. Delta specifically allows peanut allergy sufferers to pre-board upon request.
According to FARE's complaint, the Air Carriers Act ensures the right of "an allergic individual or their travel companions to take necessary steps to guard against potentially dangerous exposure to allergens," and "to wipe down seating areas, tray tables and armrests, and cover seats to prevent food allergen contact."
FOR THE LATEST TRAVEL FEATURES FOLLOW FOX LIFESTYLE ON FACEBOOK
"[A] peanut allergy can result in severe reactions, including death," Baker said, "and if someone is going to be on an airplane where the medical accommodations are limited, doing everything to avoid potential contact would just seem to be a no-brainer."
Following its merger with U.S. Airways in late 2015, American operates the largest fleet of planes worldwide — as of December 2016, the airline maintained 1,500 planes in nine hub cities, USA Today reported.
According to the CDC, peanut allergies are a growing concern among public health officials, and affect an estimated 4 to 6 percent of American children.