American Airlines apologizes to rapper Wale after he claimed employees were racist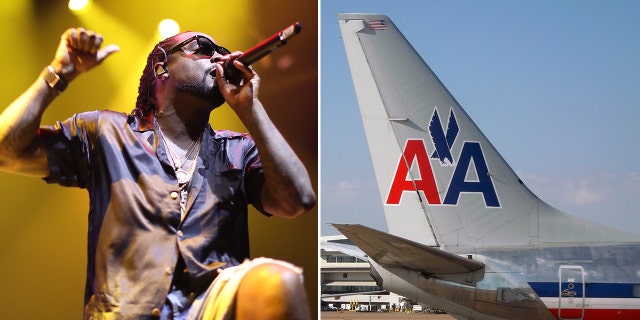 NEWYou can now listen to Fox News articles!
American Airlines has appologized to the rapper who accused two employees of being "racist" after they allegedly questioned his first-class ticket.
Olubowale Victor Akintimehin, a D.C.-based recording artist who goes by the name Wale, tweeted about the alleged incident Sunday evening, which occured on a flight from New York to Los Angeles.
DELTA AIR LINES PILOT GROUNDED FOR CONCEALING 'MAJOR DEPRESSIVE DISORDER' TO KEEP FLYING
Initially he was just complaining about the flight delay after being "stuck on the runway" for what he said was a half-hour and counting.
American Airlines' Twitter account responded to Wale's complaints, apologizing for the wait and blaming the delay on aircraft maintenance.
It was then that Wale accused two specific employees of questioning his place in first class.
"How about ur employees Megumi and Don told me 'ur [sic] not supposed to be in first class I'm calling the police,'" he tweeted.
He also shared a photo of his ticket showing his seat assignment, 4F, in the first class cabin. He then accused the airline of being "racist" and asked what they planned on doing about it.
American Airlines is now appologizing for what they claim was a system error that didn't register Wale's seat assignment.
When the flight was delayed, passengers had to deplane due to the maintenance issue, and when they reboarded, the airline said many passengers sat in the wrong seats.
A spokesperson for the airline said in a statement that the flight attendants "were just trying to figure out why he wasn't listed on the flight in the first place. His seat was inadvertently dropped in the system when they boarded back."
"When the flight landed [in Los Angeles], he was sitting in his correct seat…but he wasn't showing on their tablets as being on their aircraft," a spokesperson for the airline said in a statement.
"We just want to apologize to Wale for what really occurred here," the spokesperson said. "We understand his frustration...He's a good customer of ours. He flies with us regularly. We really just want to apologize profusely," the spokesperson said.
After Wale first tweeted about the incident, a spokesperson for the airline released the following statement:
"Discrimination has no place at American Airlines. From the team members we hire to the customers we serve, inclusion and diversity is a way of life at American. Every day, our team members work to make American a place where people of all generations, races, ethnicities, genders, sexual orientations, religious affiliations and backgrounds feel welcome and valued," the spokesperson said in a statement.
FOLLOW US ON FACEBOOK FOR MORE FOX LIFESTYLE NEWS
In July, the NAACP lifted a "travel advisory" it had placed on American Airlines following several incidents of reported racial discrimination.
NAACP President Derrick Johnson announced at the time that the company was making improvements that address worries about African-Americans being subject to discrimination or even unsafe conditions while flying.
The Associated Press contributed to this report.