Alaska flight attendant praised for reportedly saving human trafficking victim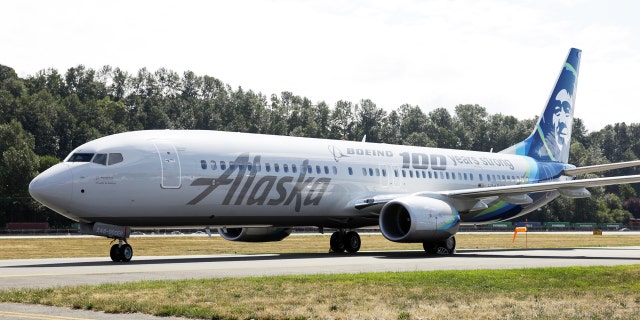 NEWYou can now listen to Fox News articles!
A flight attendant has been hailed a hero after reportedly saving a teenage girl from a sex trafficker while working on a flight nearly 6 years ago.
Shelia Fedrick of Alaska Airlines noticed a girl with greasy blonde hair, believed to be about 14 or 15, sitting next to a well dressed older man on an Alaska flight from Seattle to San Francisco in 2011.
Fedrick said the difference in age and appearance between the traveling companions seemed suspicious to her at the time.
WOMAN CLAIMS SHE WAS BOOTED FROM SPIRIT FLIGHT FOR SHOWING TOO MUCH CLEAVAGE
But the flight attendant was especially struck by the demeanour of the girl who looked like "she had been through pure hell."
When Fedrick decided to approach the pair, the girl apparently refused to speak or make eye contact. The man sitting next to the female passenger reportedly kept interrupting the younger girl and became defensive as the stewardess tried to make conversation.
"Something in the back of my mind said something is not right," Frederick told WTSP.
Deciding something was amiss, Fedrick says she formulated a plan. She managed to convince the girl to go to the bathroom where the flight attendant had left her a note stuck to the mirror.
"She wrote back on the note," Fedrick told NBC News. "She wrote on the note she needed help."
Fedrick immediately reported the man to the pilot who then alerted police.. By the time the flight touched down in San Francisco, cops were waiting at the terminal.
It was then revealed the girl was the victim of human trafficking and Fedrick had just saved her life.
Fedrick told WTSP, "I've been a flight attendant for ten years and it's like I am going all the way back to when I was in training.
"And I was like, I could have seen these young girls and young boys and didn't even know. If you see something, say something."
FOR THE LATEST TRAVEL FEATURES FOLLOW FOX LIFESTYLE ON FACEBOOK
Fedrick said she has kept in contact with the girl who is now attending college.
"I put my phone number on the note that I left for her and I guess she memorised it, so a few weeks later, she called me," Frederick said.
It's estimated that more than 50,000 women and girls are trafficked into the United States for prostitution each year, reports The Washington Post. Last year, US Immigration and Customs Enforcement arrested 2,000 human traffickers and identified 400 victims.
Flight attendants are now being trained to spot for signs of human trafficking as part of their instruction, reported airlineamb.org.
This article originally appeared in the The Sun.