Airplane hits tractor-trailer hauling pigs during emergency landing on highway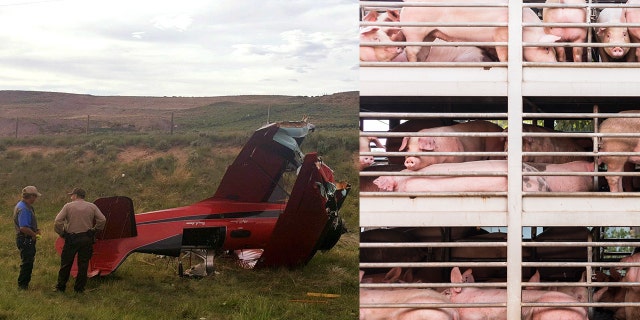 NEWYou can now listen to Fox News articles!
A single-passenger bi-plane was recently forced to make an emergency landing on a Wyoming interstate, hitting a tractor-trailer carrying pigs in the process.
On May 31, the Wyoming Highway Patrol reported on Facebook that the small plane, en route from Colorado to Utah, lost power in its engine "for reasons unknown." As the pilot attempted to land on Interstate 80 near Evanston, he hit the top of the tractor trailer's sleeper berth in the descent, KPVI reports.
NFL PLAYER JERMAINE GRESHAM PRAISED ONLINE FOR PAYING DESPERATE PASSENGER'S BAG FEE

"The impact caused the pilot to lose control of the plane. The plane then struck a variable speed limit sign and crashed on the north side of I-80 near milepost 8. The semi-truck came to a controlled stop on the right shoulder of the highway," the highway patrol said on social media.
No one was injured in the accident, authorities say, though the aircraft was severely damaged in the crash. The truck's sleeper cab also sustained damage in the incident. The fate of the pigs remains unclear at this time.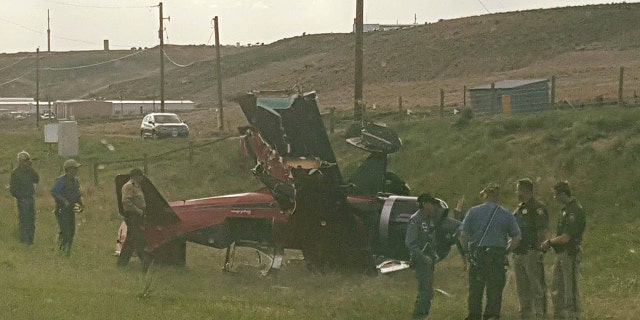 HOW TO TELL THE AGE OF THE PLANE YOU'RE FLYING ON
Moving forward, the Federal Aviation Administration and National Safety board plan to conduct an investigation.
In a post that has since won over 880 reactions and 730 shares on Facebook, commentators had a whole lot to say about the unusual scene.
"That has to be one of the more unique accident reports. I'm waiting to see this on a insurance commercial for Farmers," one user wrote.
"Sounds like the semi was hogging the road," another quipped.