A 1,500-Pound Gift to the Troops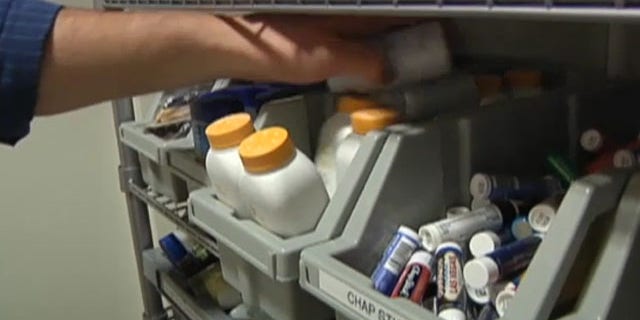 One non-profit has found a great way to use all those TSA rejected shampoo and lotion bottles that are prohibited on airplanes.
Instead of throwing them out, a new donation program at McCarran International Airport in Las Vegas has been getting travelers to dig deep into their carry-on luggage to help the troops.
"Sundries for Soldiers" is a program run by USO Las Vegas, a private, nonprofit organization that gives troops some of the comforts of home --like shampoo, conditioner, toothpaste and wipes -- as they pass through the airport.
USO Las Vegas director Doug Bradford says the program, which began in October, has been and outstanding success --collecting close to 1,500 pounds in just a month.
"I'm expecting a couple of bins worth of products," said Bradford. "But all of a sudden, they wheel this big pallet in that has all these products and I was just amazed." He says they're planning to have another drive in December.
Airlines and businesses were asked to donate sundries to the Las Vegas center, a 2,830 square foot facility that provides troops with resting place that includes televisions, a movie theater, a snack bar and lounges and access to laptops. People donated all sorts of items, including shampoo, lotion, deodorant, oatmeal, sunflower seeds, and even baby wipes.
According to USO Las Vegas, the products are in high demand. Some 35,000 military personnel will pass through the airport in 2011, and those who are active duty can stop by the center to pick up the free products before heading off to training.
"They'll do a lot of (training) in the desert and they don't have a lot of water," said Bradford. "Often times, they'll use baby wipes for showers."
If you can't make it to the airport, there are still opportunities for those traveling to Las Vegas to donate their sundries to the center.
Debbie and Jerry Halkoski, a married couple flying back to Wisconsin, took advantage of their opportunity and donated shampoo and lotion to the USO center. "We just wanted to help out a little bit," said Debbie Halkoski. "Money is needed very badly, but I thought this might help too."
Jerry Halkoski added, "we owe a great deal of gratitude to (the troops), so please come home as soon as you can--- safe, sound, and well."
As for the USO Las Vegas' next donation drive, the center plans to set up donation bins around the airport in December.
"We'll get energy drinks, we'll get bottles of water or soda, fruit juices and things along those lines," said Bradford.
Our mission is to honor the service and sacrifice of American men and women in uniform. Send us photos of your friends and family serving in the military.