8 stunning natural bridges around the world
Thousands or even millions of years old, natural bridges are awe-inspiring sights that draw thousands of visitors every year.
Also called natural arches, they are essentially holes in rock, and they are among Mother Nature's greatest creations: sandstone or limestone formations that are the result of erosion or the collapse of cavern roofs.
While you can travel around the world to see some amazing natural bridges, some may even be in your backyard.
Here are some of the most majestic natural bridges across the globe:
1. Natural Bridges National Monument, Utah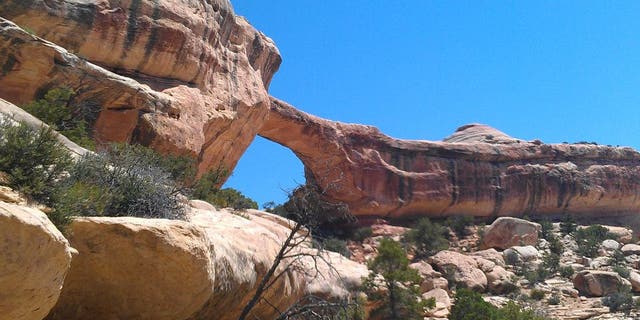 You'll find not just one natural bridge, but three, at the Natural Bridges National Monument, and they date as far back as 5,000 years. Named "Kachina," "Owachomo" and "Sipapu" in honor of the Native Americans who once lived there, these bridges in the desert of the Colorado Plateau were declared a national monument by President Theodore Roosevelt in 1908.
The bridges were formed over millions of years by erosion from running water on the sedimentary rock, which 260 million years ago was the site of a beach. When originally formed, each bridge was thick and massive, like Kachina Bridge, but as they erode, they become more delicate, like Owachomo, and eventually collapse. So you may want to see it now, before it's gone!
2. Green Bridge of Wales, Great Britain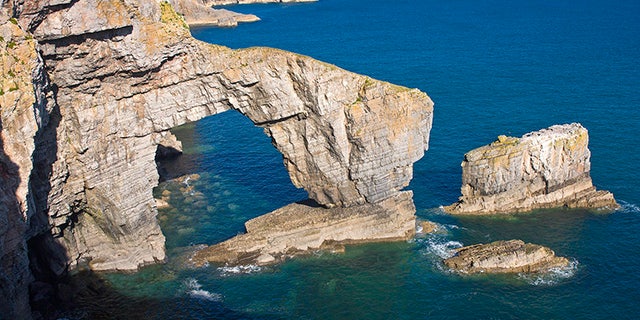 One of the most recognized landmarks in Wales, the Green Bridge sits on the Pembrokeshire Coast near Castlemartin. A limestone arch formed by erosion from seawater and waves, the bridge was once a solid piece of rock. Two caves likely formed on either side, eventually wearing away and creating a hole through the rock. This arch, too, will eventually collapse due to erosion.
You view the arch from above via a coastal path or take a guided kayak tour and paddle through it. Wales also has another arch, the Church Doors Sea Arch at Shrinkle Haven, though it's not as impressive as the Green Bridge.
3. Pravčická Brána, Czech Republic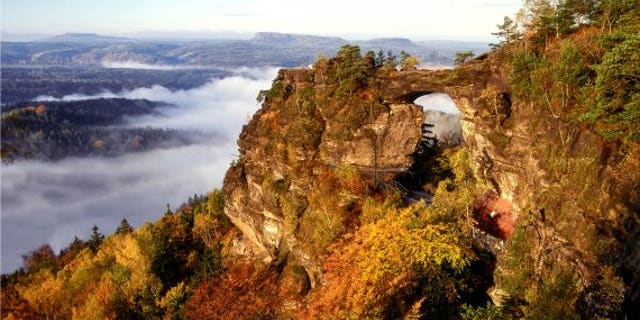 The Czech Republic is home to the biggest natural rock arch in all of Europe: the Pravčická brána, or Pravčice Sandstone Gate, in Bohemian Switzerland National Park. While you can't walk on top of it due to its narrowing and thinness, you can stand underneath to get a sense of its grandeur.
Standing almost seven stories tall, the bridge, which is made of sandstone that has been carved over millennia, is best viewed from several nearby vantage points accessible by hiking trails. This impressive formation inspired Hans Christian Andersen, who wrote part of "The Snow Queen" there, and it was featured in "The Chronicles of Narnia" movies.
4. Natural Bridge, Virginia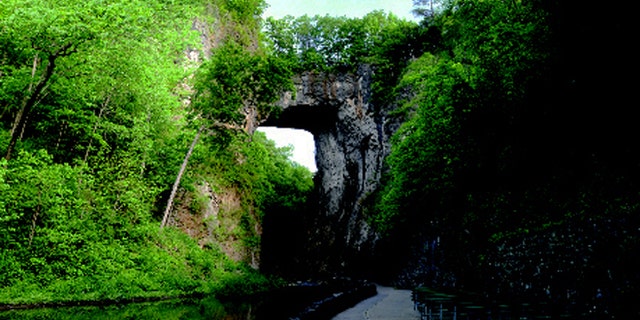 Known as one of the Seven Natural Wonders of the Modern World, Virginia's Natural Bridge has a storied history. Worshipped by the Monacan Indians, who called it "the bridge of God," surveyed by George Washington (whose initials are said to be carved into the wall) and later purchased by Thomas Jefferson, this imposing bridge once served as a mountain retreat and has been painted and drawn by artists the world over.
Located just off the Blue Ridge Parkway, this National Historic Landmark was formed when a cavern collapsed, leaving the rock span towering above a creek below. Other nearby attractions include the Caverns at Natural Bridge, which reach 34 stories below ground, and the Monacan Indian Living History Village.
5. Natural Bridge, Kentucky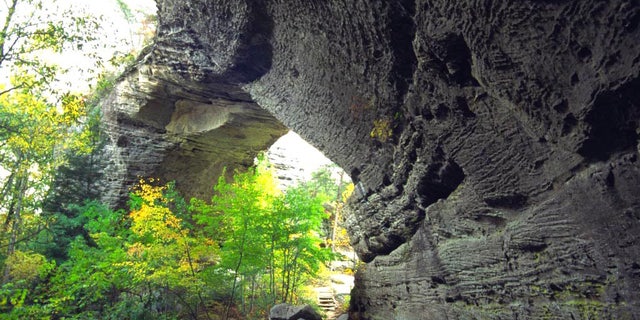 Kentucky's Natural Bridge is a sandstone arch that stands 6 1/2 stories high and may be a million years old. Situated in the Eastern Kentucky mountains and one of four Kentucky state parks, Natural Bridge was formed when large blocks of sandstone fell off each side of a narrow ridge, followed by weathering and impacts from the root systems of plants.
Surrounded by the Daniel Boone National Forest, visitors can hike more than 18 miles of trails leading to the bridge and enjoy fishing, paddling or canoeing the 40-acre Mill Creek Lake. The area also has other natural archways, but none as spectacular as Natural Bridge.
6. Pont d'Arc, France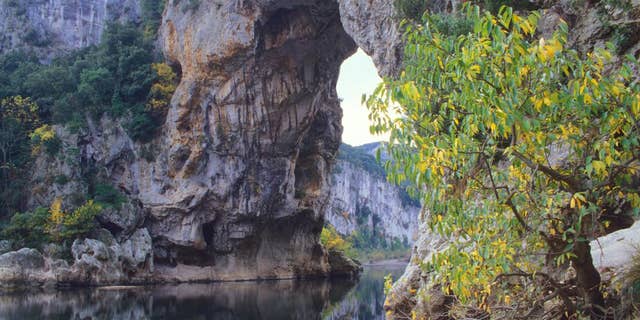 A stone arch in France is the site of a charming village, Vallon-Pont d'Arc, named for the bridge. The Pont d'Arc ("bridge arc") stone formation stands over the Ardeche River at the entrance to Gorges de l'Ardeche, where visitors can access the river.
Unique to this arch, which is a towering 16 stories tall, are beaches that sit on either side, where you can enjoy not only the water, sun and sand, but also a fantastic view. And you can paddle down the river for even more fabulous views of the enormous arch.
7. Azure Window, Island of Gozo, Malta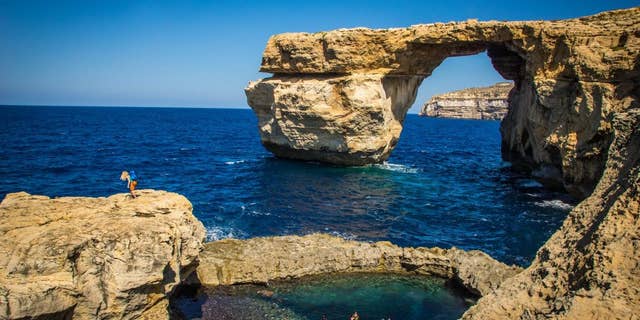 Set amid the sapphire blue seas of the Mediterranean, this rock outcropping on the tiny island of Gozo in Malta is a stunning sight to behold. Nicknamed the "azure window," since it appears as a window with the deep blue waters as a backdrop, the landmark is one of the most photographed sites on the island. The arch was formed thousands of years ago when two limestone caves collapsed.
Featured in the movies "The Clash of the Titans" and "The Count of Monte Cristo," the arch is accessible via a guided boat tour through it. But you can't walk across it, due to its likelihood of collapsing. Nearby are two popular scuba diving areas – The Blue Hole and The Chimney – as well as underwater caves and an area known as the "inland sea," which is shallow water set in a deep recess along the coast. During the winter, the arch is even more spectacular, with waves crashing high against the walls.
8. Lexington Arch, Nevada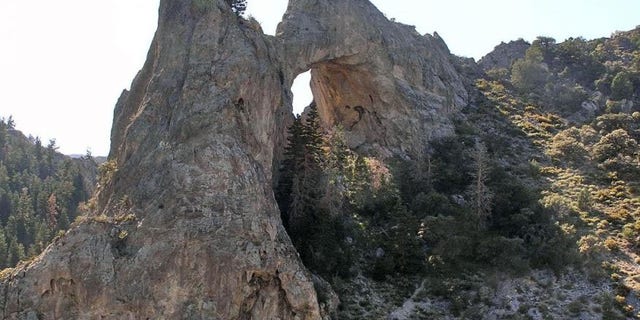 In Nevada, you'll find a natural bridge standing six stories tall, high above Lexington Canyon. Carved in limestone by ice, wind and chemical breakdown, Lexington Arch may once have been part of a cave system and is one of the largest limestone arches in the western U.S. Natural forces, especially rainwater, continue to mold and shape the arch.
Located in Great Basin National Park, it's a challenge to get to the arch. The area is currently closed due to wildfire damage, but even when it's open, it's a long, rocky drive and hike on dirt roads and trails through rugged terrain. Hiking boots are a must!