Gone are the days when a treehouse was nothing more than a bunch of uneven wooden planks nailed together to a tree. Today, architects around the world are taking treehouses to a whole new level.
Now, you can stay in a classic two-story castle in the sky complete with a hot tub, an eco-village among the trees -- even a bird-house shaped treeehouse.
From Japan to Tennessee, we found more amazing treehouses you can perch awhile and engage in life's more leafy pursuits.
1. Minister's Treehouse, Crossville, Tennessee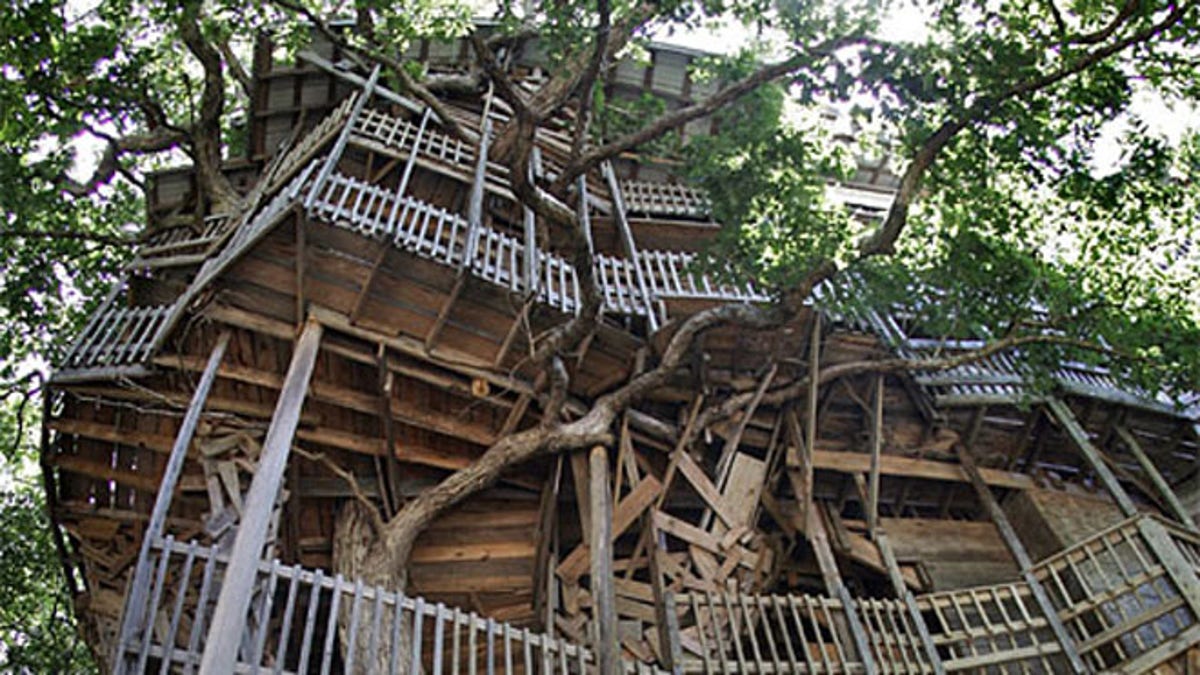 The minister who built this 100-foot, 10-story treehouse is said to have built it after receiving a message from God. The treehouse is one of the largest in the world and includes a basketball court, choir loft and spiral staircase. Although opened to the public in the past, the treehouse is now closed due to safety issues --but you can still have a look at its magnificence from the outside.
2. The Mirrorcube, Harads, Sweden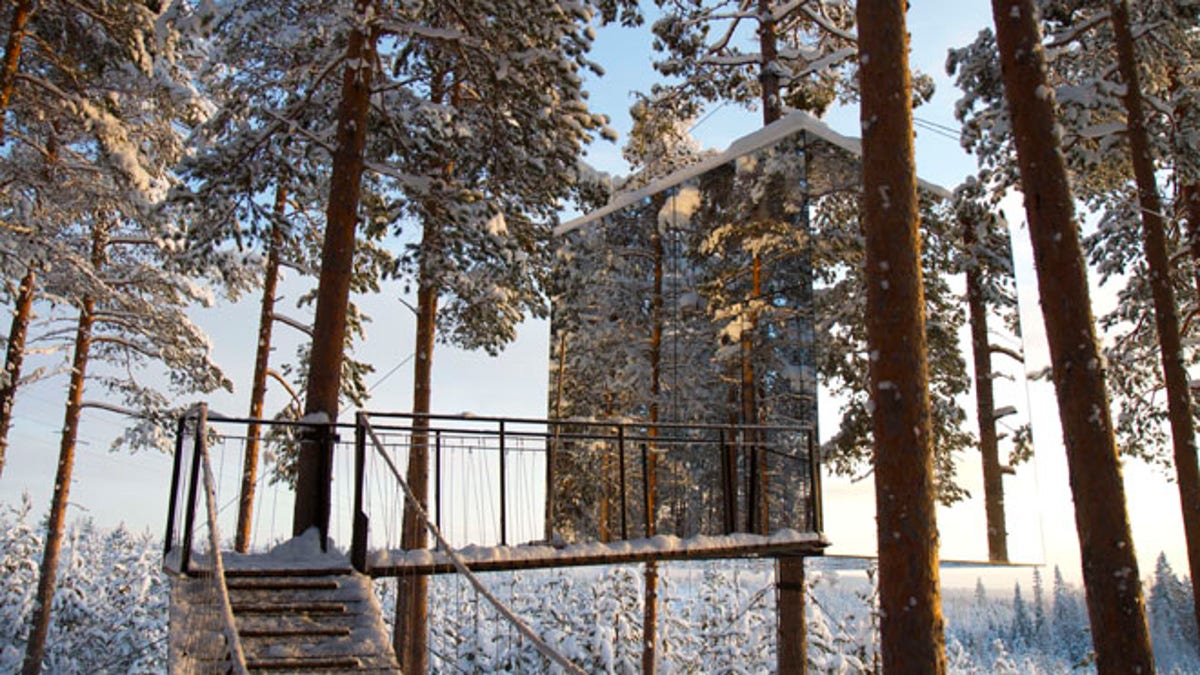 If it wasn't for the attached ropes and bridge, you might not even notice this treehouse in the woods Harads, a small town in northern Sweden close to the Arctic Circle. Its walls are covered in mirrors that reflect and blend in with its surroundings. Because the treehouse camouflages so well, the walls are lined with an infrared color only visible to birds to prevent them from flying into it. But inside, the treehouse is a comfy hotel room for two people --which includes a living room, double bedroom, kitchen, bathroom and even a rooftop terrace.
3. The Bird's Nest, Harads, Sweden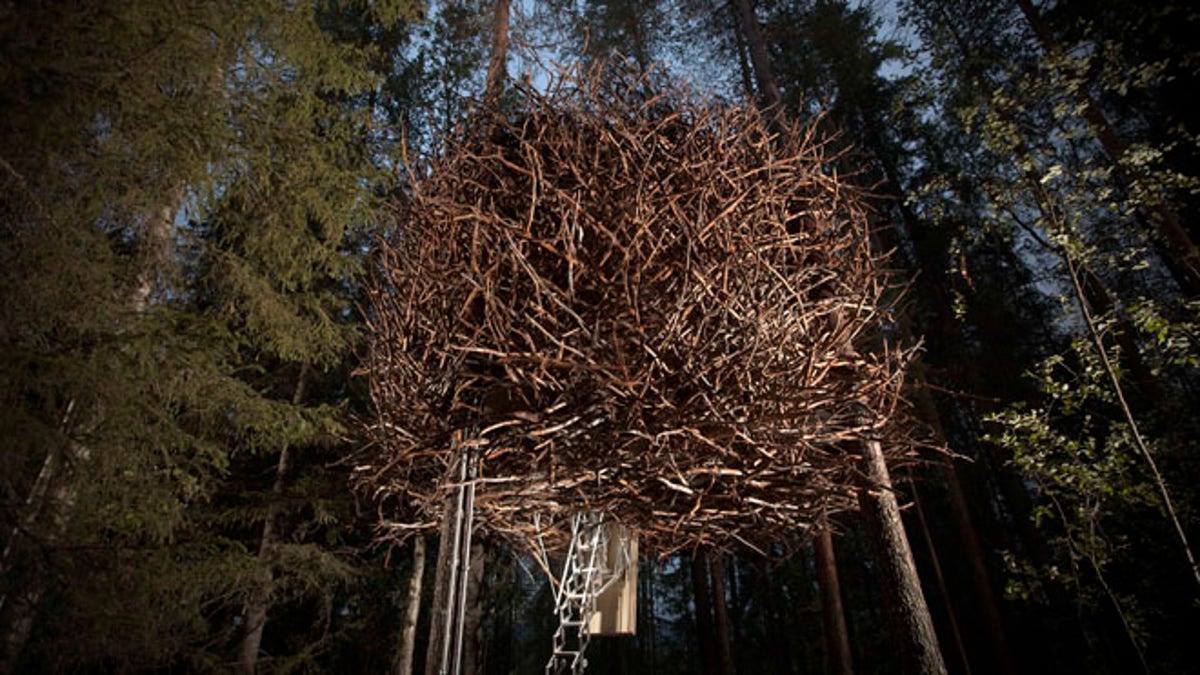 Along with the Mirrorcube, the Bird's Nest is part of the Treehotel- a hotel consisting of six eccentric treehouses (this is where you'll also find the UFO treehouse). The Bird's Nest includes a bathroom, lounge, and two bedrooms, but to access it, guests must climb up a retractable staircase. Here, a one night stay for two will set you back roughly $660.
4. Big Beach in the Sky, Hainan, China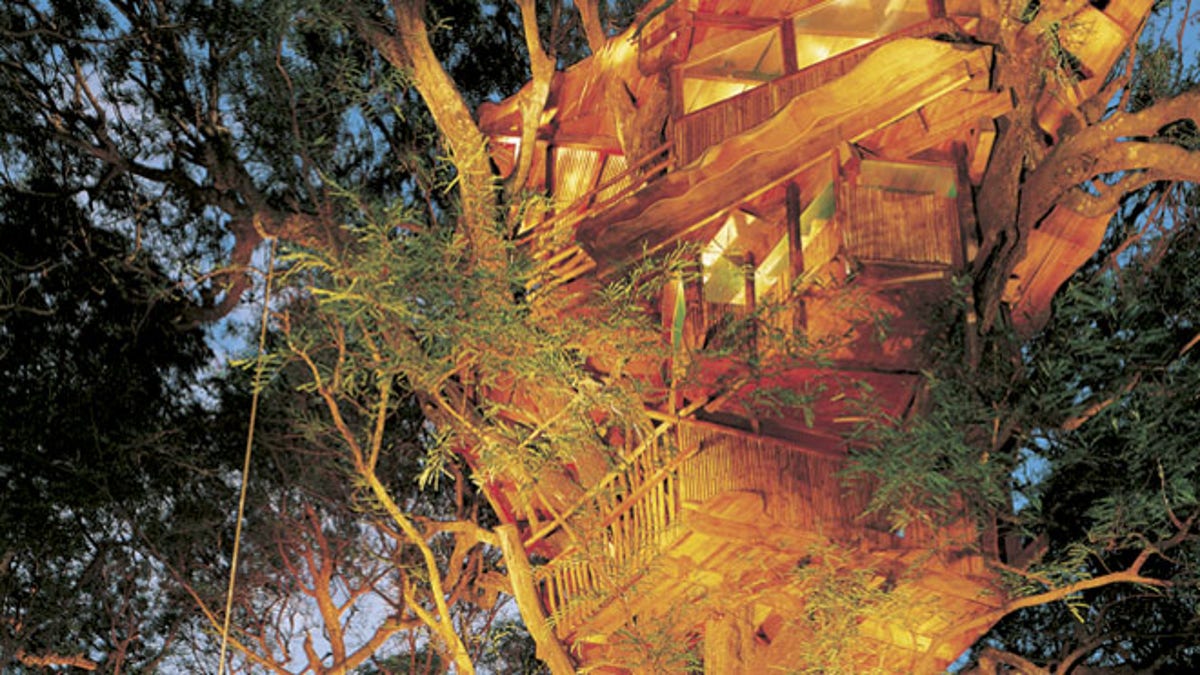 On the island of Hainan in the South China Sea, you'll find the Sanya Nanshan Treehouse Resort. This resort features four oceanfront treehouses, one of which is the playful two-level Big Beach in the Sky treehouse. This funky house comes equipped with a couple of swings and even has electricity, but guests will have to walk 35 feet for a shower.
5. Bird Apartment, Komoro City, Japan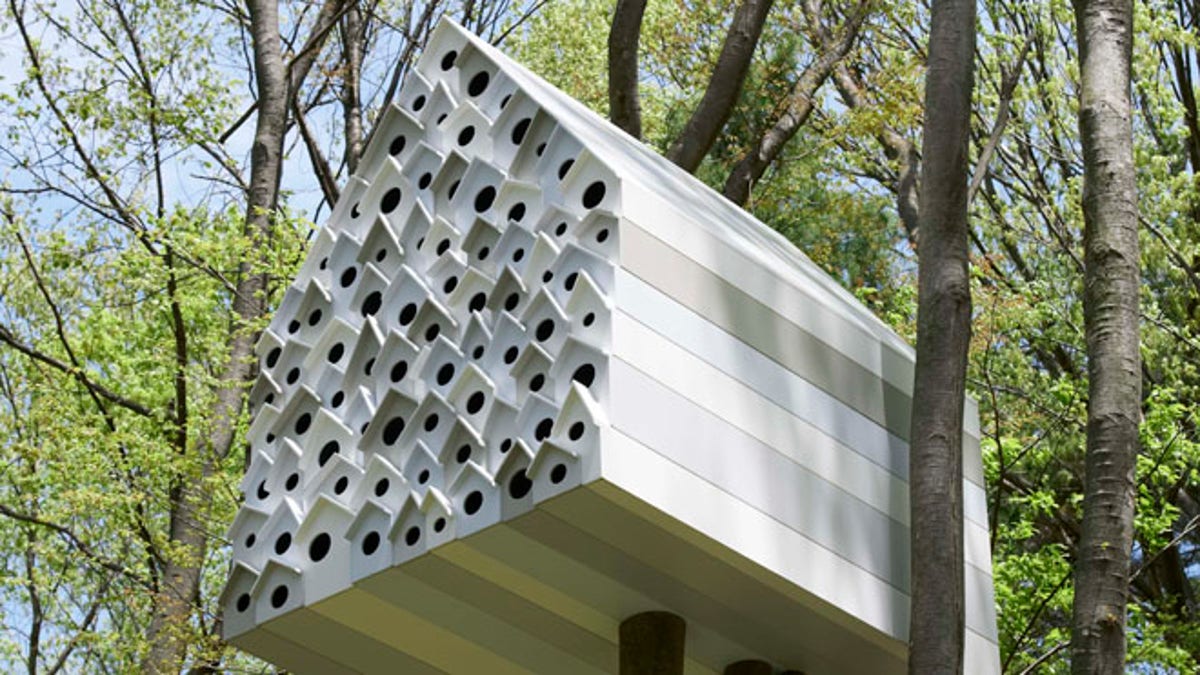 Calling all bird lovers. This unusual treehouse in Komoro City not only houses birds, but has room for a human, too. A wall with peepholes divides the inside of the treehouse. On one side of the wall, there are 78 individual birdhouses and on the other, there is a space where bird enthusiasts can spy on their feathered friends through the peepholes. While visitors can't stay over night, the structure encourages people to climb the ladder and get an up-close-and-personal glimpse of the local wildlife.
6. Free Spirit Spheres, Qualicum Beach, BC, Canada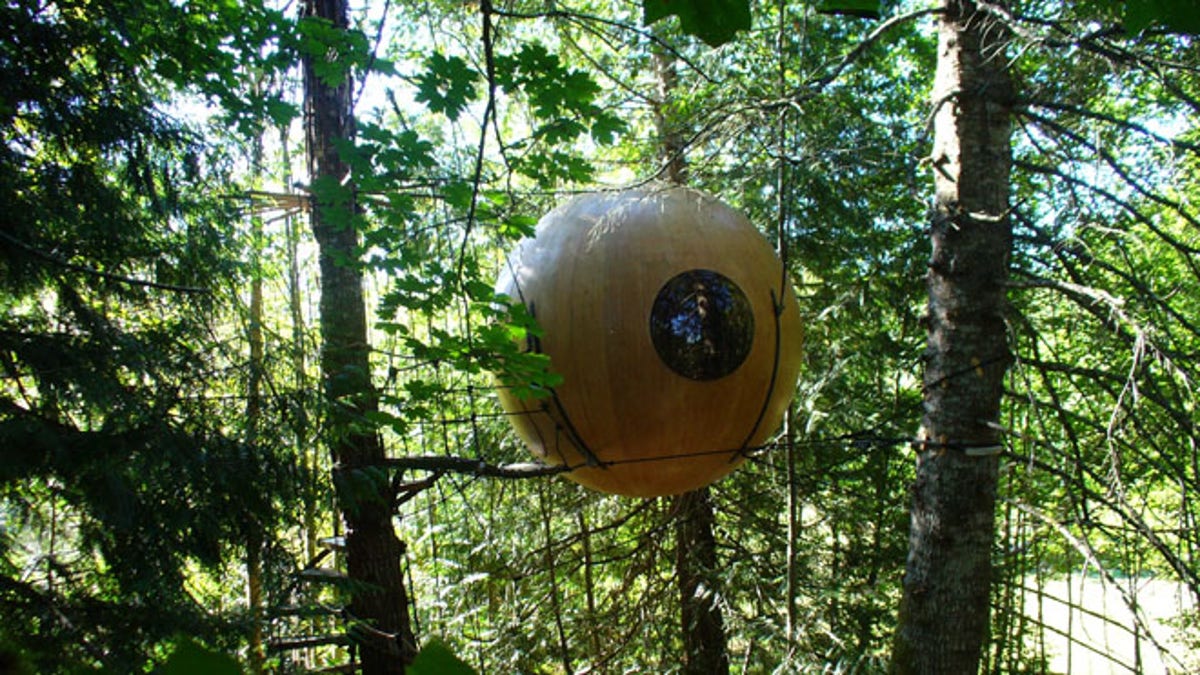 Looking like a few giant eyeballs, these suspended structures- located on Vancouver Island- could be something out of a sci-fi flick. The spherical dwellings (which each take about three years to complete) are open for overnight stays yearlong. Just be prepared for a little rocking when the wind blows.
7. Mis Ojos, Piedras Blancas, Costa Rica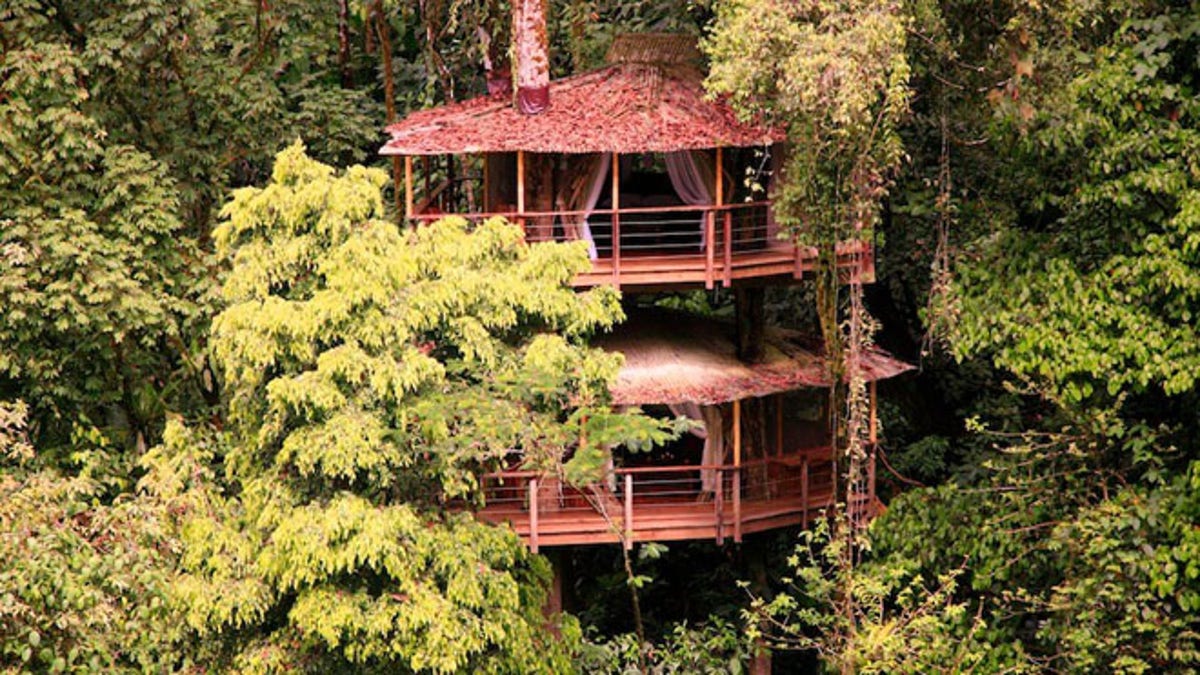 Tucked away in the Costa Rican rainforest is the remote treehouse community, Finca Bellavista, built by two Americans who wanted to create a village like that of the Ewoks of Endor in the movie "Star Wars" who lived high among the trees. The eco-friendly village features many tree homes, including Mis Ojos. This two-level abode includes a porch, kitchenette, bathroom and outdoor shower and offers amazing cliff and waterfall views. The off-the-grid complex relies on solar and wind power for energy, composting toilets and running water collected in gravity-fed rainwater catch tanks mounted above the abodes.
8. Monbazillac Treehouse, Dordogne, France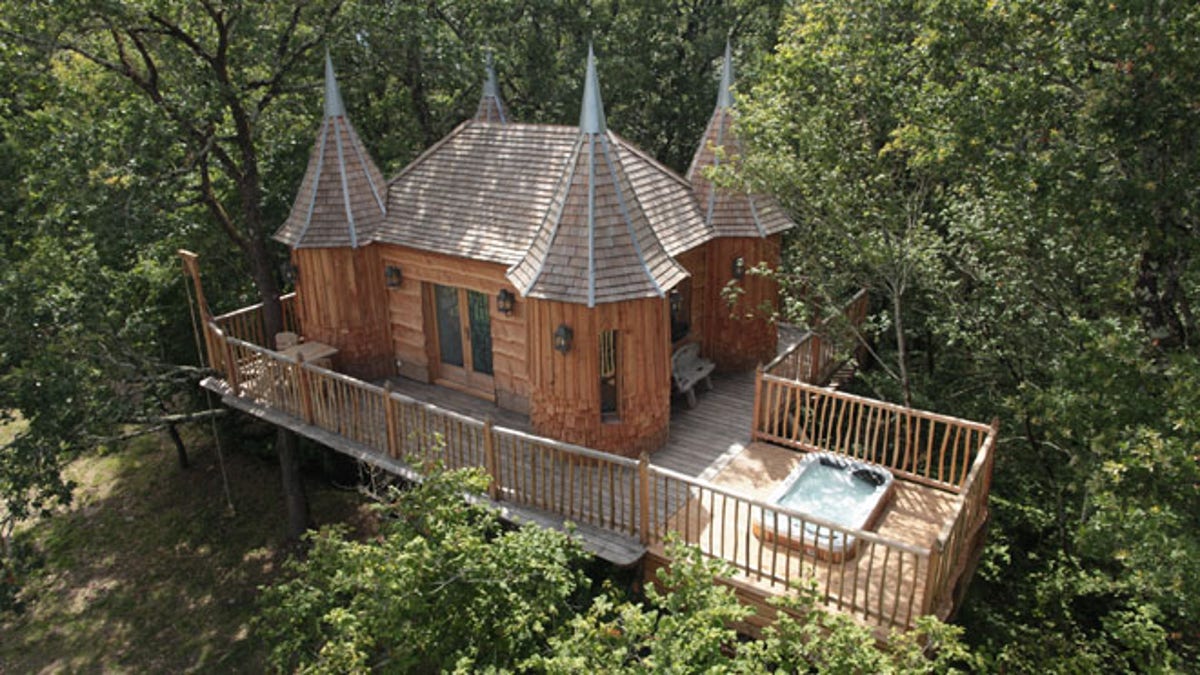 A stay at this majestic, castle-like treehouse will make you feel like royalty. Nestled amongst the treetops on a 27-acre property in Dordogne, the French château-style Monbazillac treehouse includes a bathroom, a double bedroom, a ground level pool, a hot tub and an expansive deck. Have dinner prepared and delivered to any of the terraces for private dining and end the evening stargazing on your private balcony. How's that for luxury?