4 Christmas-themed parks that will knock your stockings off
While homes and stores around the world are turning into winter wonderlands, some companies make the holiday their business. Sprinkled across the country are a handful of Christmas and Santa-themed parks that cater to guests looking to kick back with Kris Kringle.
While many of these places have closed over the years or changed into more traditional theme parks, there are still four that remain and are worth a visit for some holiday fun.
From roller coasters to Christmas villages to never-melting ice poles, this is the closest thing to visiting the North Pole itself.
1. Santa's Workshop, New York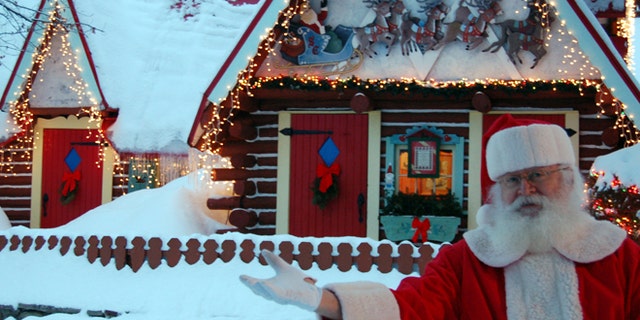 Located appropriately in North Pole, N.Y., Santa's Workshop is a little slice of winter wonderland in the middle of New York's Adirondack Park near Wilmington. Open June-December, the park offers both a quaint Christmas village and Santa-themed rides.
At the village, see live reindeer at Santa's Reindeer Barn, munch on cookies or fudge from Santa's Bake Shop and Candy Shop, test toys at Santa's Toy Maker, and, of course, stop in Santa's house for a visit with the Jolly Old Elf himself. There's even a real U.S. post office for sending Christmas cards or other letters to have them postmarked from the North Pole.
The rides section is designed for younger children and includes the Peppermint Swing where kids can swing round and round like the swirl on peppermint candy, a five-car mini coaster called Santa's Sleigh Coaster, the Candy Cane Express which takes visitors through beautiful Adirondack scenery, and the Christmas Carousel where kids can choose to ride on Santa's reindeer or his sleigh. Another fun and unexpected feature is Tannenbaum the Talking Christmas Tree who comes to life to talk with guests.
Santa's Workshop is open on weekends Nov. 23-Dec. 22 and Dec. 26-30. There are also special Yuletide Weekends with extra events, including meals and holiday performances. Additionally, the Village of Lights event lets families visit the park as night falls to see its magical light display, roast marshmallows, feed live reindeer and watch a Nativity Pageant.
2. Santa's Enchanted Forest, Florida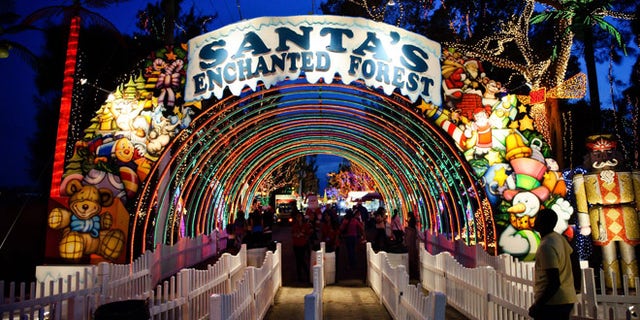 Add some palm trees to your Christmas celebration at Miami's Santa's Enchanted Forest billed the "world's largest Christmas theme park." This park with wow you with its sheer number of lights and holiday attractions: Think Las Vegas-style Christmas. Only open during the holiday season through January 5, Santa's Enchanted Forest is visible from the nearby expressway and lights up the entire area. "If you don't get into the holiday spirit after Santa's Enchanted Forest, you must be Grinch and we'll convert him, too," Maritza Rivera, office manager at the park.
Start with a walk down Santa Claus lane and take in all the lights, mechanical miniatures of holiday scenes, hand crafted displays and more. Lovers can catch a smooch underneath the mistletoe on Mistletoe Lane. The grand finale of it all is the 90-foot lighted Christmas tree.
Santa's Enchanted Forest is a great bet for the older kids. There are plenty of thrill rides like the Mega Drop world's largest drop tower, four roller coasters, and the giant Pirate Ship. For smaller kids, there's Santa's Enchanted Maze with a carnival-style atmosphere, bumper cars, slides and the Christmas Train.
Where will you find Santa here? Why, inside the motorcycle cage, of course, as he dodges motorcycles circling around him.
3. Santa's Village, New Hampshire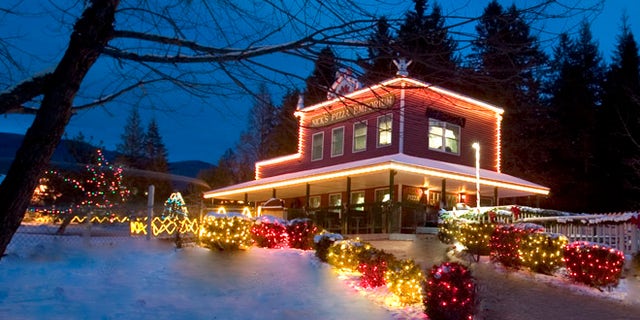 In New England, another picturesque Christmas-themed park opens in May, but December is when the Christmas cheer is kicked into high gear. Celebrating its 60th season, Santa's Village in Jefferson, N.H., is set among the scenic White Mountains and offers a host of holiday-themed rides, shows, dining and shopping.
New for Santa's Village this year is a light show along the park's Main Street with lights synchronized to popular Christmas tunes and a 3-D movie about an elf that must help Santa prepare for his yearly sleigh ride. Guests will also find tens of thousands of holiday lights and colorful light ribbons throughout the park, so hanging around after dusk is a good idea.
Kids can feed Santa's reindeer in their barn, visit Santa at his home lounging in his big green chair and decorate homemade gingerbread cookies. Fourteen holiday-themed rides are open, including the Rockin' Around the Christmas Tree swings, Santa's Express Train, The Great Humbug Adventure through Scrooge's house, Santa's Chimney Drop to experience how Santa feels when he drops down the chimney and the Skyway Sleigh Monorail to soar through the tree tops on a sleigh monorail.
An extra tip: If kids find all 26 elves scattered throughout the park, they get a special prize, so keep an eye out for pointy ears and stripped stockings. Plus, stop by the Reindeer Shoe Shop to get a "Good Luck Ring," a tradition at Santa's Village.
4. Santa's Workshop, Colorado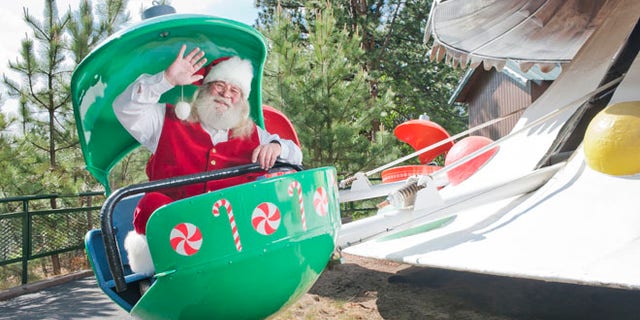 In another charming mountain town, you'll find yet another Santa's Workshop, but this one is in the Rocky Mountains just below Pike's Peak. Open since 1956, Santa's Workshop in North Pole, Colo., just northwest of Colorado Springs, is an alpine version of the Man in Red's hometown.
Signature attractions at Santa's Workshop include the always-frozen North Pole and the 1919 Band Organ, which entertains visitors with holiday tunes. There are more than 25 rides for all ages, and kids at least 32 inches can enjoy all rides but one. Highlights include the small Candy Cane Coaster, a 60-foot high Ferris wheel, the Peppermint Slide where families slide around a peppermint stick, Santa's Train which takes guests along the edge of the park, and the Christmas Tree Ride where kids fly around a Christmas tree.
Take a break from the rides and enjoy a magic show. Elmer the Elf Show and the Chris Moose Show feature Christmas songs, all of which run multiple times daily. Of course, be sure to say hello to Santa at his house and head there early to avoid long lines. North Pole, Colo., also offers a post office for sending mail stamped from the North Pole. The park is open through Christmas Eve.