16-year-old groped on United flight feels airline didn't protect her from attacker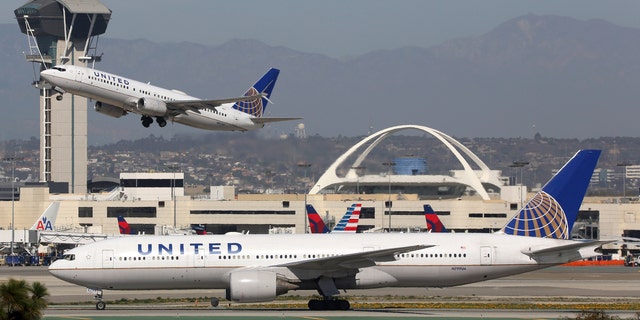 The 16-year-old who claimed she was molested by a medical student on a cross-country United flight from Seattle to Newark, NJ. is speaking to the media for the first time.
The victim said that a man touched her inappropriately after she had fallen asleep in the seat next to him. According to the victim, who has requested not to be identified publically, the male rubbed her thigh while she was sleeping. When she woke up, he removed his hand and she fell back asleep. Once she woke up again, she alleges that he was rubbing his hand on her "groin and thigh" and trying to place his hand in her pants.
She alerted the flight attendant and was able to change seats, but says that the crew and the airline didn't do enough after she reported the sexual assault.
SIX FLAGS OVER TEXAS CONTINUES TO FLY CONFEDERATE FLAG DESPITE CONTROVERSY
In a statement to CBS News, the 16-year-old said, "There was just still so much time, like, I couldn't just leave the plane. I didn't have anyone. I didn't feel like there was anyone on the plane that could protect me."
The victim's mother – who also requests to remain unidentified – felt similarly helpless.
"I'm 3,000 miles away. My child says she's been sexually assaulted and I'm asking her questions and she's like, disoriented, I'm like, 'Where is he? Do you see him?' And she said, 'He just walked by me.' And I said, 'Get the police! Get United!'" she told CBS.
The teen alerted the United terminal supervisor of the attack, but little came of it. According to the mother's statement, no one informed anyone else of what the teenager had said.
"The supervisor told me that United did not follow their own protocols," the mother said. "[The supervisor] said, 'You are the first person telling me of your daughter's assault. I don't even have a manifest, I don't have a report. I don't even know who he is or where he is.'"
The FBI found the alleged attacker – Vijakumar Krishnappa, a medical student in the United States for a fellowship project. Krishnappa was charged with knowingly engaging in sexual conduct with a minor.
FOLLOW US ON FACEBOOK FOR MORE FOX LIFESTYLE NEWS
Krishnappa is currently out on bond and has been ordered to wear an electronic monitoring device, as well as abstain from having contact with any minors.
His lawyer told the Washington Post that his client "adamantly denies the charges and deserves to be considered an innocent man."
The family has also filed a complaint against United Airlines for failing to detain Krishnappa after the victim's allegations.
The trial is still pending.