Will the Internet of the Future Be in Chinese?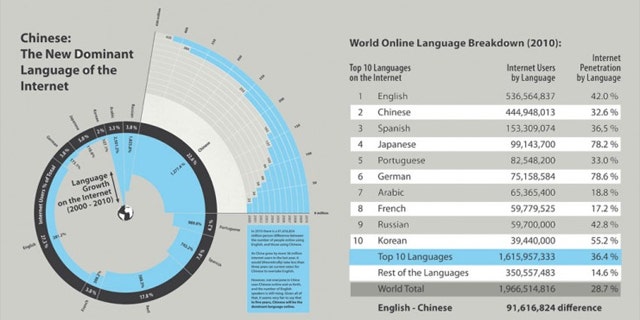 English is the international language of business and commerce -- but its era of dominance on the Internet could be coming to an end.
An infographic circulating on the Internet highlights the growing prominence of Chinese users on the web, and suggest that Chinese may be the dominant language on the world wide web within five years.
The ascension of the Chinese language is no surprise given China's population. According to tech enthusiast blog the Next Web, which created the chart, China gained an additional 36 million Internet users last year taking the country to a total of 440 million users over all. Comparatively, there are 536 million English speaking users online it argues, citing figures from Internet World Stats.
Contributing editor Greg Sterling of Search Engine Land doesn't see such a straightforward coup by the Chinese language, however.
"Chinese will never replace English as the 'official' language of the Internet," Sterling told FoxNews.com. "This is clearly based on raw numbers and the size of China's Internet population," he said, noting that sheer users won't be enough to usurp the cultural significance of English.
"That's because the world speaks English while few other than Chinese nationals speak Chinese," Sterling said.
The Next Web chart emphasizes China's relatively low worldwide penetration -- meaning China's growth potential remains high for some time. If these growth rates stay consistent, the Next Web believes Chinese could become the dominant language on the Internet in less than five years.
Sterling argues that despite these potentials, one key factor will prevent Chinese from really taking hold online: censorship. "The censored and still-closed nature of the Chinese Internet further argues against Chinese taking over the virtual world," he told FoxNews.com.
David Graddol, a British applied linguist and broadcaster, has been researching issues relating to global English for over a decade. In English Next (2006), a recent report on the future of the language, Graddol acknowledged a key trend, that "Asia, especially India and China probably now holds the key to the long-term future of English as a global language."
"In terms of native-speaker rankings, English is falling in the world league tables," Graddol warned. "English has slipped to fourth place, where its position will become challenged by Arabic in the middle of the present century."
By then, Sterling admits to the possibility that the Internet landscape could be founded on another language.
"In 50 years that may be different and everyone may be talking Chinese (Mandarin) as a second language -- as the world does with English now."