Tim Cook talks iPhone growth and teases 'far off' products during company meeting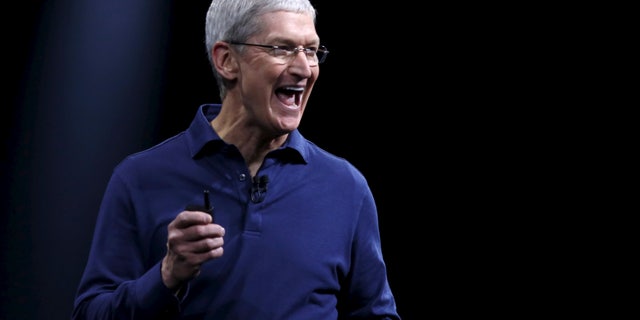 NEWYou can now listen to Fox News articles!
In the wake of Apple's earnings announcement last week, CEO Tim Cook and COO Jeff Williams held court at a Town Hall meeting for employees. For those unfamiliar with Apple's Town Hall meetings, they're internal and private affairs intended to give employees a somewhat rare opportunity to ask the company's top brass anything that happens to be on their mind.
Detailing some of the highlights from Apple's most recent Town Hall event, the exceptionally reliable Mark Gurman over at 9to5Mac provides us with an interesting peek into what employees wanted to know about Apple's future plans and what Apple executives were comfortable divulging.
UP NEXT: How Samsung became Samsung, and why Apple is still Apple
Much like on Apple's earnings conference call, Cook took a few minutes to beam about Apple's iPhone sales during last year's holiday quarter. Though year over year sales didn't increase by much at all, 74.7 million units sold is nothing to scoff at. So in an effort to frame Apple's quarterly iPhone sales in an impressive light, Cook said that Apple sold enough iPhones last quarter to "cover the populations of New York, London, Beijing, and Shanghai."
Looking ahead, there have been some analyst concerns about Apple's bottom line being too iPhone dependent, no doubt fueled by Apple projecting that iPhone sales will soon experience a year over year drop for the first time in company history. Addressing such concerns, Cook confidently called the iPhone the "greatest business of the future" and indicated that emerging markets, most notably India, will help keep sales of Apple's iconic smartphone robust in the years ahead.
As for the iPad, Cook reportedly said that "he expects iPad revenue growth to return by the end of 2016." This is quite a bold statement given that iPad sales have been decreasing steadily for many consecutive quarters now. In fact, iPad sales during the always-busy holiday quarter fell by 25% year over year, seemingly unfazed by the release of the iPad Pro. The upcoming unveiling of the iPad 3 admittedly seems intriguing, but one wonders if Cook is becoming so beholden to the iPad as to ignore the reality of slumping sales.
Moving along, Cook also touched on the somewhat new Apple TV, saying that it will herald a "bright future for Apple in the living room." Of course, Apple would arguably need to make some headway on its reportedly stalled TV subscription service before one might consider the Apple TV a true must-have device for the living room. Either that, or the Apple TV will need to usher in an app revolution a'la the original iPhone.
As for future products in the pipeline, Cook obviously didn't reveal too much.
Gurman's report notes:
It's interesting to note here that Apple is always in active development of future products that won't see the light of day for a few years down the road. As we highlighted previously, you might recall that an unearthed Steve Jobs memo from October 2010 (back when the iPhone 4 was still somewhat new) made reference to iPhone 5 hardware, a device that didn't end up shipping until September 2013, nearly three years later.
Other points of interest from Apple's Town Hall include:
Apple Watch holiday 2015 sales were greater than iPhone holiday 2007 sales
Apple may begin expanding its range of services to non-iOS platforms, a'la Apple Music on Android
Apple will begin moving into its new spaceship campus in January of 2017
Cook believes that China will play an integral role in Apple's future success
All interesting stuff, but don't let Cook's Apple Watch to iPhone sales comparison fool you too much as iPhone sales during the 2007 holiday quarter checked in at under 3 million units.