SXSW: Microsoft project helps ALS community make music using eyes
"We're a bunch of nerds, we know technology," said Ann Paradiso during South by Southwest's Interactive Festival. As a principal user experience manager of Microsoft's Enable Team, Paradiso and her team members create technology innovations to help those with disabilities.

At SXSW, they showcased one of their latest developments: the Microsoft Hands-Free Music project.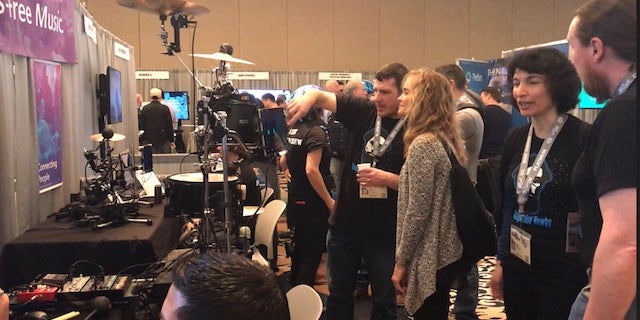 It was developed in collaboration with the ALS community to help them and those with other disabling conditions compose music using simply their eyes.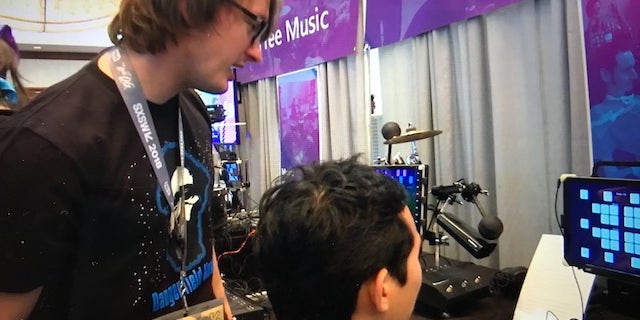 SXSW: SCIENTISTS TOUT 'PEN' TECHNOLOGY THAT DETECTS CANCER IN 20 SECONDS
"This collaboration shows people what's possible with technology," said Paradiso.

The featured technologies are: Sound Jam, Sound Machine, and Expressive Pixels.
Sound Jam is described as "an eye-controlled music environment for electronic loop-based performance and composition." It features what is known as a clip launcher, allowing people to "launch" musical fragments that automatically align to the next downbeat of a song.
ELON MUSK CALLS FOR COLONY ON MARS TO PREVENT NEW DARK AGE
Sound Machine is a 16-step sound sequencer that provides users the ability to generate musical compositions via a combination of .wav and midi samples.

Expressive Pixels is a visual interface that can enhance communication and performance.

"We believe that our collaborations with the ALS community helps to restore hope, a sense of purpose," said Paradiso.
YOUTUBE WILL LINK TO WIKIPEDIA TO BATTLE CONSPIRACY VIDEOS

Though the technologies were designed to help several people suffering from ALS, Paradiso and her team had one specific person in mind when they developed the software. During product development, they had connected with Jeremy Best, a musician and ALS patient.

"I had been playing drums my whole life and for 3 years before ALS… Among the many things ALS has taken away from me is the ability to sing and play and compose, all things I dearly loved," Best told Fox News.

He acknowledges that Hands-Free Music project is still in its formative stage. Still, he says it has given him hope.
ELON MUSK PLANS MARS SPACESHIP, WARNS THERE'S A 'GOOD CHANCE' THAT EARLY PASSENGERS COULD DIE
"It has restored hope that someday I could compose and play again, something I had given up on. Hope is a huge thing when you have a chronic disease," said Best.

Hands-Free Music Project won SXSW Interactive's Music and Audio Innovation Award.

The software for Sound Jam and Sound Machine has already been released and can be downloaded from the Microsoft Hands Free Music website. Expressive Pixels will be released in the summer.

All programs are and will be available to the public for free.