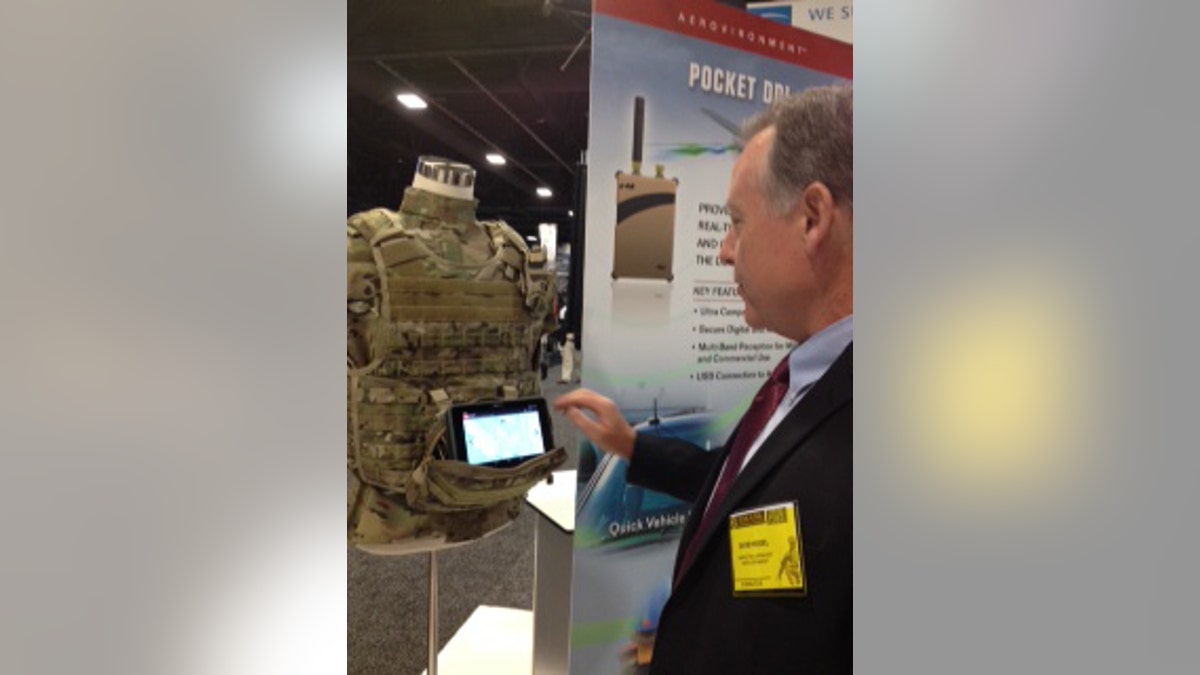 Tucked away amid like helicopters and heavily armored vehicles at the AUSA conference this week are plenty of smaller-sized military technology, proving that good things can come in small packages.
Oakley's Prizm lens and AeroVironment's Pocket DDL data receiver, for example, are ultra-lightweight and compact. Both technologies can massively enhance a soldier's vision in combat conditions.
Prizm
Sunglasses giant Oakley describes its Prizm technology as providing peak performance "with razor-sharp focus."
Barely more than an ounce in weight, Oakley's SI Ballistic M Frame 3.0 with Prizm lenses dramatically improves vision on the battlefield in spite of its ultra-light size. It combines ballistic fragmentation protection with extreme clarity, better enabling troops to spot threats.
The new thin stem design is robust as well as compatible with over-ear hearing protection and communication devices. Comfortable and effective, the durable lightweight frames, they are designed to be fit for purpose – and also look cool while doing so. The frames also use Oakley's three point fit design to hold the lenses "in precise optical alignment."
Prizm Lens Tints take the human eye's capability to spot threats and acquire targets to another level. The lenses use a formulated dye compounding technology which is designed specifically for shooting.
The result is lenses that can fine-tune a shooter's depth perception and clarity. Engineered to strategically block wavelengths along the color spectrum in a shooting environment, a Prizm lens maximizes contrast between colors. Prizm is designed to ensure that a shooter sees reticle patterns more vividly under scopes.
The lenses also help to reduce reduce eye fatigue and strain.
So what does that mean in practice? Prizm will improve the visual separation of a target from its background. While boosting shooters' visual recognition of targets, the Prizm lens technology blocks a range of competing neighboring environments like dirt, trees and sky.
Different lenses can be chosen to best suit different field conditions, from amber polarized and black iridium to grey, high-intensity yellow, and clear.
The SI Ballistic M Frame 3.0 is offered paired with three lenses: clear, persimmon and grey.
For low light to no light conditions, the clear lens provides 89 percent visible light transmittance, while the persimmon one provides 69 percent,
With 15 percent light transmittance, the grey lens is excellent for bright light environments.
A black iridium polarized lens would also be well suited for extremely bright light. It enhances visual acuity and depth perception by cutting blinding glare while filtering blue light. The iridium coating further improves contrast and its light transmission is 10 percent.
Helping to ensure unobstructed vision, the front side has a scratch resistant hard coating and the inside an anti-fog one.
All of the lenses block one hundred percent of UVA, UVB and harmful violet-blue light up to a wavelength of 400 nanometers.
The lenses are made of Oakley's high-grade polycarbonate, which provides high-grade ballistic protection, called plutonite.
Plutonite means that the lenses meet or exceed ballistic fragmentation impact standards as well as high mass and high velocity impact requirements.
The SI Ballistic M Frame 3.0 is available to serving or retired military and first responder personnel.
Eyes in the Sky for Every Soldier
AeroVironment's Pocket DDL made its debut at the last AUSA and remains unrivalled.
Weighing in at a mere four ounces, this digital and data receiver device means even more soldiers can have remote access to critical data.
With any DDL equipped platform, ground troops can have direct access to real time video, images and geodata from unmanned aerial vehicles (UAVs) and other technologies.
The pocket-sized device can be worn on a tactical vest or utility belt and immediately turns any USB display device into a remote video terminal. With this tech, any nearby soldier can gain secure access to data generated by drones, for example.
Equipped with DDL, a vest-mounted tablet, wrist worn smartphone or pretty much any other USB display device can become a personalized terminal. This includes commercially available smartphones and tablets.
Typically, cumbersome and heavy video equipment has often been required to receive video and data, but AeroVironment's system is lightweight and compact. Pocket DDL is controlled through an app so it doesn't involve any exterior buttons or displays -- making it very simple to use.
The USB interface makes it easy to integrate with Android, iOS and Windows devices.
AeroVironment's UAVs are immensely popular and systems like the Raven, Wasp, Puma and Shrike are already widely used. Last month, for example, AeroVironment received a $22 million order from the United States Marine Corps for the RQ-12 Wasp AE.
The company's UAVs wirelessly transmit video and data to their operator via a standard hand-held ground control unit.
But this smart device is not limited to AeroVironment platforms. It can also be used to provide video and data from helicopters, airplanes, other unmanned aircraft and ground robots equipped with the company's Digital Data Link.
So how does it work?
First you choose a device with a USB interface such as a smartphone, Toughbook or tablet, then you choose your custom AeroVironment app. You can then select your data source, whether a Raven drone, an aerostat or even a RAID surveillance tower.
The last step is to choose the view you require -- such as secure video, maps, aircraft data, splitscreen map, and video -- and you can swipe back and forth between screens.
This sort of device means even more warfighters could have remote secure access to the critical information that drones and other platforms provide, boosting situational awareness, reducing risk, and improving safety.
As drone usage expands beyond the military this means that first responders and even farmers could use the device and benefit from state-of-the art aerial information.
Ballet dancer turned defense specialist Allison Barrie has traveled around the world covering the military, terrorism, weapons advancements and life on the front line. You can reach her at wargames@foxnews.com or follow her on Twitter @Allison_Barrie.