Samsung unveils new smartwatches with fitness features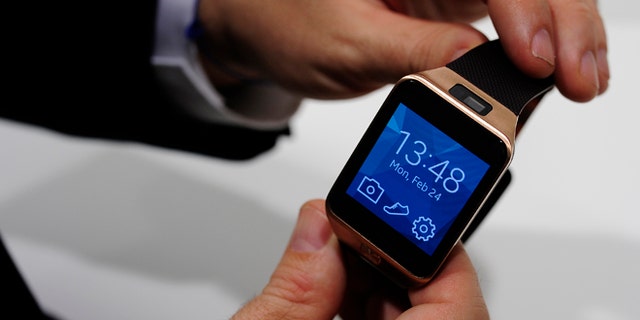 NEWYou can now listen to Fox News articles!
Samsung unveiled two new computerized wristwatches on Sunday ahead of the Mobile World Congress wireless show in Barcelona. The announcement included health sensors and related fitness features to give people a reason to buy one.
Samsung's first Galaxy Gear smartwatch came out last fall amid much fanfare, but it landed with a thud in the marketplace. Samsung and its smartwatch rivals had failed to persuade many consumers that they need to be able to constantly check messages from their wrists. Wearable devices that succeeded tended to be fitness products such as the Fitbit.
The new Gear 2 and Gear 2 Neo will have a heart rate sensor, a pedometer and various tools to measure exercise, sleep and stress levels. The low-resolution, 2-megapixel camera on the Gear 2 is being moved to the main body; it was on the strap on the original Gear. The Gear 2 Neo has no camera and is slightly larger, but lighter. Available colors are also slightly different.
It's unclear whether the new watches will continually display the time. In the original Gear, that was shut off to save battery, which lasted just a day. The new watches promise two or three days under normal use, putting them more in line with what rivals offer.
Samsung didn't announce prices for the new watches, but said they would be available in April. The original cost $300.
Samsung has a major event Monday evening, during which it is expected to announce a successor to its popular Galaxy S4 smartphone.
The Associated Press contributed to this report.