Samsung mocks Apple's livestream woes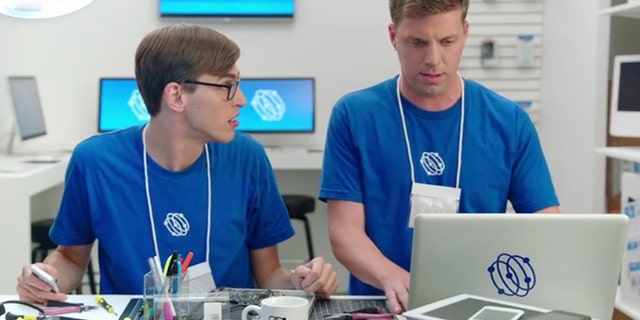 Apple has been hit with plenty of criticism after the tech giant's livestream of its big product launch on Tuesday ran into technical problems. Even Samsung has jumped on the bandwagon, exploiting its rival's livestream woes in a video posted on YouTube.
The tech giant's Apple Watch and iPhone 6 launch was the most eagerly anticipated tech event of the year, with more than 2,000 journalists, Apple employees and technology experts packed inside the Flint Center for the Performing Arts in Cupertino, Calif., to hear the news. Celebrities such as Gwen Stefani and Will.i.am were also in attendance, and rock giants U2 closed the event by performing a song from the band's new album.
Apple's livestream of the event, however, ran a lot less smoothly, much to the frustration of the company's vast army of fanboys. Technical issues, reportedly caused by bad JavaScript coding, caused 30 minutes of unwatchable video on the livestream.
Keen to make the most out of Apple's misfortune, Samsung has taken a jab at the iPhone maker's livestream in one of a series of ads posted on YouTube. Titled 'It Doesn't Take a Genius — The Live Stream #NoteTheDifference,' the ad features two actors clearly meant to resemble the experts in Apple stores, known as "geniuses."
In the ad, one of the pair provides a sputtering commentary on a botched livestream. "What's the matter with you? You can't handle a livestream?" asks his partner, angrily. "This is unbelieveable – I don't know what your problem is."
Other Samsung ads clearly poke fun at the large screen sizes offered on the iPhone 6 and iPhone 6 Plus, as well as Apple's entry into the wearable technology space with the Apple Watch.
Samsung has been touting large-screen smartphones since it launched the Galaxy Note in 2011 and it unveiled its Samsung Gear smartwatch last September. The South Korean tech giant recently launched its Note 4, Note Edge smartphones, and a Gear S smartwatch.
Tuesday's livestream was only available on Apple's Safari browser running on iOS or Mac devices, which inevitably made it difficult for consumers without existing Apple products to follow the event.
Apple has not yet responded to FoxNews.com's request for comment on this story.
Follow James Rogers on Twitter @jamesjrogers