Revolutionary-turned-entrepreneur wants to shake up education software via the cloud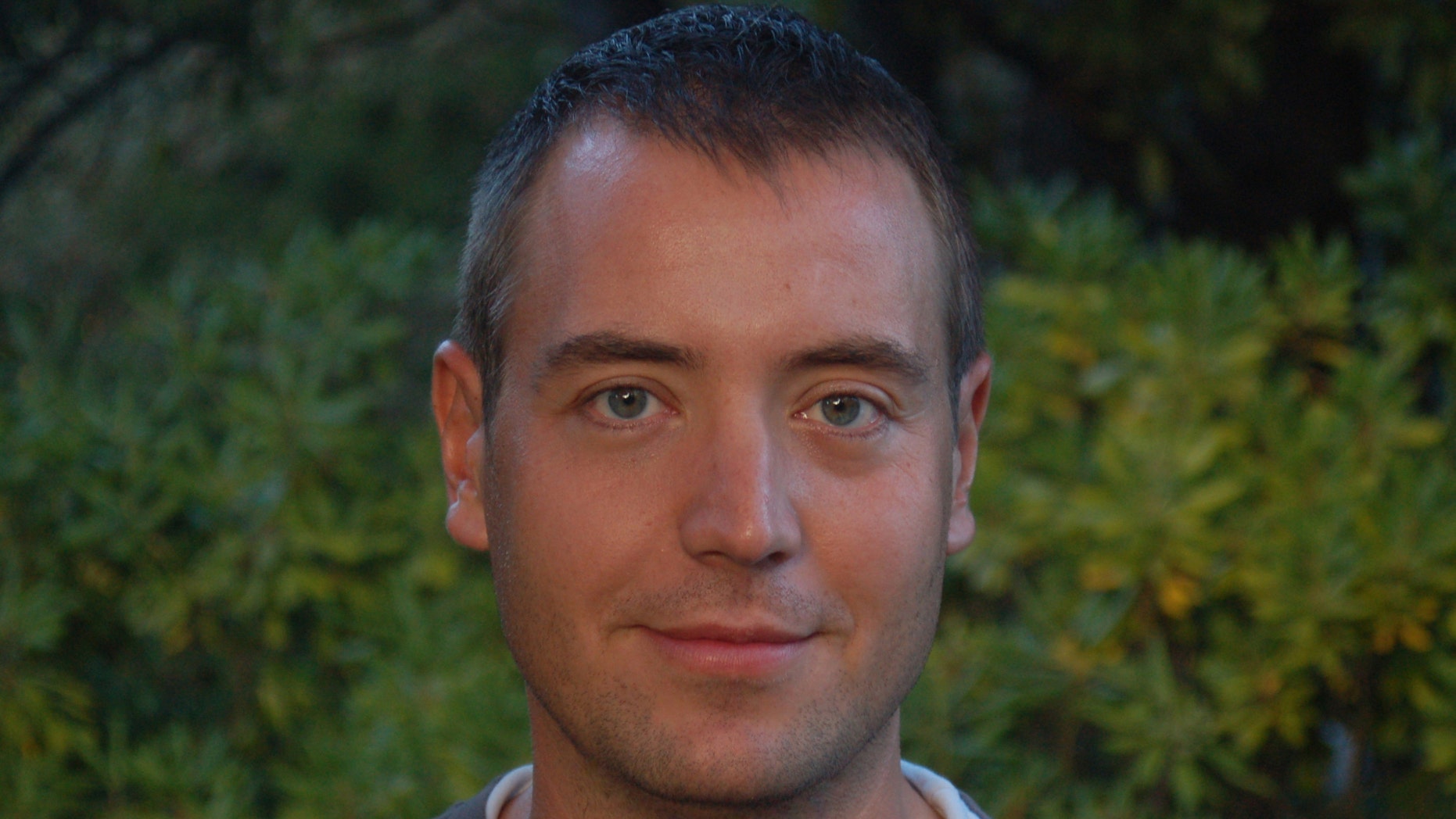 When entrepreneur and computer engineer Nikola Bozinovic founded Frame in 2012, he wanted to provide a way to bring Windows applications easily to as many people as possible by way of cloud storage. Frame aims to democratize access to software, something that isn't very different from Bozinovic's earlier goal of bringing governmental change back during his student days in his native Serbia. This backstory is perhaps more unique than that of the average tech entrepreneur. Prior to his Silicon Valley days, Bozinovic lead protests against then-Serbian President Slobodan Milošević in the 1990s.
From student revolutionary to entrepreneur hoping to impact today's students, Bozinovic has grown Frame into a useful tool for educators with 150 schools signing up for the company's Early Access Program (EAP) for education in May. This has given teachers the chance to run popular programs like Adobe Photoshop or AutoCAD on Chromebooks  – some of the most widely used devices in schools that unfortunately are not compatible with many of these popular Windows programs.
For Bozinovic — who at age 22 organized a three-month long protest that involved a 165 mile-march to Belgrade – there is a direct correlation between the skills needed to lead a political protest and get a startup off the ground.
"There were hundreds of thousands of people in the streets. You know, this was kind of similar to what you've seen in the past few years with the Arab Spring, but keep in mind this was pre-Twitter and Facebook," Bozinovic told FoxNews.com. "There are many similarities between being part of a revolution and building a startup. It's about how you build a team and how you find the right time to do it. If the timing is not right, then it won't work. You need a lot of energy at the right moment. It's seeing how to find that perfect storm."
Seeking out that perfect storm of timing and creativity has been key to Bozinovic's success as he moved up the tech ladder. He first developed his professional interests when he was growing up in Serbia and found himself wanting to "get his hand on any smart tool he could." He studied electrical engineering at Univerzitet u Nišu in Serbia before moving on to Boston University, where he earned his Ph.D. in electrical and computer engineering in 2006.
While he was studying at B.U., Bozinovic said he started to think about how much easier it would be if "every smart kid around the world had access to" the kinds of technology and software that he was using as a doctoral candidate.
It's how the idea for Frame was born.
"In the early 2000s, people were starting to think about technology differently. This was when the idea of the cloud started to emerge," he said. "You had people like Salesforce revolutionize how everybody does business, then Netflix came along and revolutionized how you watch movies and found a way to build off this and build a platform for smart applications – so that popular applications and tools like Photoshop and AutoCAD could be used by more people and unlock the creative potential of the world."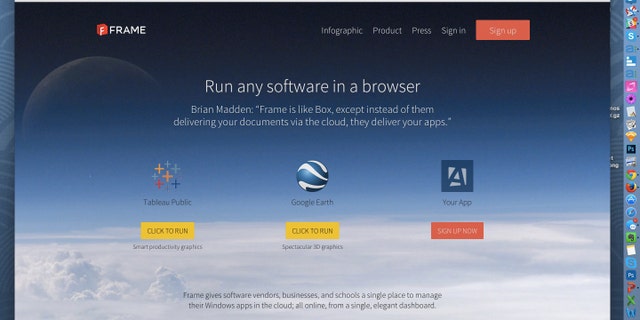 Chromebooks account for one in four devices being used in classrooms around the country, according to Bozinovic, who sees Frame as an way to bring software to as many students as possible in an affordable and easy manner, via the cloud. He added that he expects the number of participating Frame schools to be "in the thousands" by September.
Donald Clifton, technology coordinator with Northwestern Local Schools in Wooster, Ohio, said his school has been a satisfied early adopter of Frame.
"We are a school district in the rural northeast Ohio with about 1,400 kids total and about 150ish staff members," Clifton told FoxNews.com. "Nobody else around us is really doing what we are doing in terms of STEM (Science, Technology, Engineering, and Mathematics) education. When our school jumped on the Chromebook bandwagon, we realized that there are just a lot of great programs that only run through Windows that just won't run on the Chromebooks."
Clifton said that Frame has been able to make some of the "heavy-duty, back-end" stuff easily navigable since "it all happens on the cloud."
"I've been tickled to death to get to work with this," Clifton added.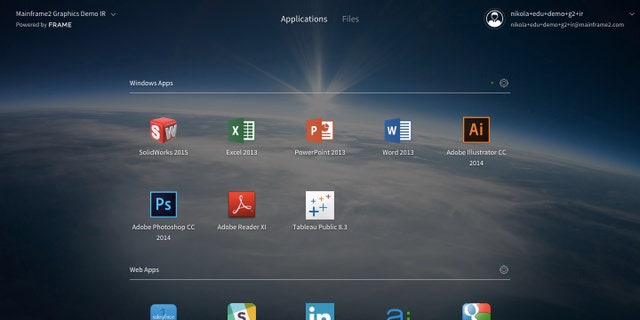 Now, Frame continues to grow. The startup recently secured $10 million from Columbus Nova Technology Partners (CNTP), Bain Capital Ventures and SQN Venture, according to a press release.
Bozinovic said that the world is on the cusp of a "new era for the Web" – "ubiquitous computing."
He said that this will be an era where "really anyone can get to any resource on any device anywhere."