Oscar Mayer's 'Wienerdrone' drops hot dogs from a great height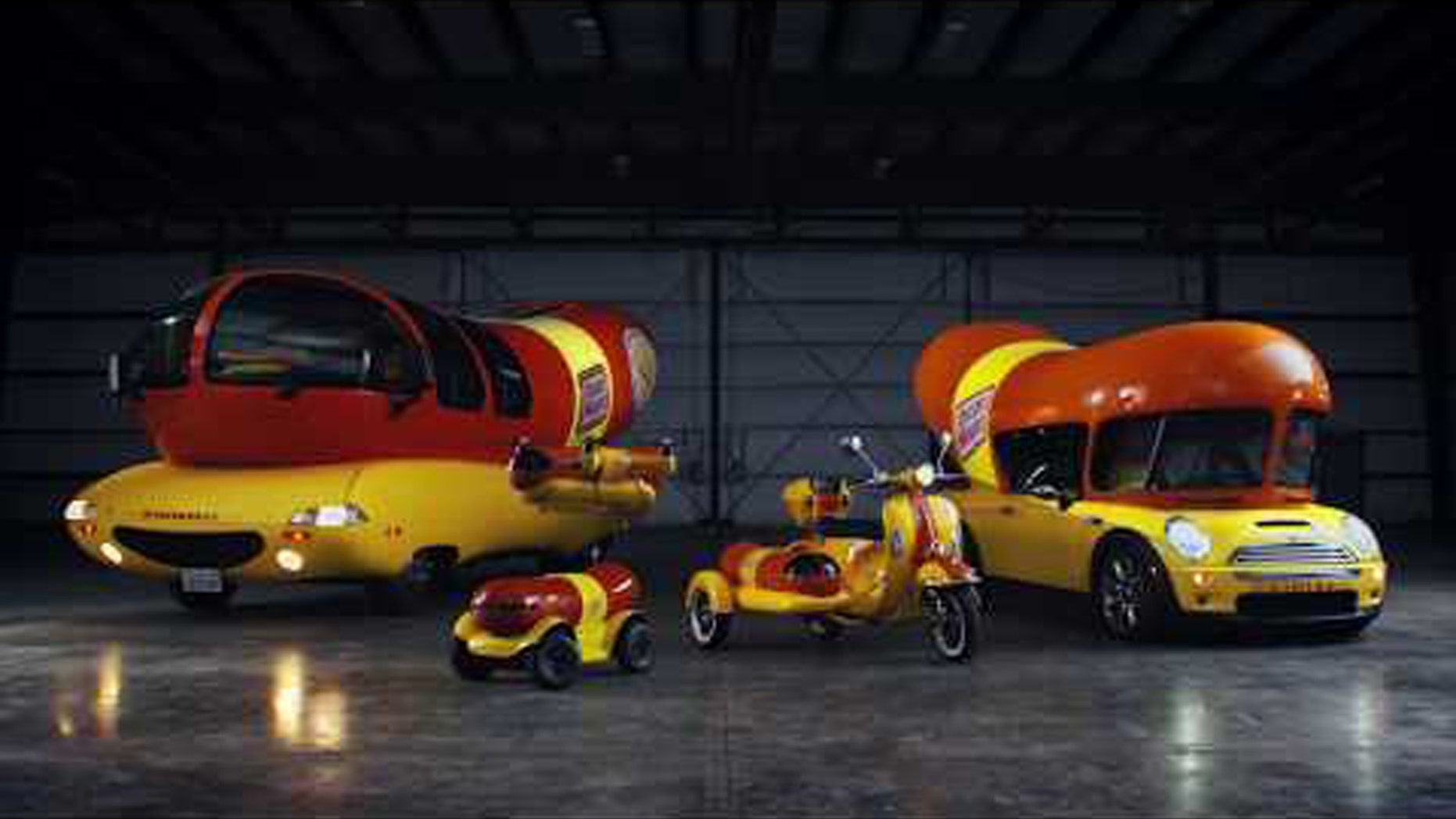 First pizza, then donuts, now hot dogs.
Recent events clearly suggest fast food fans will be very well catered for once full-fledged drone delivery services get off the ground.
Oscar Mayer is the latest to join the party, this week unveiling the WienerDrone as part of its WienerFleet, which of course includes its famous WienerMobile.
The WienerDrone can whizz along at speeds of up to 50 mph for the super-fast delivery of its "1 hot dog" payload. It can fly up to 1200 feet from the ground, too, which Oscar Mayer helpfully informs us is a distance equivalent to "2400 hot dogs end-to-end."
The unique quadcopter looks a lot like the WienerMobile, only smaller and with propellers attached. If we're honest, the delivery method looks rather haphazard and could result in a messy rearrangement of any sauces slathered on your snack. Instead of landing on the ground and gently plopping out the goods la Amazon Prime, or carefully lowering the item via a winch la Project Wing, it simply releases the hot dog from a great height for the customer to catch. Good luck with that.
No, we don't expect to see the WienerDrone coming to a barbecue near you anytime soon, but it was fun seeing Oscar Mayer's take on this whole delivery drone malarkey.
Besides the drone and the car, the new WienerFleet also includes the WienerMini for guaranteed rapid delivery, the autonomous WienerRover for off-road missions, and the WienerCycle for fast navigation of busy urban streets. Thefleet plans to hit the road on the July 4 holiday, heading for Weiner, Arkansas where the drone will no doubt be lobbing a hot dog or two into an expectant crowd.
Pizza and donuts
Domino's Pizza in New Zealand is already offering a limited drone delivery service for fans of the cheesy delight, flying orders from one of its outlets to customers in under 10 minutes. The service complements its bike-based delivery riders, and Domino's has no plans to replace them, though the company has noted that as many as 70 percent of its customers would be more than happy to receive a drone-delivered pizza.
Domino's flying machine, built by Nevada-based drone specialist Flirtey, lowers the boxed pizza using a tether. Safety features include low-battery return-to-safe-location programming and auto-return-home commands in case of a low GPS signal or communication loss.
More recently, a number of donut deliveries were made by the flying machine to city officials in Denver in a trial run organized by LaMar's Donuts. Denver mayor Michael Hancock, who was one of the recipients of the sugary snack, described the delivery as exciting stuff, adding that autonomous technology is our future [and] this is how were going to become a more efficient 21st-century nation. And with all that fast food flying about, possibly a slightly-larger-around-the-waist nation, too.