NYC Prostitutes Selling Sex on Facebook, Professor Claims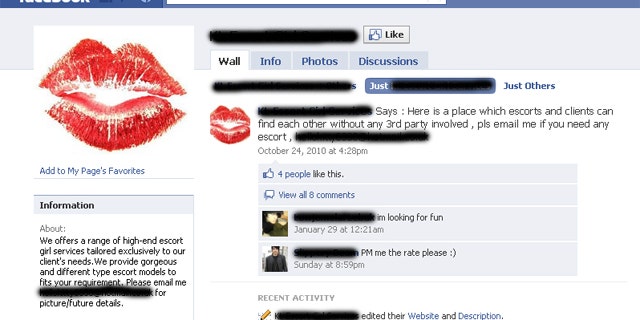 NEWYou can now listen to Fox News articles!
New York City's prostitutes have gotten the Facebook bug.
City sex workers are now increasingly plying their trade on Facebook, after popular classifieds website Craigslist shut its Erotic Services section last year, according to a recent study.
Sudhir Venkatesh, a sociology professor at Columbia University, has been analyzing trends of the world's oldest profession, publishing his results in the latest issue of Wired Magazine. Venkatesh estimates that the average escort now finds 25% of clients through Facebook.
"Even before the crackdown on [Craigslist's] adult-services section, sex workers were turning to Facebook: 83 percent have a Facebook page, and I estimate that by the end of 2011, Facebook will be the leading on-line recruitment space," Venkatesh wrote in Wired.
Similar to its effect in other industries, the prevalence of technology has empowered workers in the adult-services industry. The rise of the web, Blackberry smartphones and social networks like Facebook mean that many workers can skip the streets and even sidestep seedy pimps.
Paul Browne, a spokesman for the New York City Police Department, was hesitant to agree with Venkatesh's findings.
"It's hard to measure a universe of activity," he told FoxNews.com. "Sure, it's intuitive to assume that, like in any other enterprise these days, the Internet is going to take a certain percentage of a business that was normally done without it."
"But whether it's that percentage, in an illicit trade to begin with, is very, very hard to tell," Browne said.
Venkatesh had no qualms drawing conclusions, however. Facebook allows a sense of independence, he wrote, letting prostitutes "control their image, set their prices, and sidestep some of the pimps, madams, and other intermediaries who once took a share of the revenue."
The professor notes that the transition has been occurring for some time, but with Craigslist officially out of the picture, Facebook is fast becoming the one-stop shop when it comes to paying for sex.
Browne agrees that a certain portion of the trade is bound to move online.
"The general proposition -- no pun intended -- yeah, some of that is going to be converted electronically as opposed to directly on the street," he told FoxNews.com.
How this recruitment takes place isn't entirely clear. Venkatesh doesn't discuss how actual connections are made on Facebook given that there's no adults-only section. Searches for "escorts" return some results but not for specific individuals.
Moreover, for a transaction that involves such a high level of caution, the world's most popular social network doesn't necessarily lend itself to secrecy, which makes one wonder if more discreet avenues would make more practical sense.
The NYPD relies upon community reports to alert them to illicit activities such as prostitution, Browne said. So for online transactions, where no one is around to observe things, the NYPD is hard pressed to find evidence or prosecute. And that's where Facebook itself steps in.
For now, Facebook doesn't have a specific policy dealing with prostitution but takes a hard stance against illegal activities, spokesman Andrew Noyes told FoxNews.com. "We will take down content, disable accounts, and may take further action including escalating illegal activity to law enforcement. We strictly enforce this policy through proactive investigations and response to user reports."