New futuristic Israeli 'dune-buggy' is bristling with weapons, ready for combat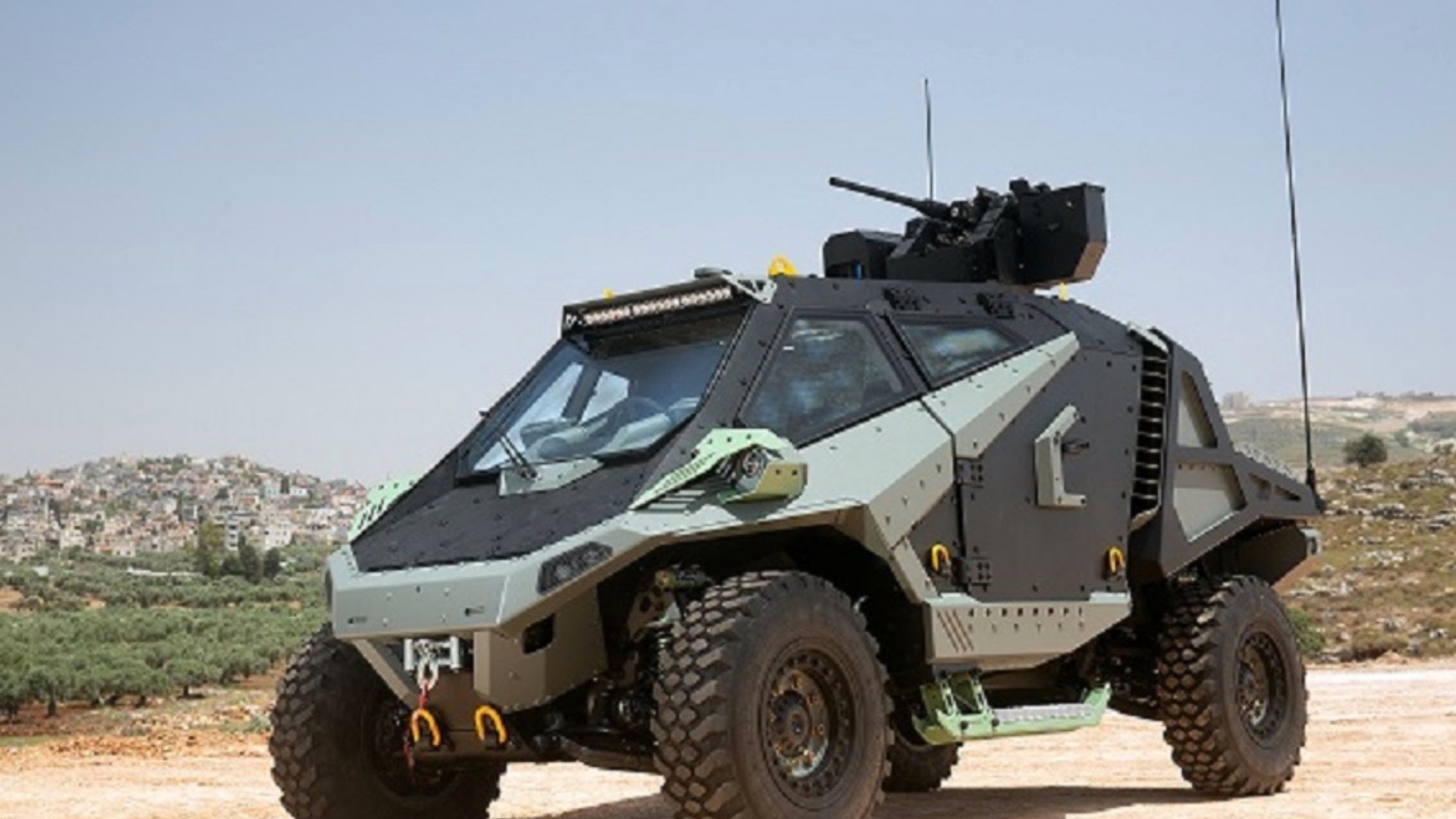 This fast attack buggy looks like it is made of Legos – and it reconfigures similar to Legos – but it is a lethal combat machine.
Foldable weapons systems, camouflage against thermal imagers, protection against nuclear weapons, tech to defeat chemical attacks, armor against explosions and machine gun fire … these are just a few of the options that forces can choose for this new vehicle, the Mantis.
The external looks are deliberately different, the inside is radically different as well. Rather than a typical ATV seat, the driver's experience is like being sat in an aircraft cockpit.
The Mantis was revealed by Carmor at the Eurosatory event in Paris last week.
Drawing a lot of buzz at its debut it has been colorfully described as a "space buggy," "Lego-mobile," "part aircraft cockpit and part sports car." The Mantis is quite a departure in looks from previous Israel Defense Forces models such as the iconic Wolf armored personnel carrier.
FORMIDABLE 'JAGUAR' RECON VEHICLE REVEALED, TOUTS POWERFUL CANNON AND ANTI-TANK MISSILES
For decades, Israeli company Carmor Integrated Vehicle Solutions has been equipping the Israel Defense Force and other forces with vehicles such as the heavily modified, armored and enhanced commercial Ford truck known as "the Wolf."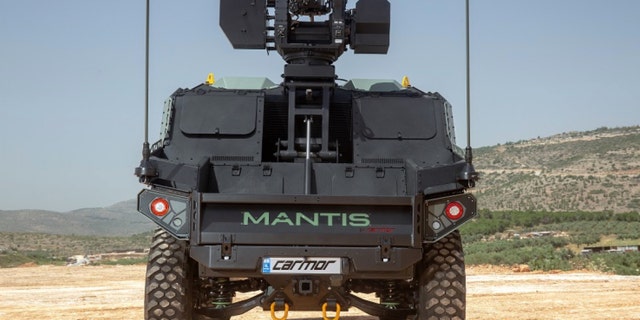 What sort of missions could Mantis be used for?
This Mantis 4x4 can be modified to suit a range of varied missions from attack and reconnaissance, through to intelligence and providing a sort mini-mobile HQ for command and control. It could potentially also be used for missions such as medevac.
To attack, there is no shortage of weapons options too.  Missile launchers and mortars are two of the hard-hitting weapons systems that could be added.
Armed Mantis could act as a sort of fast-moving artillery truck to shell enemy forces.
EUROSATORY 2018: POCKET-SIZED SPY DRONE IS A POWERFUL EYE IN THE SKY FOR US TROOPS
Night vision and surveillance systems are further add-ons. These could support forces utilizing Mantis for night operations.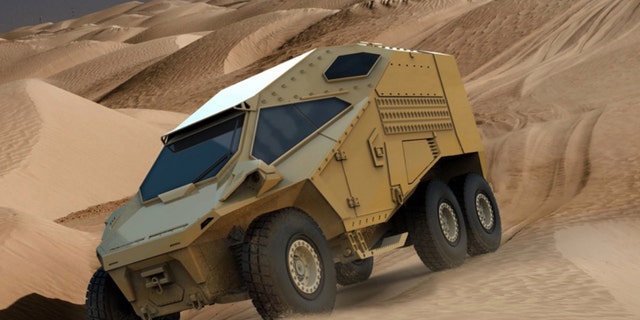 At the debut in Paris, Carmor showcased the Mantis 4x4 pickup truck configuration with a rear retractable weapons mount. The vehicle was armed with a .50 caliber M2 machine gun remote weapon station.
Mantis Predator
So what does it have in common with its namesake? Like the predatory Mantis insect, this vehicle can ambush and strike rapidly when prey is within reach. They can both camouflage themselves to lie in wait or actively hunt day and night.
PODCAST: FIND OUT HOW SEALS PREPARE FOR BATTLE DIRECTLY FROM THIS SEAL TEAM 6 COMMANDER 
Cockpit
Instead of a typical driver's seat, the Mantis design opts for an aircraft cockpit-style approach.
The cockpit is designed to provide the driver with an enhanced field of vision and maximum control of the digital display systems in the cabin.
The team sits inside a chassis described as a "shielding capsule."
Drive
The 4x4 Mantis will be available in three primary versions. the "pickup truck" with an armored cabin can carry three warfighters; a second, larger, version that can carry five warfighters; and the "open buggy" carrying up to eight warfighters inside the armored shell.
EUROSATORY 2018: HUGE WHEELED MILITARY ATV SWIMS AND SURPRISES
Military forces use technology like thermal imagers to hunt for adversaries. Heat signatures can be a telltale giveaway of location.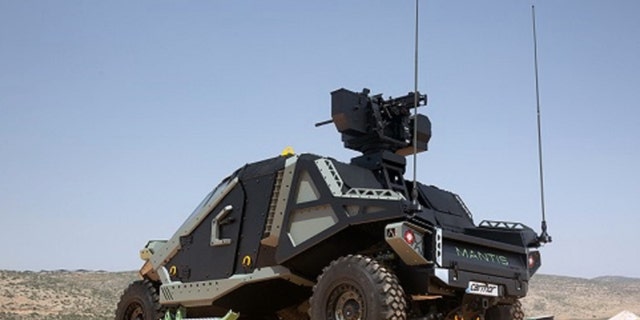 The Mantis design includes a 360-horsepower Cummins V6 turbo-charged diesel engine located in the center rear of the vehicle to help reduce heat emissions. The goal of reducing heat signature like this is to reduce detection by an enemy force.
Armor
Mantis vehicles are engineered to provide multiple layers of protection to warriors inside.
The company's announcement indicates protection against kinetic, blast, nuclear, biological and chemical threats. It is also expected to provide dynamic thermal and visible camouflage options.
The Mantis chassis incorporates a monocoque armored shell. Warriors are protected behind
composite armor designed to be both light and provide maximum protection.
FUTURISTIC MINI-SUB COULD BE A VALUABLE WEAPON FOR NAVY SEALS
Defense against chemical and biological attacks is in part derived from an air-tight sealed armored body and Carmor's air-purification system inside the vehicle.
The vehicle also includes a "floating floor." This is designed to protect warriors from IEDs and mines on the roads as well as help defend against nearby blasts from explosions.
The speeds and weight will vary based on factors such as configuration and armor levels.
PODCAST: MASTER THE SPECIAL OPERATIONS WARRIOR ETHOS FORMULA TO SUCCEED IN ALL THINGS 
Weapons
Wisely, Carmor has opted to make the weapons mount a foldable, retracting one. Theoretically, this can assist with the team onboard keeping a low profile and the vehicle concealed.
In addition to the .50-calibre machine gun, the Mantis could also be potentially armed with a 25/30 mm cannon or a missile system.
SOFIC 2018: AMAZING SPECIAL OPERATIONS VEHICLES, WEAPONS AND MORE ON SHOW
As fast moving artillery, it could be armed with a mortar system like the Israeli Elbit Spear Mk 2 120mm.
Mantis could potentially also be mounted with some models of drone launchers.
Collapsible mounting may also facilitate Mantis as an air transportable vehicle. If vehicles can be air transported, then this can be a key advantage allowing them to be rapidly moved around the battlespace and deposited ready to drive straight onto missions.