Navy Hails Gains in Plan to Move Marines to Guam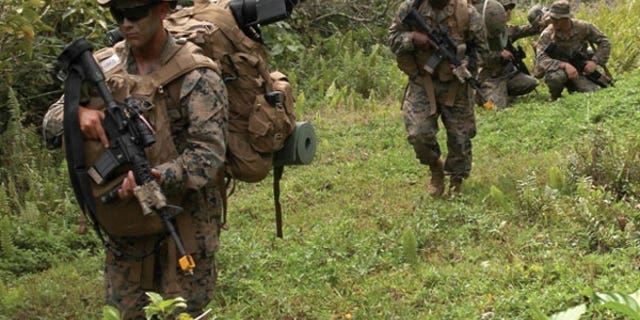 The Navy put out a draft environmental impact statement Friday that officials called a "significant milestone" in the long-range plan to shift about 5,000 Marines from Okinawa to Guam.
A key feature of the statement was the scrapping of a previous proposal that would have put firing ranges for the Marines in an area where they could have intruded upon Guamanian ancestral lands and archeological sites.
The firing ranges would now be placed within the confines of Andersen Air Force Base, Navy officials said at a background briefing at the Pentagon.
In addition, "no one will be displaced" on Guam in the construction of housing for some 5,000 Marines and 1,300 family members, a Navy official said. All of the construction for the relocation of the Marines will now be done on federal land to avoid local opposition, the official said.
The draft environmental statement also took into account the potential impact of the construction on native species such as the Marianas fruit bat, the Guamanian rail and the Marianas swiftlet, the official said.
The initial reaction to the draft report on Guam was positive, according to the Stars and Stripes newspaper.
"The administration is pleased," said Mark Calvo, director of the Government of Guam Military Buildup Office, according to the article. "Our concerns were heard, and they're adapting. This is a major milestone in moving forward with the relocation of Marines to Guam."
Calvo estimated that about 85 percent of locals view the move of the Marines to the island positively.
The environmental report will now be open to public comment and several public hearings on Guam through mid-June, the officials said.
An updated version of the document was expected to be submitted to Defense Secretary Chuck Hagel later this spring before going to the Senate for approval, the officials said.
"There is still much work to be done, and we continue to analyze the range of action alternatives," said Joseph Ludovici, the deputy assistant Navy Secretary for Infrastructure. "The input from the local government and the people of Guam is critical to that effort," he said.
The current plan to relocate Marines on Guam is a scaled-down version of a 2006 plan that would have put 8,000 Marines and 9,000 dependents on the island.
The current plan also calls for an additional 5,000 Marines to be moved off Okinawa to Hawaii but 'it's a little preliminary to try to do Hawaii at this time" in terms of preparing a separate environmental impact statement, a Navy official said.
If the Guam plan wins approval, "we expect to begin construction in earnest in 2016" on the island, a Navy official said.
The U.S. has estimated the cost of moving the Marines to Guam at $8.6 billion, with Japan pledged to contribute about $3.1 billion to the effort.
-- Richard Sisk can be reached at richard.sisk@monster.com