Microsoft's iPad Answer Will Be Here for the Holidays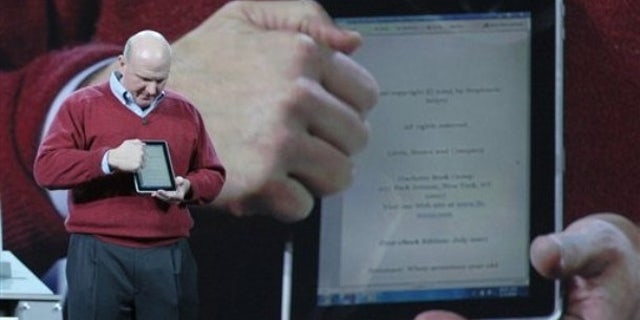 Microsoft Chief Executive Steve Ballmer has promised a Microsoft Windows tablet computer to join the burgeoning market led by Apple's new iPad.
"You'll see new slates with Windows on them. You'll see them this Christmas," he told an audience of students, staff and journalists Tuesday at the London School of Economics.
Microsoft has been heavily criticized for its inability to effectively penetrate the smartphone market as well as being slow to respond to the immediate success of the iPad -- despite record sales of Windows 7. IT research firm Gartner expects 10 million tablet PCs to be sold this year as consumers begin embracing such devices, which include Dell's Streak and the Eee Pad from Asus.
The Apple iPad alone sold 3.3 million in its first quarter. Selling at a rate of approximately 4.5 million units per quarter, the iPad has now earned the prestigious title of fastest-selling electronics device of all time. And until now, Microsoft has had no answer.
The tech giant abandoned the Courier, an innovative dual-screen tablet that technology fans eagerly anticipated, in light of the successful release of the iPad earlier this year.
Other tablet initiatives, like the HP Slate Ballmer unveiled at the Consumer Electronics Show earlier this year, never came to fruition, complicated by HP's acquisition of Palm. The smaller company gave HP access to a fully fledged mobile operating system instead, called WebOS.
And while Microsoft has finally confirmed the launch date for its Windows Phone 7 operating system -- stick with FoxNews.com for the big event on October 11 -- a recent video discovered by Engadget of an alleged HP Slate prototype hints that the experience still hasn't been streamlined for touchscreen operation.
Ballmer admits Windows 7 isn't fully optimized for the tablets. "We're not going to do a major revamp of Windows 7 for slate applications; that will come in the next version (Windows 8)," Ballmer said at the UK Tech Days conference.
Microsoft will nevertheless discuss its tablet strategy at the October 11 event, reported tech news site Neowin Tuesday. Sources familiar with the company's plans told the site that "Microsoft will hint at its future Slate plans at the event," even though the main focus will be Windows Phone 7.
Microsoft later clarified its position to Neowin, explaining that it "has no plans to introduce a physical device on October 11."
Despite the early lead Apple has developed in the mobile space, Microsoft's chief remains upbeat.
"We've got to have a comeback against the competition, and I think with our new Windows phones we really have a beautiful product," Ballmer said on Tuesday.
FoxNews.com is on Twitter! Follow us @fxnscitech.