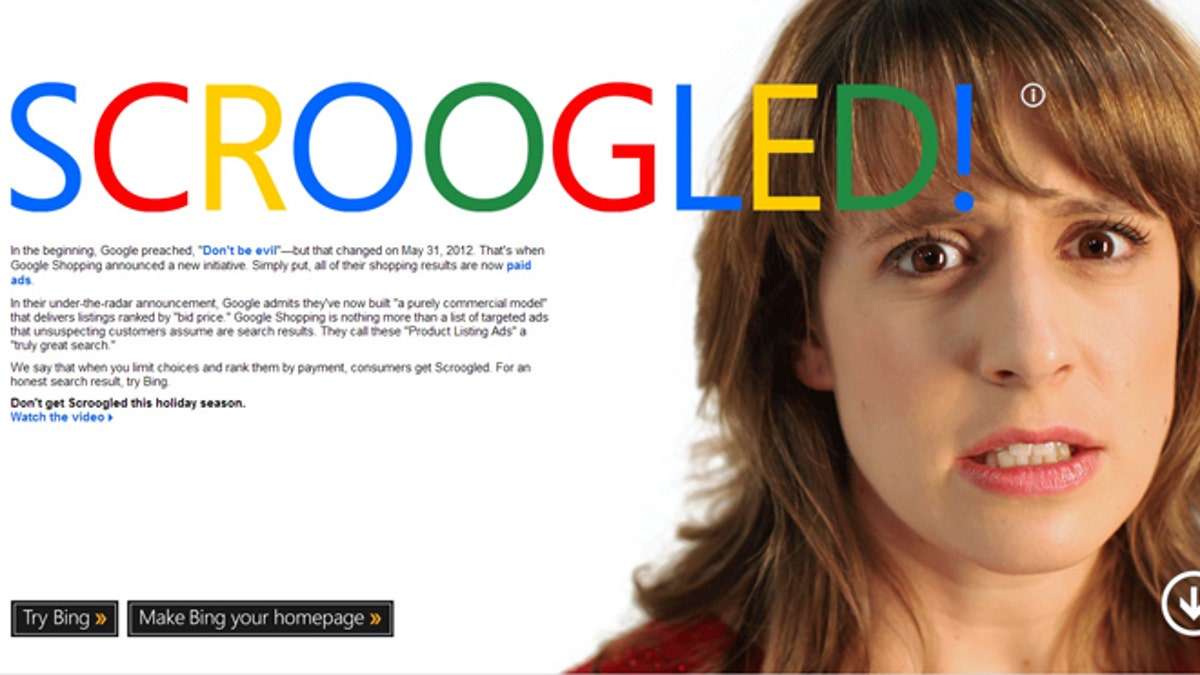 Microsoft is turning bad-mouthing Google into a new kind of corporate warfare.
The software giant is opening a new front in its nasty "Scroogled" campaign, accusing Google's Gmail of invading users' privacy. The first phase of the marketing attack in November blasted Google's shopping search results for including only paying results.
Microsoft is focused on Google's practice of serving ads to e-mail users based on the content of their messages. It is a line of attack that led Microsoft last year to invent "Gmail Man," a marketing device that poked fun at the idea of e-mail-based advertising.
[pullquote]
This time, however, Microsoft is spearheading a petition drive — looking for signatures from a similarly outraged, privacy-guarding public — to present to Google. Microsoft even commissioned a study to quantify the potential outrage.
The hardball tactics are taking this bitter rivalry to a new level, according to business and marketing experts.
"I have never seen that," said Shane Greenstein, a professor at Kellogg School of Management at Northwestern University, referring to Microsoft's petition campaign.
It is not unheard of for corporate rivals to commission studies that target competitors' business practices, "but you don't see it in high tech as frequently," he said.
Microsoft is spending "millions of dollars" on its latest Google attack ads, which will run in print, on television and online, according to Stephen Weitz, Microsoft's senior director of online services.
"A lot of stuff happens in the shadows, but we are being open about it," he told The Post. "We are taking them on when they do things that seem to violate the market norm."
Microsoft commissioned a study from GfK Roper that found a "majority" of Internet users are unaware of the type of advertising Google uses in Gmail, while 88 percent of survey participants disapprove of such marketing when alerted to it.
Microsoft has a point, according to some industry experts.
"There's plenty to criticize," said Benjamin Edelman, a Harvard Business School professor and privacy advocate who been a consultant for Microsoft in the past. "I'd give Microsoft quite a bit of credit for raising these concerns."
Google has defended against Microsoft's anti-Gmail messages in the past.
"No one reads your e-mail but you. Like most major e-mail providers, our computers scan messages to get rid of spam and malware as well as show ads that are relevant to you," Google has said.
Also, Google said yesterday that it was making changes to its advertising service that will make it easier for advertisers to buy ads on mobile devices. The changes will also raise average prices for advertisers, who will no longer be able to buy ads for desktop PCs and mobile devices separately.