Girl Scout Cookie Finder app helps you find your Thin Mints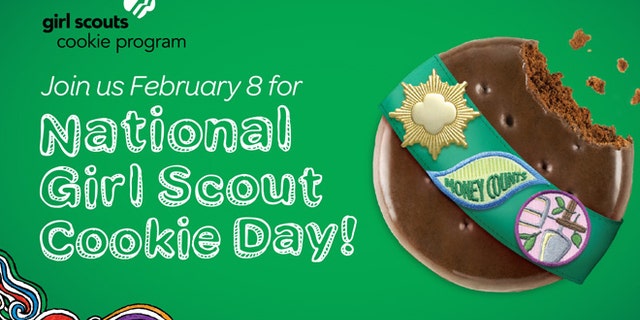 Valentine's Day is coming -- and so are the Samoas. And the Thin Mints. And Tagalongs, Trefoils and Lemonades.
Friday, Feb. 8, is National Girl Scout Cookie Day and the start of Girl Scout cookie season -- the three sweet months of the year to stock up on deliciousness and support the troops -- the Girl Scout troops, that is. This year, Girl Scouts of the USA (GSUSA) are re-launching a Cookie Finder app to help connect Scouts with cookie-mongering customers.
But this isn't just a cute cookie sales program -- and it won't spell the end of door-to-door sales.
"This is about fostering the next generation of entrepreneurs and leaders," Steven Clark, lead web producer at GSUSA, told FoxNews.com.
'When you buy a box of cookies you're really buying an experience.'
Founded in 1912, the group's mission is to "build girls of courage, confidence and character." Each cookie season, girls go door to door and set up booths to sell the treats. But because it is a non-profit organization, the GSUSA does not sell its cookies online. Enter the revamped, free app that helps customers to find cookie-selling scouts.
The app for iOS and Android devices allows users to find out when and where a local council is having a sale, and then create calendars marking down upcoming cookie sales. If there are no booth sales nearby, users can enter their contact information and ask to be contacted by their local council with further details. Users can share their findings with friends on Facebook and followers on Twitter.
Philip Bae, interim director of interactive marketing at GSUSA, told FoxNews.com that the app also features videos focused on the more contemporary message with the theme of "This is What a Girl Can Do."
Additionally, and most importantly, the redesigned app provides users with information on the five essential skills the girls learn to become both "cookie professionals," as well as the next generation of entrepreneurs and leaders: goal setting, decision making, money management, business ethics and people skills.
"When you buy a box of cookies you're really buying an experience," Tere Stouffer, digital content strategist at GSUSA, told FoxNews.com.
As part of the overhaul to the $790 million cookie program, the 200 million Girl Scout Cookie boxes that sell annually at about $4 each will list the five skills -- again, to reinforce the "This is What a Girl Can Do" message.
The cookie program is lucrative, but it is the primary (sometimes the only) fundraising activity the Girl Scouts participate in each year, so all revenue earned from cookie sales goes to sponsoring local councils, Stouffer explained.
To promote National Girl Scout Cookie Day, the Girl Scouts are running a social media blitz using the app as well as Twitter and Facebook. The social media team will use the hashtag #5skills to spread the message about these skills and will live tweet the location of the Girl Scouts Sweetery Food Truck on Feb. 8 as it makes stops in New York City.