LearnFit 'standing desk' inspires healthy habits for students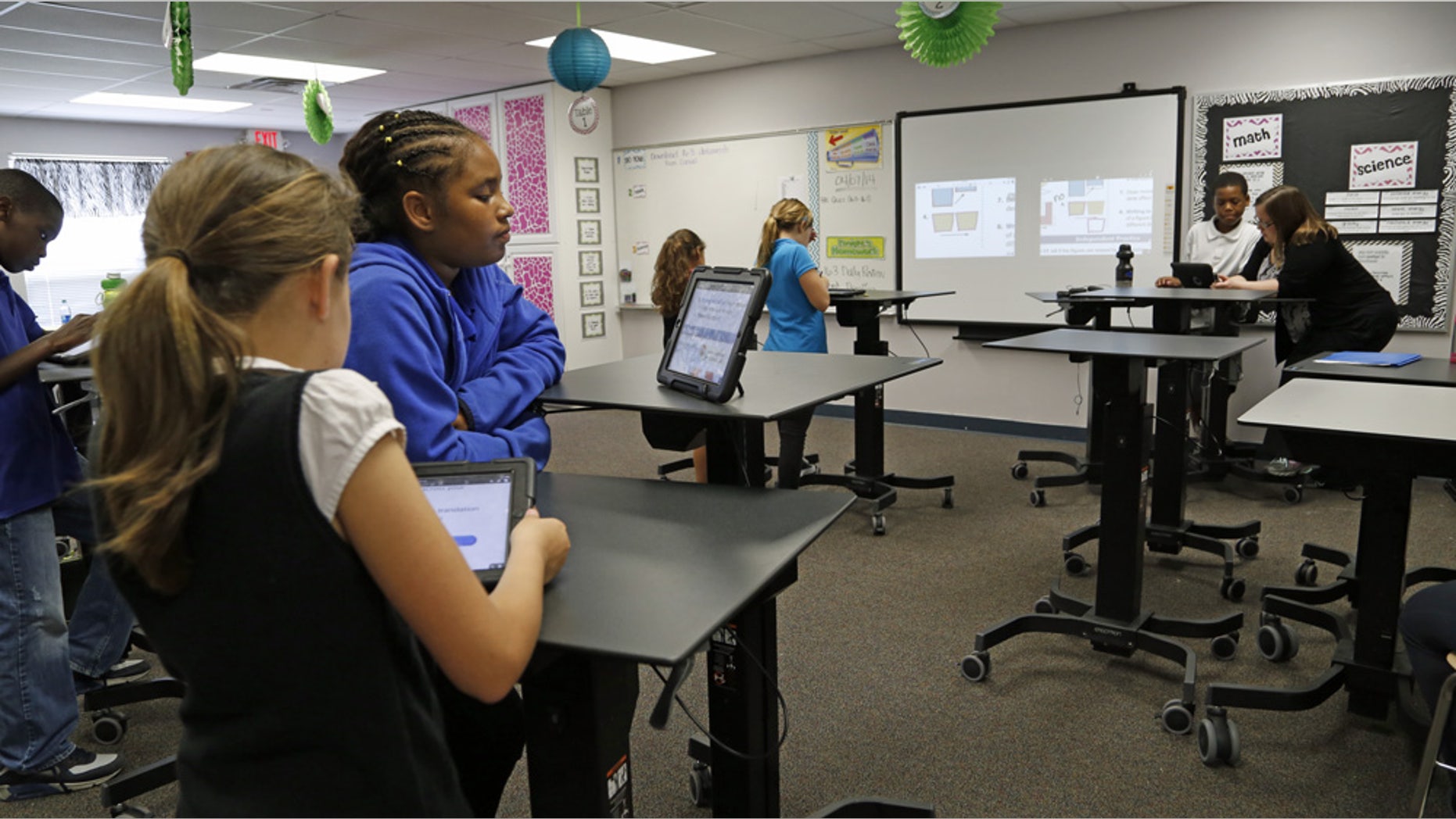 Fifth-grader Emma Kalcounos said she remains focused doing work at her desk while some of her classmates fidget and look restlessly out the window as summer vacation looms. What's her secret for staying on top of things? For Kalcounos, the answer is simple – she's never sits down. Kalcounos is one of the students at Belle Terre Elementary School in Palm Coast, Fla. who has been using the LearnFit, a classroom-friendly, adjustable "standing desk" developed by Ergotron.
"It's actually amazing, you get to be more focused while using this kind of desk," Kalcounos told FoxNews.com. "When I sit at a regular desk to do work, I do not feel as focused. I feel the grades I have in different subjects aren't bad, but standing up helps more than sitting down – it gets the blood flowing and helps you get energy."
The desk's design is simple. It's adjustable, has wheels, which makes it easy for students to move around and collaborate on group projects, and above all, is designed to encourage healthy behavior. The simple act of just standing up has great benefits for students who spend long days mostly sedentary.
"When you look at the news, you read about childhood obesity and how people come to dead ends when figuring a way to solve the problem. You read about ways people try to improve learning outcomes for students and that is the reason we felt we needed to get involved in this area," Ergotron CEO Pete Segar told FoxNews.com.
Segar's company produces multiple products that are aimed at making office environments more efficient. They sell adult-size standing desks as well as computer wall mounts and carts, among other office staples. Segar and Bob Hill, Ergotron's education industry manager, both said that national statistics on student health made developing the LearnFit a no-brainer.
According to a 2011 study published by the American Public Health Association, students who stood in class versus those who sat burned about 19 more calories over a two-hour study period. It might not seem like much, but Segar and Hill are betting that the LearnFit can set a trend that the simple act of standing can make great waves in promoting better health for students nationwide.
"The health benefits of standing include a higher heart rate, greater calorie expenditure, musculo-skeletal benefits that come from standing and better posture, more Oxygen flow around the body, and much more," Hill said. "This leads to a better, reengaged student and teacher interaction. Students pay more attention, and it just leads to a more successful semester overall."
The "first generation of LearnFit desks has only been around for about a year, but the general idea of a standing desk has been something Ergotron has been developing for a while. Segar said that his team had already been producing computer workstations for offices that incorporated easy height adjustments and desks that would be more comfortable for workers. Coupled with this background in creating health-conscious, comfortable desks and research studies, Segar said that it only took about six months to develop the LearnFit.
So far, the LearnFit has been piloted nationwide through a handful of "spotlight schools" like Belle Terre Elementary. There are also some classrooms outside of the spotlight program that have been using the desks. To improve their product, Hill and Segar said that they have been collecting feedback from teachers, school principals, and most importantly, students.
Segar added that the desk dovetails nicely with larger national movements promoting student health and fitness, like Michelle Obama's "Let's Move!" campaign.
"We've sat in some of the classrooms using our desk with design engineers to see how we can make new adaptations for the 'second gen' of desk," Hill said.
Belle Terre has been something of a perfect fit for the desks. The Florida-based school, which is part of the Flagler County Public School District, has been working hard to create a forward-thinking, high-tech-focused learning environment for its students. Over the past four years, the school has turned some traditional classrooms into "learning showcases" where visitors have stopped by to observe experiments in perfecting different kinds of classroom techniques – from desk configurations and teaching styles to the use of technology to enhance learning. Joey DiPuma, the school's IT manager, told FoxNews.com that the LearnFit complemented the school's mission perfectly.
DiPuma was attending the 2014 FETC Education Technology Conference in Florida when he met Cathi Vergin, Ergotron's senior product manager. Vergin arranged for Belle Terre to receive LearnFit desks that students could use from March through the remainder of the school year.
Fourth-grade teacher Melissa Nelson-Irving's classroom was chosen to test out the desks.
"We had traditional desks up until last March, and I was just very excited to hear about the opportunity, but a little skeptical," Nelson-Irving told FoxNews.com. "I was thinking in the back of my head that students with ADHD, for instance, would maybe complain a little bit, but I was really surprised overall at just how students embraced it (the desks)."
Nelson-Irving said that she quickly noticed students were more focused and had more energy over the course of the school day.
"I see that they are paying attention and I don't have to fight as hard to keep them focused," she added.
While the notion of movable desks with wheels sounds like the recipe for behavioral problems and students acting out, Nelson-Irving said that the opposite has been proven true. Antsy students can adjust the desk, move to different locations, and collaborate more easily with their peers for group projects.
Especially important, the movable desk configuration of her classroom has allowed Nelson-Irving to dedicate more personal time to each student. If she wants, she can easily split students into small desk clusters and walk around from group to group, giving more individualized attention to each student.
Kalcounos was one of Nelson-Irving's students. She has been allowed to take her desk with her to this school year, part of the larger plan to bring more of these standing desks to the school's classrooms.
"I wish everyone had a desk like this," Kalcounos said. "I know how jealous some of my classmates are, and they just want to use it, too. It helps you to move around more and know what you are learning and pay attention more."
Does Nelson-Irving see a future where all classrooms use this kind of seating arrangement? She said she hopes that becomes a reality.
"That's my dream," she said. "I was recently asked 'what kind of a teacher does it take to teach in a standing desk classroom?' and I said 'any teacher.' The students are ready to learn in this kind of environment, it sends a different message to the brain. They stand up on their toes and are ready to go. It's appropriate for any teacher. Any student."