Is President Trump still using his old Android phone?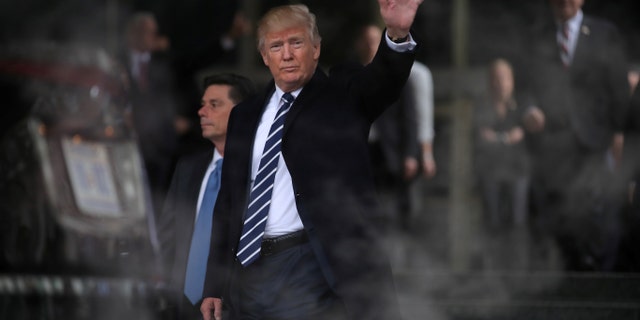 Just days after President Trump was reported to be trading in his Android phone for a more secure device, a report suggests that has kept hold of his old smartphone.
The New York Times reported Wednesday that Trump has been carrying his "old, unsecured Android phone" around the White House "to the protests of some of his aides." This would appear to contradict a report from the same publication last week. Citing people close to the transition, the New York Times reported that Trump had traded in his Android phone "for a secure, encrypted device approved by the Secret Service with a new number that few people possess."
The White House has not yet responded to a request for comment on this story.
TRUMP MAKES FIRST TWEETS AS PRESIDENT
As he promised prior to taking office, Trump has continued to tweet prolifically from his personal @realDonaldTrump account, although it is unclear what device he is using to send out the tweets. After studying photos of the president from 2015 and 2016, the Android Central website speculates that his personal phone may be a Samsung Galaxy S3, which was released in 2012.
Security experts have already warned that Trump's Twitter account is a prime target for hackers
Trump, who has 22.2 million Twitter followers, turned the @realDonaldTrump account into a potent political weapon during his shock run to the White House. The official presidential @POTUS account that Trump inherited from President Obama is being used for tweets from the new President's administration, as well as some tweets from Trump himself, which are signed "DJT." The @POTUS account has 14.3 million followers.
DONALD TRUMP HAD TO TRADE-IN HIS ANDROID TWEETING MACHINE FOR A MORE SECURE DEVICE
Trump sent out his first tweet as president shortly after he was sworn in on Friday. "Today we are not merely transferring power from one Administration to another, or from one party to another – but we are transferring...power from Washington, D.C. and giving it back to you, the American People," he wrote, in the first of a series tweets from his @realDonaldTrump account.
His first tweet has been retweeted almost 21,000 times and garnered almost 110,000 likes.