Is E-Voting Ready for 2012?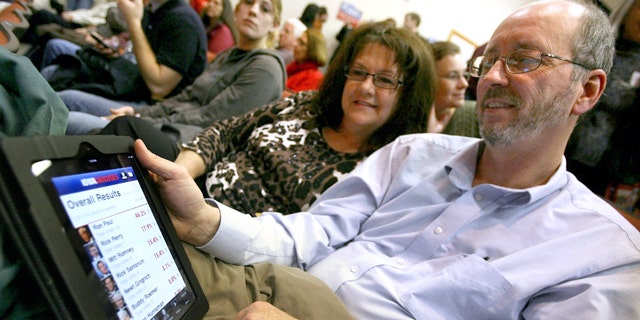 NEWYou can now listen to Fox News articles!
Voters in many states will have an easier time casting their ballots in 2012, as elections officials are now allowing some people vote via email or iPad devices. They're also using technology to help count ballots faster and keep track of ballot boxes.
These new voting technologies will save time and money and perhaps allow more people to take part in the elections process. But some experts worry that security flaws still haven't been fixed and that federal elections are still decades away from going fully online.
Despite the concerns, some states are embracing e-voting as a way to counter low voter turnout.
Oregon, for example, allowed disabled persons to vote with iPads during a special election in November 2011 and will continue in 2012.
Oregon is also one of 11 states that currently or will soon let residents register to vote online as long as they have a valid state driver's license or ID card, according to Politico. All other states require voter registration in person or by mail.
ANALYSIS: Clever E-Voting Tech Reduces Fraud
West Virginia officials ran a pilot program in 2010 that allowed military and overseas voters to return their ballots online, said Jim Glance, spokesman for the West Virginia Secretary of State's office. The program won't continue in 2012, however, because legislators failed to renew the program.
In Long Beach, Calif., city officials are putting radio frequency identification (RFID) chips on ballot boxes to track their movements after polls close. The chips are used by big box retailers to track inventory through their supply chain.
Other states are installing new high-speed scanners to help count paper ballots more quickly.
While some states and localities are taking baby steps to embrace new voting technology, it's not likely that online voting will come to the masses anytime soon, experts say.
"We still do not know as a society how to build secure electronic systems," said Alexander Shvartsman, professor at the University of Connecticut's Center for Voting Technology Research. "Obviously an electronic voting system makes everything easier, but it has to be auditable. There is no replacement for having a ballot that is verified by the voter."
One of the nation's first online voting experiments was a big failure. In October 2010, officials in Washington, D.C., set up an Internet-based system for overseas and military voters to cast their ballots.
During a one-week test period, the D.C. Board of Elections and Ethics asked the public to test its integrity. Students from a University of Michigan class obliged and within 36 hours had posted the Michigan fight song on the website.
"Not only were they able to penetrate the system, but also they were monitoring what was going inside the system itself," Shvartsman said.
He added that the students were also able to see the electronic signatures of hackers based in both China and Iran probing the D.C. site. The District of Columbia scrapped the plan and has no plans to resurrect it in 2012.
NEWS: Conservative Candidates Are Often Better-Looking
Most U.S. voters will continue to use paper ballots that are counted electronically. The older punch-card ballots that caused havoc during the disputed 2000 presidential election in Florida have been outlawed.
Meanwhile, other nations are moving forward. Canadian officials want to start electronic voting in federal elections by 2013; it's already available in some Canadian cities. Sweden, Latvia and Switzerland have also tested online voting, while the Baltic nation of Estonia has implemented "I-voting" for the past five consecutive elections since 2005.
The Estonian voting system works well because the country already has a secure national ID card, people are comfortable with the security of e-commerce and the voting software mimics the standard voting process, according to Priit Vinkel, adviser to the Estonian National Electoral Commission.
"Internet voting is prominently seen as just another e-service in communicating with the government, as a part of the modern info-society," Vinkel said in an email to Discovery News.
Vinkel said the biggest potential vulnerability is the security of citizens' individual home computer or smartphone (which can also be used to cast ballots), but so far Estonian officials have detected no fraud or tampering.
Electronic voting has resulted in a 2.6 percent bump in overall turnout, he said. "In Estonia," Vinkel said, "every vote counts."