iPad Pro first-take review: Yes, it can be a laptop stand-in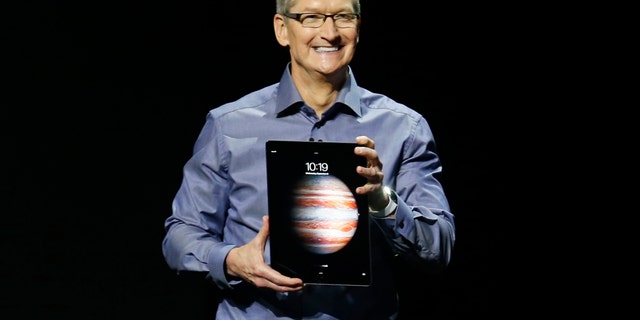 The iPad Pro can be a laptop replacement – that's my first take-away from Apple's newest and biggest iPad.
I'm more optimistic about the iPad as a laptop stand-in than I was a few days ago after more hands-on time with the 12.9-inch tablet over the weekend. I've found the virtual keyboard (which I already use heavily on my iPad Air 2) a lot better on the bigger screen. Maybe more importantly, the optional Apple Smart Keyboard ($169) gets better and better the more you use it.
Related: Apple's iPad Pro set for release: Should it be your next tablet?
Doing work: With iOS 9, the on-screen (virtual) keyboard now has a cursor that works a lot like a hardware pointing device. With that and other improvements, writing and editing in Microsoft Word on the Pro's bigger screen isn't radically different than using Word on a laptop. Cursor placement, text highlighting, and cut-and-paste functions work well enough that it's not jarring to jump from my HP laptop (or my MacBook) to the iPad Pro.
That gets even better with Apple's Smart Keyboard. Hold down the keyboard's Command key in Word and a host of common editing commands pop up that allow you to keep your hands on the keyboard most of the time. Granted, the Smart Keyboard won't match the one on your laptop but it's more than good enough to get work done.
The point is, if you're someone who's mobile/traveling most of the time and you don't need constant access to demanding, resource-intensive applications, the iPad Pro could be a better solution than a laptop. Particularly if you opt for the 128GB cellular model ($1,079), which frees you from constantly hunting for a Wi-Fi hotspot, and throw in the Smart Keyboard. Another upside: battery life – one of the most important requisites – will likely be better on the iPad Pro than your laptop.
(Note that I will not be covering the Apple Pencil in this first-look review.)
Play: Though I didn't have a lot of time to test the Pro in passive "play" mode (for example, watching movies), it is clear that the bigger screen combined with four excellent speakers handily outclasses the smaller iPad Air. The speakers get loud without distorting, which can mean a richer experience when watching movies (even the relatively rare 4K variety, which the Pro can handle without a hitch).
What it's not: Needless to say, the iPad Pro isn't going to replace that Intel Core i5-based laptop at your office. An office PC or Mac will beat the Pro any day of the week because the keyboard-trackpad experience is something almost all users have mastered and is therefore more efficient.
Moreover, a laptop running Windows 10 or OS X is better at multitasking – and likely has faster overall performance. But the biggest reason the Pro falls short of a powerful office laptop is software: iOS can't match either of those operating systems when it comes to the library of full-featured applications. Developers have been writing software for Windows and Apple's desktop OS for decades. Not so for iOS (though it's catching up fast).
Related: Giant iPad Pro boasts some big firsts for Apple
The closest you can probably get to an iPad-like experience if you're looking for absolute parity with a laptop, is the 12-inch Retina MacBook. The 2-pound MacBook is about the same weight as the iPad Pro with the Smart Keyboard (the iPad Pro is just shy of 1.6 pounds and the Smart Keyboard is 0.5 pounds). And the MacBook is only a few dollars more than the cellular iPad Pro and keyboard: $1,248 for the 128GB cellular iPad Pro and Smart Keyboard and $1,299 for the 256GB 12-inch MacBook.
Performance: Apple has included a generous 4GB of RAM (the most for any iOS device to date) and a speedy A9X processor – the latter Apple is using exclusively in the iPad Pro. For performance numbers, I will defer to MobileTechReview which says the Pro's A9X chip is is "faster than anything Apple has ever put out before." Geekbench 3 benchmarks (according to multiple reviews of the Pro's performance) even show it performing as fast as an Intel Core i5 processor in some cases, though it should be noted that Geekbench isn't always the most reliable reflection of mobile versus desktop chip performance. Only time will tell how accurate the early numbers are. If true (or even close to being true), it means that Apple has broken through a major performance barrier with the A9X (and that, by the way, is bad news for Intel).
Display and size: The gorgeous 12.9-inch 2,732x2,048 resolution Retina display is 264 pixels per inch for those keeping track. That's a higher pixel density than the 12-inch Retina MacBook or 13-inch MacBook Pro Retina. The important thing, of course, is that the display is big -- almost as big as a 13-inch MacBook. So, when you're using Split View (iOS 9's version of multitasking that runs two apps side by side), it's not cramped like it can be on the smaller iPad Air. Even using the virtual keyboard leaves enough room to be efficient. Opt for the Smart Keyboard accessory and you're looking at oodles of screen real estate to work with. The point here is that Apple has managed to make a larger iPad seem like an evolution of the iPad, not just a larger tablet.
Apple's Future: My guess is that the iPad Pro is more a statement about Apple's future than even the company's most advanced laptop design, the 12-inch Retina MacBook, which runs OS X. I don't think it's a stretch to say that Apple's future is predicated more on iOS (on the iPhone and iPad) than it is on OS X. Yes, OS X will always be around and currently you need OS X for the most demanding applications. But I see iOS rapidly improving to the point where, let's say, two years from now I might be able to ditch my MacBook.
I plan to follow up with a longer-term, in-depth review of the iPad Pro in the near future.