India threatens ban against Twitter, fearing further violence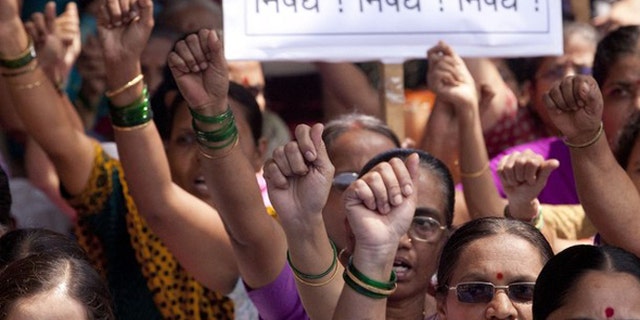 NEWYou can now listen to Fox News articles!
The world's largest democracy is facing a major dilemma: Should India allow free access to information or go down the route China has taken and limit access to the Google, Facebook and Twitter?
India would seem an unlikely country to crack down on the free flow of information, but the government fears it has become a threat to national security and has warned Twitter of "appropriate and suitable action" if it doesn't close 20 accounts that it believes have spread scare-mongering stories.
The government had already blocked over 200 web pages which it claims have incited communal violence in the northeast of the country where fighting between Muslim settlers and local tribal group in the state of Assam.
Government officials say the sites, as well as mass SMS phone messages, had frightened people from the northeast working in southern cities that they had left for fear of reprisal attacks.
While Facebook, Google and Twitter were credited with helping the Arab Spring by facilitating the free flow of information, such sites have come under pressure to remove content that officials fear will cause further violence.
Google and Facebook said this week that they were complying with Indian government requests to remove content. Twitter representatives did not respond to FoxNews.com, when asked whether they planned comply as well.
Twitter currently has about 16 million accounts in India.
The Indian authorities are now also attempting to crackdown further by targeting the Twitter accounts of journalists as well as websites by the local and international media. Indian reporters who have criticized the government seem to have been targeted, and some say their Twitter accounts have been blocked.
Media companies on the list include the Qatar-based Al Jazeera news organization, which recently had its correspondent kicked out of China, as well as Britain's Daily Telegraph and the Australian Broadcasting Corporation.
"We understand that the government wants to stop the circulation of incendiary material that may inflame passions, but should it be blocking news and opinions on the subject?" Raghavan Jagannathan, editor in chief of Indian news portal FirstPost.com, told the Wall Street Journal. "I am not sure the decisions are well-thought-out."
There has now, though, been a strong backlash by the Indian public to the perceived heavy-handiness of the government.
Twitter users have led the criticism with the hashtags #Emergency2012 and #GOIBlocks among the top trending topics on Twitter in India on recently.
The respected Times of India newspaper highlighted some of the tweets by people over the government's action.
"Dear GOI (Government of India), Keep your Hands Off My Internet. Else face protest" tweeted one user.
The Indian government doesn't appear prepared to back down, however; it has already brought into law rules that oblige Internet companies to remove a range of objectionable material when requested to do so.
Google and Facebook executives are already facing criminal charges in a New Delhi court for allegedly hosting objectionable material on their sites.
Washington has been looking on anxiously as U.S. companies have come under pressure from India to limit information.
"As the Indian government seeks to preserve security we are urging them also to take into account the importance of freedom of expression in the online world," U.S. State Department spokeswoman Victoria Nuland said this week.
India hasn't yet blocked itself off from the online world as China has, but it faces a dilemma: While it may be beneficial to stop Internet scare mongering, the cost could be too high for a country that prides itself on its freedom of speech.