In the sky above Wisconsin: It's a bird, it's a plane, it's ... 'Jetman'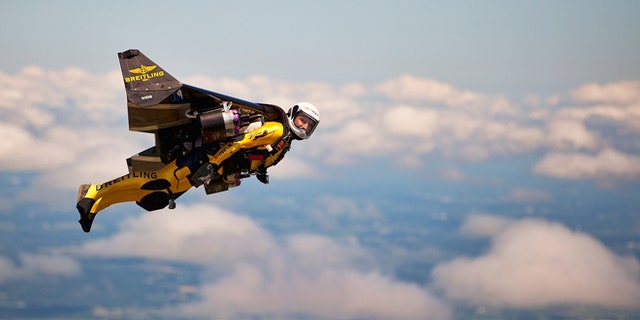 NEWYou can now listen to Fox News articles!
OSHKOSH, Wis. – A Swiss adventurer is making his first public flights in the United States this summer with his custom-built jet suit.
Yves Rossy (eev RAW'-see), also known as "Jetman," is making appearances at the Experimental Aircraft Association's AirVenture in Wisconsin. On Monday he demonstrated his carbon-Kevlar jetwing with four engines.
His first public flight in the U.S. is set for Tuesday.
Rossy says he hopes to inspire people with his flight.
RELATED: FAA to Town: Please Don't Shoot Down Drones
He's able to propel himself through the sky at upward of 190 mph, controlling his jet suit with a throttle in his hand. He can go as high as 12,000 feet.
AirVenture runs through Aug. 4 in Oshkosh. His flights will be part of the air shows during the week.
He'll also fly at the Reno Air Races in September.
With a pair of rockets strapped to his back, Rossy soared over the Grand Canyon in 2011, marking the flying man's first U.S. flight.
Steering only with movements of his body, JetMan launched from his helicopter at 8,000 feet over the canyon and skimmed the walls of one of the America's grandest natural formations on a sunny weekend morning, before deploying his parachute and descending to the Canyon floor.
Rossy has rocketed above the English Channel and the Swiss Alps in his custom-built wing suit. Rossy's jet suit averages 124 mph and has a 6.5-foot wing span; he wears it on his back, sending fuel to the four engines with a slight roll of his hand. The FAA ultimately grouped it with airplanes.