IBM wields tech in the battle against Ebola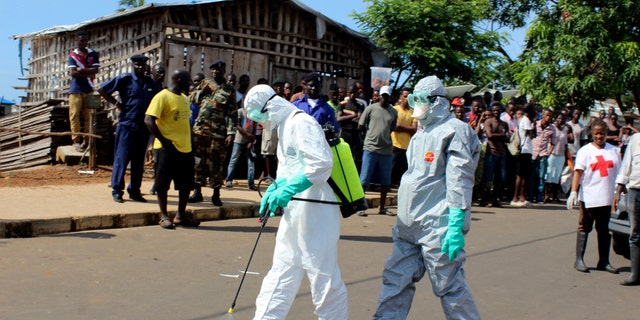 IBM has joined the fight against Ebola in Africa, launching an analytics system to track the spread of the deadly disease in Sierra Leone.
According to the World Health Organization (WHO), there have been more than 3,400 Ebola infections in Sierra Leone, with about 1,200 deaths. The disease has infected around 9,000 people in the hardest hit West African nations of Sierra Leone, Liberia and Guinea, killing more than 4,500.
The system developed by IBM's Nairobi, Kenya-based Africa research lab and Sierra Leone's Government lets citizens report Ebola-related issues and concerns via text message or phone calls. The goal is to provide the country's government with insight into communities affected by Ebola and improve its strategy for containing the disease.
"It has been up an running for about five weeks - the Sierra Leone government is already receiving insights about what it happening on the ground," Jonathan Batty, a spokesman for IBM Research, told FoxNews.com. "It takes about two days for us to to process the data, analyze it, and turn it into 'heat maps'."
The 'heat-maps' can show the accumulation of Ebola issues in specific areas, highlighting immediate problems that need to be tackled, according to Batty.
The system, for example, has already shone a spotlight on regions with growing numbers of suspected Ebola cases where urgent supplies such as soap and electricity are needed, as well as faster collections of bodies and burials.
Local people can send the text messages via a toll-free number set up by telecom company Airtel. This data is then anonymized by Kenyan firm Echo Mobile.
Using the cloud to tap into IBM's supercomputing and analytics technologies, the system can quickly identify trends across messages.
"We saw the need to quickly develop a system to enable communities directly affected by Ebola to provide valuable insight about how to fight it," said Uyi Stewart, chief scientist of IBM Research, Africa, in a statement. "Using mobile technology, we have given them a voice and a channel to communicate their experiences directly to the government."
Radio broadcasts are encouraging local people to interact with the service. Cambridge University's Africa's Voices project, which aims to gather citizens' opinions across a number of African countries, helped develop Ebola-related public service announcements for Sierra Leone. The announcements elicit feedback in both English and Krio – the country's two main languages.
IBM is looking to extend its Ebola analytics system to include mobile phone signal data, effectively monitoring population movement to better track the disease. The company is no stranger to this type of project - IBM rolled out a similar initiative to map bus routes in Abidjan, capital of the Ivory Coast.
Batty told FoxNews.com that the analytics system could eventually encompass other countries that are locked in a fierce battle with Ebola. "Because of the success of the work in Sierra Leone, we're certainly looking to expand that further afield," he told FoxNews.com. "We're already having conversations with the governments in Liberia and Guinea."
The tech giant has also donated technology to the Lagos State Government in Nigeria to bolster its preparedness for future outbreaks, and is helping develop a global tech platform for sharing Ebola-related data.
The Ebola Open Data Repository aims to identify, inventory and classify all open data sources related to the Ebola outbreak. This includes flight information and data from the World Health Organization, national governments, and non-governmental organizations responding to the crisis.
Jeanne Holm, evangelist for the White House's Data.Gov open government project said that information about roads, airports, schools, and medical supplies could prove particularly valuable in relief efforts. "Such information can help to drive data-driven decisions during times of uncertainty," she said in a statement. "IBM is playing a key role in this initiative by helping to identify and gather more open data sources that might inform decisions around Ebola."
In Nigeria, IBM has donated its Connections Technology to the Lagos State Government. A social software application, Connections lets health workers communicate, share documents, provide updates, and hold virtual meetings via a secure digital platform.
Similar IBM technologies were used following the 2010 earthquakes in Haiti and Chile, Hurricane Sandy in 2012 and in the aftermath of the 2013 Colorado floods.
The World Health Organization declared an end to the Ebola outbreak in Nigeria on Oct. 20.
IBM is already involved in a number of healthcare-related initiatives in Africa. Earlier this year, for example, the company announced a partnership with Ghana and Yale University to reduce mother-to-child HIV transmission.
Follow James Rogers on Twitter @jamesjrogers