Google's 'Legalize Love' campaign fights gay discrimination worldwide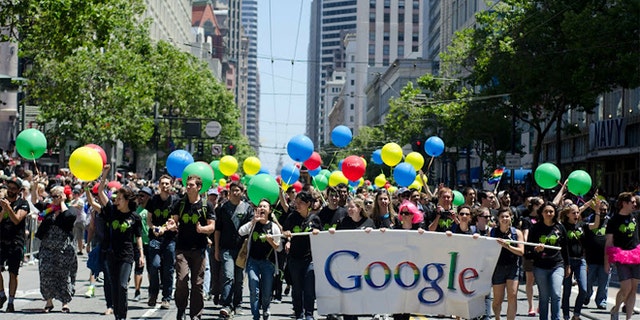 Google is launching an international campaign in support of same-sex marriage in an effort to fight laws it says lead to discrimination against homosexuality around the world.
The company officially announced the new "Legalize Love" initiative Saturday, kicking off the campaign in Singapore, where some homosexual activities are illegal, and Poland, which doesn't legally recognize gay couples. The company believes these laws are discriminatory. Eventually, Google plans to expand into every country it has an office.
"'Legalize Love' is a campaign to promote safer conditions for gay and lesbian people inside and outside the office," a Google spokesman told FoxNews.com in an email.
"We want our employees who are gay or lesbian or transgender to have the same experience outside the office as they do in the office," Google executive Mark Palmer-Edgecumbe told a global GLBT (gay, lesbian, bisexual and transgender) Workplace Summit in London.
[pullquote]
Palmer-Edgecumb, who is head of Google's Diversity and Inclusion unit, believes the company can help apply pressure on countries it operates in. "Singapore wants to be a global financial center and world leader and we can push them on the fact that being a global center and a world leader means you have to treat all people the same, irrespective of their sexual orientation," Palmer-Edgecumbe said.
"It is obviously a very ambitious piece of work."
The search giant will team up with local companies and grass-roots campaigns in regions that it believes discriminate against homosexuals, but Google insists the move isn't politically motivated.
Beyond looking out for its employees, Palmer-Edgecumbe believes the issue of sexual orientation has a negative effect on operations, especially in places like Singapore where discrimination remains prevalent. "We have had a number of instances where we have been trying to hire people into countries where there are these issues and have been unable to put the best person into a job in that country," he said.
This isn't the first time the company has come out in support of gay marriage. "Gayglers" (as Google's LGBT employees are fondly known as) have been a stalwart presence at pride parades around the world since 2007, when the company first started corporate sponsorships.
In 2008, co-founder Sergey Brin posted a letter on Google's blog condemning Proposition 8, which would have denied same-sex couples the right to marry in California. The company later added a special benefit program to cover tax discrepancies for same-sex couples.
Google is also an official supporter of the It Gets Better campaign.