Gold version of BlackBerry's Passport could be on the way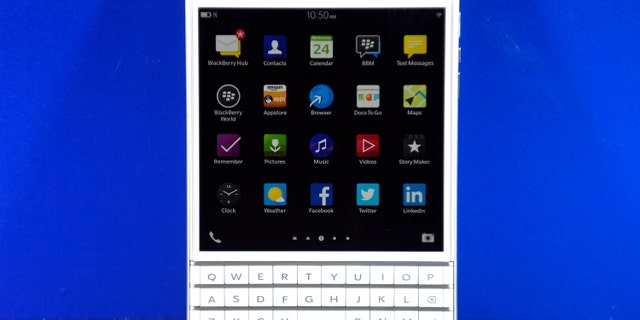 NEWYou can now listen to Fox News articles!
New photos landing on the Web this week suggest a gold version of BlackBerry's Passport phone is on the way.
BlackBerry fan site CrackBerry posted the images, though was unable to confirm if the gold device is a special edition from BlackBerry, or a makeover carried out by a third party.
Related: BlackBerry Passport hands on
The once mighty mobile maker has launched gold editions of its handsets in the past, so it's perfectly plausible that it's going the same way with its new Passport device in the hope that moneyed business executives looking for a bit of luxury might throw some extra cash its way.
The regular edition of the new smartphone launched toward the end of last month, selling 200,000 units in its first few days of availability. While this might look rather weak when you consider Apple took 10 million orders for its new iPhone over its first weekend, it's worth keeping in mind that the Passport, with its productivity-oriented features, is aimed mainly at business users.
Related: Passport sells 200,000 units
The device, noted for its 4.5-inch square display, features a three-row QWERTY keyboard which also functions as a touch pad.
The new handset is powered by a Qualcomm Snapdragon 801 processor and comes with 3GB of RAM, 32GB of built-in storage, and an 8-megapixel rear camera.
BlackBerry CEO John Chen has overhauled the company since taking the reins almost a year ago, and aims to get it back into the black by 2016.