Fitbit Goes For The Wrist: Hands On With Fitbit Flex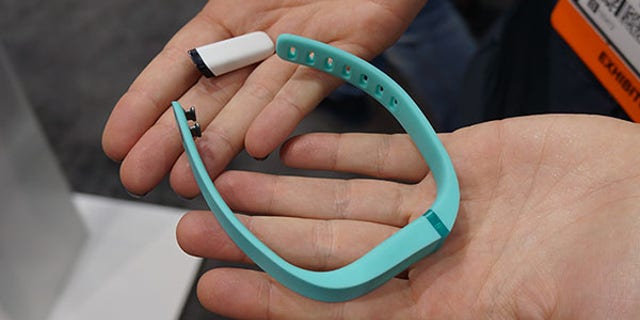 Fitbit announced their new wristband monitor called Fitbit Flex at CES 2013. The new model with provide a large amount of valuable feedback, such as steps taken, calories burned, distance traveled, hours slept, the amount of active time and the quality of sleep. Unlike the Jawbone Up, there's no sleep mode that needs to be enabled. The Flex will automatically sense when you're asleep and start the sleep monitoring.
The Fitbit Flex also features an vibrating alarm to gently wake you up in the morning, a feature sadly missing from the Nike+ FuelBand. The motion tracker bit can be easily removed from the wrist band and stuck into another, allowing for color customization within seconds. We were able to pop the piece out and put it back in with one hand.
This unit is incredibly light, and the soft plastic is barely felt comfortable as we wore it around the booth for a few minutes. There is not much of a display on the unit, however, and so the available information is pretty sparse. There's only a line of five lights that show how close you are to reaching your daily activity goal. The rest of the information, including the exact number of steps taken, must be accessed through the mobile app or on the web.
Fitbit also announced background syncing for the Android, a feature previously only available for iOS devices. At launch, the Fitbit Flex will be able to sync with the Samsung Galaxy S III as well as the Note II, and of course the iPhone, iPad and iPod touch. The unit can also sync with Bluetooth enabled computers, or with non-Bluetooth computers using the included USB dongle.
The Fitbit Flex will be available this Spring, which means it will hit shelves in either April, May or June. The Flex can be preordered on the Fitbit website and costs $99.95. The only colors available for preorder are black and slate, but there should be more available once the product ships.