Facebook, Google, Twitter: How tech giants are involved in the Russia investigation
As lawmakers continue to investigate Russia's role in the 2016 presidential election, major tech companies have sent representatives to Capitol Hill to reveal just how much Russian activity was found on their platforms.
General counsels for Facebook, Google and Twitter testified in multiple hearings in 2017 as congressional probes into alleged Russian influence in the election continued. Delegates from the tech giants have also met privately with lawmakers on the Hill.
Here's what you need to know about the tech companies' involvement.
How is Facebook involved in the investigation?
Last year, Facebook revealed that it uncovered about $100,000 in ad purchases connected to "inauthentic accounts" that violated its policies. Another $50,000 was found to have been spent on "potentially politically related ad spending" that were in Russian.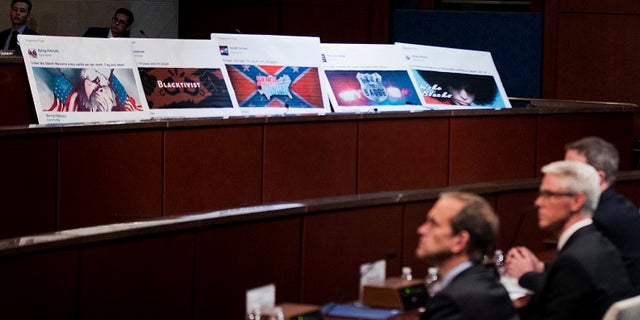 Facebook's Chief Security Officer Alex Stamos said the accounts were "likely operated out of Russia."
As lawmakers called for more information about the advertisements, Facebook CEO Mark Zuckerberg has promised to make its political advertising more transparent.
Facebook also revealed that content from a Russian group called the Internet Research Agency (IRA) could have reached as many as 126 million users.
President Trump accused Facebook of being "always anti-Trump."
But Zuckerberg hit back and said "both sides" of the political aisle were upset by content on Facebook – proving "what running a platform for all ideas looks like."
What about Twitter?
Twitter representatives told lawmakers that it suspended approximately two dozen accounts that were potentially linked to Russia and corresponded to Facebook's troublesome accounts. Additionally, it said it found 179 related accounts that violated their rules.
Twitter also revealed in a blog post that Russia Today (RT), which it said "has strong links to the Russian government," spent $274,000 in ads in 2016.
The social media giant said it would use the money already spent on advertisements by RT for research around civic engagement and electoral misinformation.
A Twitter representative told congressional committees that it shuttered nearly 3,000 accounts linked to Russia's IRA – which is known for spreading pro-Russian government propaganda. That number is nearly 14 times larger than the number of accounts Twitter said it handed over to congressional committees previously.
Twitter was criticized by Rep. Mark Warner, D-Va., after representatives met with lawmakers in Sept. 2017. Warner said the information shared was "frankly inadequate on almost every level."
Warner, again, criticized the social media company in January 2018 after he said it neglected to meet a deadline to provide lawmakers with additional information regarding the Russia investigation, The Hill reported.
"I'm disappointed. I've been disappointed throughout this," Warner reportedly said. "Twitter has been often times the slowest to respond … The other companies met the deadline which was way over a month from when they testified."
And Google?
Russian operatives spent tens of thousands of dollars on ads on YouTube, Google Search products and Gmail regarding the 2016 election, Fox Business reported. However, the ads do not appear to be from the same source as those purchased on Facebook.
Accounts connected with the Russian government spent $4,700 on search and display ads and $53,000 was spent on ads with political material that were purchased from either a Russian territory, Russian Internet address or with Russian currency, according to the Associated Press.
"We are taking a deeper look to investigate attempts to abuse our systems, working with researchers and other companies, and will provide assistance to ongoing inquiries," Google said in a statement.
Why does it matter?
The issue over social media's involvement in the investigation largely stems from advertisements bought from the companies, not necessarily the content shared by users, Dr. Karen North, a clinical professor of communication at the University of Southern California, told Fox News.
But the issue further boils down to what is wrong versus what is illegal. Spreading so-called "fake news" is wrong, but it might not be illegal, the social media expert explained.
"We as users of social media platforms do not want the platforms to be telling us what we can or can't say – or even that we can't say falsehoods – because people spin the story of their lives to present a public face to our friends and colleagues," North said. "We don't want Facebook or Twitter to tell us we can't do that."
North predicted that social media companies will begin to strengthen their regulations – or "dress codes" – for future advertisers.
"There are laws [to protect speech] and then there are rules of conduct, including dress codes at offices or schools," North said. "Whether or not what's being done by the Russians or fake news or people lying about adventures in their life, are those illegal or in violation of dress codes?"
Shareholders in the major tech companies have also demanded more transparency regarding foreign involvement that could have interfered in the election.
"Like Congress and the American public, shareholders in these companies have serious questions and concerns about how these platforms were used and abused during the 2016 election," Michael Connor, executive director of the nonprofit Open MIC, said in a statement.
Open MIC said shareholders with assets worth more than $25 billion have filed proposals asking Facebook, Google and Twitter to divulge more information about foreign involvement as well as disinformation and hate speech.
"The investors, through these filings, intend to play a critically important role in holding Facebook, Google and Twitter accountable for what happens on their platforms," Connor said.
The Associated Press also contributed to this report.