EXCLUSIVE Apple TV Review: Hands on With Steve Jobs' New Hobby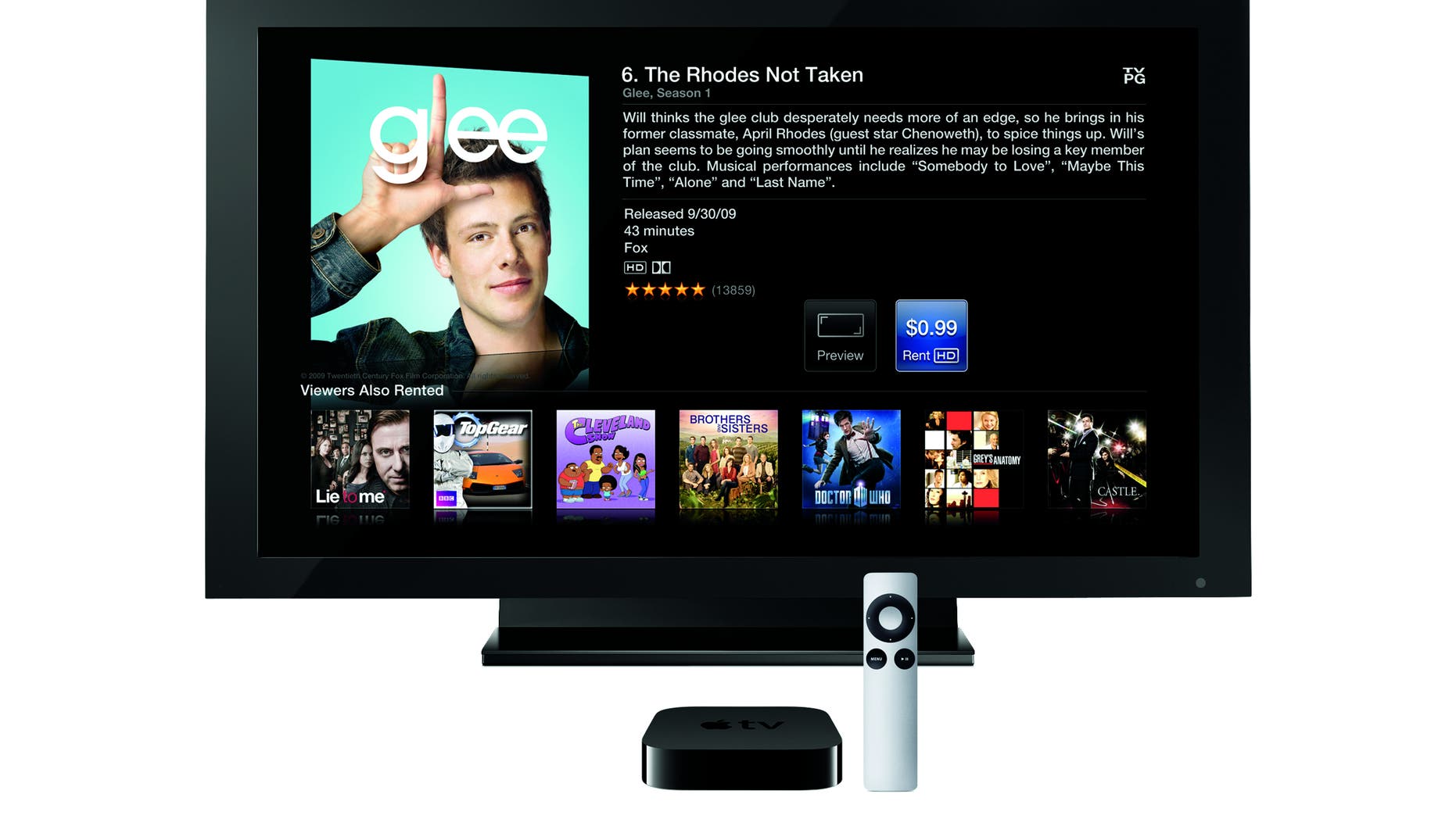 Steve Jobs swung for the stands with the new Apple TV, a tiny box that plays high-definition web video on your television. Has he connected? We'll let my mom be the judge.
I've been testing the new Apple TV, and I think Apple may have a quiet hit on its hand. By quiet I mean there won't be long lines of rabid, un-showered fans camped outside Apple stores to buy the new gizmo, but Apple may slowly win people over with the new version.
The Apple TV is a small, square box that you connect to your TV; it streams music, movies, TV shows, photos, and more from the Internet and your Mac or PC to your living room. Apple introduced the first generation Apple TV in 2007 -- and for this one to succeed, Apple has to convince my mom that the device is worth $99.
My mom is an iPhone user. She makes regular trips to her local Apple store but has never heard of Apple TV. That's because the last version was so buried in stores that Indiana Jones couldn't have found it. Besides, Apple never convinced consumers that they needed an Apple TV. At $300 it was easy to ignore, but at $99 they might pay attention.
The new Apple TV is small -- hockey-puck small. That's impressive, but we all know size doesn't matter, whereas speed does. I was pleasantly surprised at how quickly it connected to the iTunes library on my desktop computer. The Apple TV does this noticeably faster than its ancestor using a 'home sharing' option, which connects with any iTunes account in your household -- Mac or PC.
The biggest new thing about the Apple TV is the feature my mom will like the most: If you're a Netflix subscriber you can watch movies instantly on it. Every web-enabled TV component can do that these days, including game consoles like the Xbox 360 and Sony PS3 and dedicated boxes from Roku and Boxee, so it's an expected feature. But on the new Apple TV it's fast, easy to set up, and easier for consumers like my mom to appreciate.
Mom's surely not buying an Xbox for Netflix streaming, and she -- like you, I'm guessing -- probably thinks Roku sounds like a sushi dish.
If you don't have a Netflix account, you can still watch streamed movies or TV shows by renting them through the iTunes store. The ABC and FOX networks have partnered with Apple to offer 99-cent TV show rentals. CBS and NBC are waiting on the sidelines with their shows and perhaps a different plan.
AirPlay is the new feature I'm most excited about. It lets you share your movies, music and photos across all of your Apple devices. This feature won't be entirely ready when Apple TV launches, but Tuesday Apple will release a new version of the iPhone, iPod Touch, and iPad remote app that'll let users AirPlay music back and forth.
So here's how it works. Let's say I'm out watching an episode of Star Trek on my iPad. When I walk in my front door I can continue watching that same episode on my ginormous HDTV with the flick of a finger, and vice versa. How handy is that?
Apple told me the company has opened this feature to third-party developers, and  that's where my imagination runs wild. Think of the possibilities! Imagine the apps you could be flicking back and forth across all of your iDevices: NPR, Netflix, YouTube, MLB, Hulu, Internet Radio, Pandora, the list goes on. AirPlay could be the most important Apple announcement in years.
What about all those apps that make the iPhone so fun? I would love it if the Apple TV ran the same apps as my iPhone. But it doesn't. At least not yet.
The new Apple TV is very promising, but it won't amount to hill of beans if Apple markets it the same way they did the last one -- basically not at all. Apple can jokingly call it a 'hobby,' but if the company wants it to be a successful hobby they need to educate consumers the same way they did with the iPad.
So until I see an ad for this thing, I'm waiting for Steve to give my mom a call.
Clayton Morris is a Fox and Friends host and the tech godfather behind the Gadgets and Games show. Follow Clayton's adventures online on Twitter @ClaytonMorris and by reading his daily updates at his blog.
FoxNews.com's SciTech section is on Twitter! Follow us @fxnscitech.