Cops foil drone plot to carry drugs and porn into Maryland prison, two arrested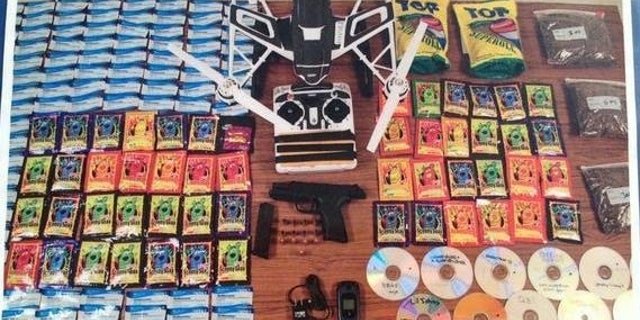 More reliable than cats wrapped in contraband, jailed criminals are cottoning on to the fact that drones offer a much better way of getting hold of goodies from the outside world, even if the method still requires a bit of fine-tuning.
The latest incident, which ended in two arrests, occurred over the weekend after cops stopped a car near a prison in Maryland to find its occupants allegedly preparing to fly a quadcopter laden with drugs, tobacco and porn DVDs to inmates.
A gun was also found inside the vehicle, though officers believe it wasn't part of the consignment as it was apparently too heavy for the Yuneec Typhoon drone to carry.
According to Maryland's Department of Public Safety and Correctional Services, prison guards also searched the cell of an inmate thought to be connected with the attempted drone flight, and found contraband inside. It's not clear if the inmate received this contraband from earlier, undetected flights.
The car was stopped close to the Western Correctional Institution, a facility some 120 miles west of Baltimore that can hold around 1,700 inmates, the AP reported on Monday.
Related: Drones hunt down cheaters in China's toughest exam
Stephen T. Moyer of the Department of Public Safety and Correctional Services told reporters the drone issue is a serious one, especially as some of the flying machines have the capability of carrying weaponry.
"That's my biggest fear," Moyer said, adding, "The use of these drones to bring this type of contraband into a facility is very, very troubling, and we're going to address it."
Proposed action includes requesting funding to install radar-based drone-detection technology at around 20 of Maryland's prisons at a cost of up to $400,000 per prison.
Related: Watch this eagle take down a drone with a spectacular talon "punch"
The Maryland incident marks the second time in a month that a quadcopter has been involved in trying to get contraband to inmates. An attempt at a Mansfield, Ohio prison at the end of July managed to get the gear into the prison yard, but the special delivery ended up causing a brawl among prisoners, which in turn alerted guards that something was up.
Other prison-related drone incidents include an effort in 2014 to get drugs into the Lee Correctional Institution in Bishopville, South Carolina. The attempt, however, came to an abrupt end when the drone crashed into a prison wall. Several other similar incidents in the U.S. and Canada have also made headlines in recent years.