Bitcoin is leading to a huge upswing in money laundering, new research says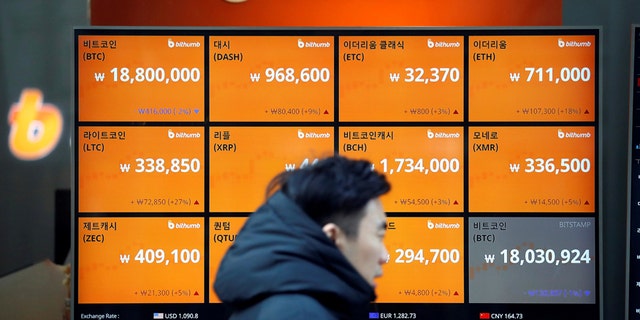 Cybercriminals are turning to cryptocurrencies like Bitcoin to convert illegal revenue into clean cash, new research shows.
Cybercriminal proceeds make up an estimated 8 to 10 percent of total illegal profits laundered globally, according to research released by Bromium, a cybersecurity firm. That slice of illegal profits amounts to an estimated $80 billion to $200 billion each year.
The findings were announced Friday as are part of a larger nine-month study sponsored by Bromium.
It's already relatively easy for criminals to "wash money and convert it into cash," and the rise of unregulated, cryptocurrencies is accelerating this trend, said Gregory Webb, CEO of Bromium, in a statement.
NEWEST ID SCAM CREATES FAKE PEOPLE, POSES TERRORIST THREAT
"It's no surprise to see cybercriminals using virtual currency for money laundering," said the report's author, Dr. Mike McGuire, senior lecturer in criminology at Surrey University.
"The attraction is obvious. It's digital, so is an easily convertible way of acquiring and transferring cyber-crime revenue," McGuire said in a statement.
Property purchases are becoming a popular target for criminals using virtual currency. This allows them to convert illegal proceeds into legitimate cash and assets, the research added.
Websites such as Bitcoin Real Estate "offer everything from penthouse suites and lavish mansions, to 160-acre private islands, all with the option to buy using bitcoins," according to the study.
Properties purchased with cryptocurrency are not as closely scrutinized as cash purchases. Cryptocurrencies are not yet regulated by any central banks or governments, though increased scrutiny is being placed on them, with Facebook, Twitter and Google banning cryptocurrency-related ads.
About 25 percent of total property sales are predicted to be in cryptocurrency in the next few years, the study found. This worries financial analysts because it allows faster, more covert transactions. "Many with criminal origins [which] could disrupt global property markets," the study noted.
But as law enforcement monitors Bitcoin more closely, criminals are changing tactics. "Law enforcement agencies are now monitoring Bitcoin, causing many cybercriminals to look for alternatives," the research said.
"Information on bitcoin transactions can leak during web transactions – typically via web trackers or cookies. This means that connecting transactions to individuals is possible in up to 60 percent of Bitcoin payments," the study added.
YOUR PERSONAL DATA MAY BE ON THE DARK WEB: WHAT YOU NEED TO KNOW
As a result, digital currency platforms like Monero are gaining traction. Platforms such as Monero are designed to be truly anonymous, and other services such as CoinJoin can obscure transaction origins.
The report also cites the conversion of "stolen income" into video game currency or in-game items like gold, which are then converted into bitcoin or other electronic formats.
The study lists video games such as "Minecraft," "FIFA," "World of Warcraft," "Final Fantasy," "Star Wars Online" and "GTA 5," which "are among the most popular options because they allow covert interactions with other players that allow trade of currency and goods," according to the research.
"Gaming currencies and items that can be easily converted and moved across borders offer an attractive prospect to cybercriminals," McGuire said in the statement. "This trend appears to be particularly prevalent in countries like South Korea and China – with South Korean police arresting a gang transferring $38 million laundered in Korean games, back to China."
The full findings will be presented at the RSA Conference in April.