Army Announces Winner of Design-a-Combat-Vehicle Contest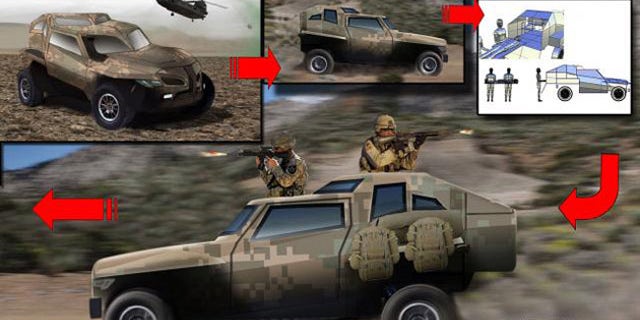 By June, the power of the crowd will have built the army's next vehicle.
The Defense Advanced Research Projects Agency (DARPA), the army's secretive technology arm, has announced the winning designs in a social-media contest that relied solely on the power of the crowd to design its next truck.
The winning entry, The FLYPMODE by Victor Garcia, is designed to deliver personnel into and out of combat as quickly as possible, according to the images Garcia submitted to the Local Motors site, where DARPA hosted the Experimental Crowd-derived Combat-support Vehicle (XC2V) Design Challenge, which launched on February 3.
Garcia won $7,500 for the Flypmode design; Marc Senger's Kratos earned a 2nd place finish and $1,500, and Romain Chareyre won third place for the Sentinel design -- and a cool $1,000 in prize moeny.
More than 150 design entries were received and validated, DARPA said. Some of the entries that rose to the top included innovations for modularity, increased visibility, unique personnel carrying strategies, optimal equipment usage, and ease of ingress and egress.The winning vehicle will become a functional concept car in June of this year, the agency announced.
As intriguing as the vehicles itself is, what's cooler is the idea behind it: the potential for ordinary people to collaborate on something as important as a new military vehicle.
It's not so different than when multiple users edit a page on Wikipedia, Local Motors CEO John Rogers told FoxNews.com.
"Effectively, we want to co-create all aspects of a vehicle," Rogers explained. "The Wikipedia method of co-creation is really not far off from the way we talk about it. It is the collaboration between a company and a customer or a company and a community of people who are enthusiasts or informants. And we want all of those people to take part in the creation of this vehicle."
The XC2V Design Challenge will result in the construction of a concept vehicle, said Lt. Col. Nathan Wiedenman, deputy program manager for the DARPA Adaptive Vehicle Make portfolio, which is testing the waters with the XC2V Design Challenge.
In this way, the process for creating the XC2V vehicle itself serves as a proof of concept. If it works, DARPA will refine the process of crowd-sourcing and start a series of prize challenges that will result in a true infantry fighting vehicle.
"Adaptive Vehicle Make is about more than just building an infantry fighting vehicle; it's about building a new process and a new set of tools to support that process to allow us to design complex, cyber-electro-mechanical military system much faster."
"It takes us 10 or 20 years to develop a complex military system like a jet or a ship or a tank. We want to reduce that by a factor of five to ten," Wiedenman told FoxNews.com.