Apple makes big software push at WWDC, opens up Siri to developers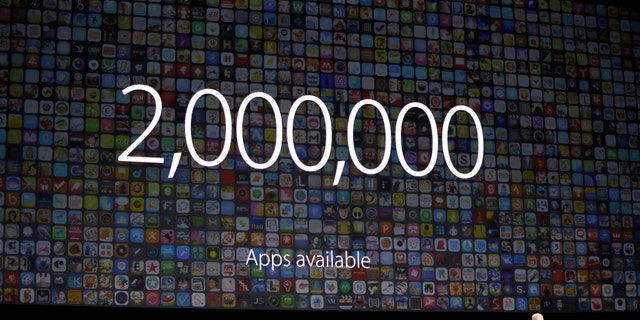 NEWYou can now listen to Fox News articles!
Apple announced a major software overhaul at its Worldwide Developers Conference (WWDC) in San Francisco Monday, giving developers the ability to integrate Siri into other apps.
The tech giant gave the first glimpse of its iOS 10 software at the Bill Graham Civic Auditorium. "We're hitting a big milestone," said Craig Federighi, Apple's vice president of software engineering, during his presentation, adding that iOS 10 the company's "biggest iOS yet."
Key enhancements in iOS include opening up the Siri voice technology to third-party developers. Federighi used the example of Siri-supported messaging via apps such as Slack and WhatsApp, as well as integration with photo apps like Shutterfly and Pinterest.
Apple is also ramping up its efforts around the redesigned Maps feature in iOS 10. "We're opening Maps up to developers," explained Eddy Cue, Apple's senior vice president of Internet Software and Services, noting that Maps could work with popular reservation apps like OpenTable.
Related: Apple CEO Tim Cook condemns 'senseless, unconscionable' Orlando shooting

Other iOS 10 enhancements include a new Memories feature for Photos that uses facial, object and scene recognition to place people, things, and places into albums, a Home App for home automation and a redesigned Apple Music. "We want to give greater clarity and simplicity to every aspect of Apple Music," said Cue
Apple's News feature also gets an iOS 10 revamp, encompassing paid subscriptions and breaking news notifications. In the privacy realm, Apple said that iOS 10 will use a technology called Differential Privacy to discover the usage patterns of large numbers of users without compromising their individual privacy. The technology, for example, will help improve Apple's QuickType function and emoji suggestions, according to the Cupertino, Calif.-based company.
iOS 10 will be available to developers in July and to users as a free software update in the fall.
As expected, Apple also gave a preview of its latest OS X, macOS Sierra, at WWDC. The new Mac operating system features Siri and Apple Pay. "Now, when you're shopping online, you will have a 'pay with Apple Pay' button available to you," said Federighi.
Related: Man dressed as Apple Genius steals $16,000 in iPhones from Apple store

Like iOS 10, macOS Sierra will be available for free in the fall.
In addition to iOS 10 and macOS Sierra, Apple also previewed watchOS 3, which features a Breathe app designed to reduce stress and a revamped Activity app enhanced for wheelchair users. In Apple TV, the company announced single-sign on and Siri enhancements.
Watch OS 3 and a new tvOS for Apple TV will be available in the fall.
Glen Coates, CEO of B2B mobile commerce app Handshake, welcomed the WWDC announcements. "It's more proof that the Apple platforms are alive and well, after much derision in the past year around slowing iPhone sales," he said, in a statement emailed to FoxNews.com. "Apple is doing a lot to make itself even more developer friendly that will only continue to secure its position."
Apple CEO Tim Cook used his WWDC keynote to condemn Sunday's Orlando nightclub shooting. "It was a senseless, unconscionable act of terrorism," he said, during his opening remarks. The Apple chief offered the company's deepest sympathy to anyone affected by the horrific mass shooting.
Follow James Rogers on Twitter @jamesjrogers